Steve Harvey Told the 'Miss Universe' Audience He Doesn't Know What A Pessimist Is, Says Miss Australia's Joke Fell Flat
Miss Universe 2018 host Steve Harvey doesn't know what the word "pessimist" means. The talk show host revealed the word didn't register with him when Miss Australia, Francesca Hung, told a joke about the type of person.
When Hung was accepted to the semi-finals or top 20 of the global competition, Harvey asked her to tell a joke.
"An optimist and a pessimist met in a bar. The pessimist said, 'Ugh, things just couldn't get any worse.' The optimist said 'No! Of course they can!" she joked into the microphone. Her joke was met with cheers, but not much laughter. "I said I could tell a joke. I didn't say they'd be any good," she followed up.
Harvey then said the joke fell flat. "Well, if you're like me and you don't know what a pessimist is, this joke kinda died for you," Harvey said. "Thank you, Australia." He later joked he should get a dictionary.
Miss Australia was involved in the backlash primarily against Miss USA, Sarah Rose Summers, who was reprimanded on social media for seeming to mock other contestants who did not speak fluent English. While Hung did not say much in the conversation, she was a part of the Instagram video where Summers made her controversial comments.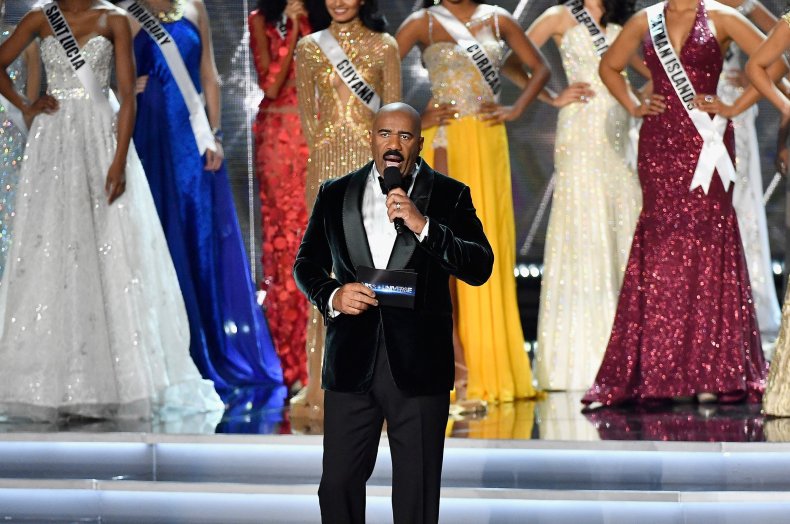 Summers also noted she had a conversation with Miss Australia about another contestant, Miss Cambodia. "Can you imagine?," Summers said about the contestant who doesn't share a language with anyone else in the competition. "Francesca [Miss Australia], said that would be so isolating and I said yes and just confusing all the time," Summers said, as reported by CNN. "Poor Cambodia."
Harvey infamously crowned the wrong Miss Universe in 2016. He gave the title to Miss Columbia, Ariadna Gutierrez instead of the true winner, Miss Philippines, Pia Alonzo Wurtzbach, after misreading the card.
Harvey also had a comical interaction with Miss Costa Rica, Natalia Carvajal, on the 2018 pageant. He asked Caravajal, who is a television host in Costa Rica, for advice on hosting. She responded with a jab at the memorable incident. "If they give you a really, really important envelope, try to read carefully," she joked.
The Family Feud host commented he's bewildered that people won't let it go. He also noted he's continued to host anyway and was able to overcome his mistake.