Miss USA Elle Smith Discusses the Sport of Pageantry Ahead of Miss Universe
Miss USA Elle Smith shared her excitement about representing the U.S. at this year's Miss Universe pageant in Israel during her appearance on Tuesday's episode of Newsweek's podcast The Diplomat.
Smith was in Israel as she spoke with Jason Greenblatt, the podcast's host and former White House envoy to the Middle East under former President Donald Trump.
The Miss Universe competition is scheduled to take place on December 12 in Eilat. Delegates from around the world have spent weeks leading up to the pageant touring the country and rehearsing.
Smith, who represented Kentucky in the Miss USA pageant, won the Miss USA title in late November. She said she spent her first few days in Israel in quarantine due to the ongoing coronavirus pandemic but has since become roommates with this year's Miss Israel, Noa Cochva.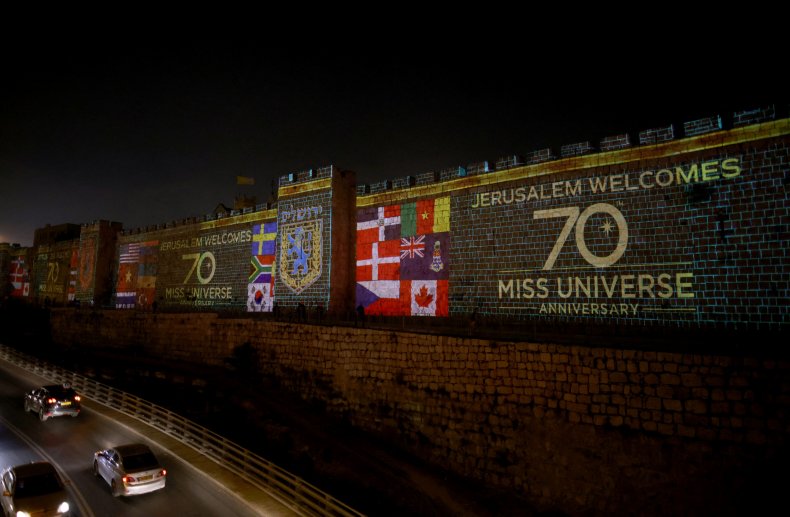 Smith told Greenblatt she has enjoyed the opportunity to "pick Noa's mind" about Israel and hopes that she and the other delegates will continue to tour the area in the days remaining before Sunday's pageant. Leading up to the event, delegates have typically been able to explore Israel in the mornings with rehearsals reserved for the afternoons and evenings.
"We spend the first half of the day exploring the city and going out and meeting the people of Israel, and then we come back for rehearsal from 1 to 8:30 [p.m.], then do dinner, and then go to bed," Smith said. "So I'm hoping that we'll continue to do those things because I think it's important—you know, explore the cities that we're in, and not just be stuck at the hotel."
Smith explained that delegates rehearse "the whole entire show" every day.
"I love to say that pageantry is a sport," she said.
Smith studied broadcast journalism at the University of Kentucky, where she graduated in 2020 before landing a position at the Louisville-based television news station WHAS-TV.
The station tweeted a message of congratulations when Smith was named Miss USA.
Smith told Greenblatt she has "always had this spark of pageantry and interest in pageantry" and discovered some of the skills she developed as a journalist were also of use as a pageant competitor.
"Once I started training, I realized so many skills that you learn in journalism transcend over to the pageant world. Those communication skills are crucial," she said. "So it's fun to see the similarities between both of them."
Smith said participating in the pageants has provided new opportunities and enabled her to learn "completely different skills."
"This has provided so many different opportunities, and it's like that for every single one of these titleholders that you'll see on the stage on Miss Universe finals," Smith said. "I would say it's about women empowerment. It's about showing that women are multifaceted and that beauty and intelligence don't have to be exclusive things."
Smith identified cervical cancer education, a significant part of her platform, as one of the most important causes she hopes to elevate if she becomes Miss Universe.
"I think gynecological health is an uncomfortable conversation for women, but it's a necessary one, and it's something that I'm going to be passionate about as Miss Universe because it's something that I can take to the global stage," she said.