Who Won Miss USA Pageant Last Year? Everything to Know About 2018 Winner Sarah Rose Summers
Sarah Rose Summers will renounce her crown as Miss USA when a new contestant wins the title at the 2019 pageant on Thursday.
As Miss Nebraska, Summers claimed the crown during the 2018 Miss USA competition, beating out Kára McCullough of the District of Columbia.
Along with spending the last year serving as the face of the Miss USA Organization, appearing at charity events, galas and fundraisers, Summers also participated in the 2018 Miss Universe competition.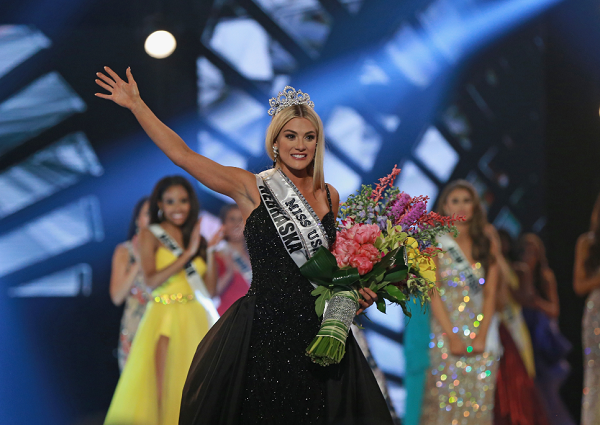 Summers did not win the Miss Universe pageant—Philippines' Catriona Gray did. However, she certainly caused quite the splash during her appearance at the competition, which was held in Thailand for the first time.
The 24-year-old beauty queen found herself at the epicenter of social media backlash when a video surfaced of Summers commenting on Miss Vietnam H'Hen Nie's lack of English. In the video, shared on Miss Australia Francesca Hung's Instagram, Summers says her co-competitor is "so cute and she pretends to know so much English and then you ask her a question after having a whole conversation with her and she [nods and smiles]."
Summers also commented on Miss Cambodia Rern Sinat's inability to speak the language.
Summers' remarks sparked instant criticism from people online who believed she was mocking her foreign counterparts. She later addressed the outrage in an Instagram post. "In a moment where I intend to admire the courage of a few of my sisters, I said something that I now realize can be perceived as not respectful, and I apologize," she wrote alongside of photo of her and H'Hen hugging.
Since then the Omaha native has dedicated herself to a year of service visiting children's hospitals and campaigning with SmileTrain among other charitable acts. The former child life specialists particularly used her platform to advocate for healthy living fueled by positive body image and self-love.
"Before I competed at the state level, I wanted to have a healthy relationship with food and fitness, because I wanted to be a realistic, true young woman example to all of the young girls, even men and women of all ages watching me," Summers said on Hollywood Life's podcast in April. "And so that's absolutely what I did."
After relinquishing her crown to the new Miss USA winner, Summers is slated to move to New York City with her fiancé Conner Combs. The couple is also expected to tie the knot in October.
Summers also plans to continue her philanthropic work through her new podcast, More than a Crown, which launched in April.
The Miss USA 2019 competition airs live on Fox on Thursday at 8 p.m. ET.
Who Won Miss USA Pageant Last Year? Everything to Know About 2018 Winner Sarah Rose Summers | Culture