Miss USA Winner Kara Mccullough Is a Scientist who Has Controversial Opinions on Health Care and Feminism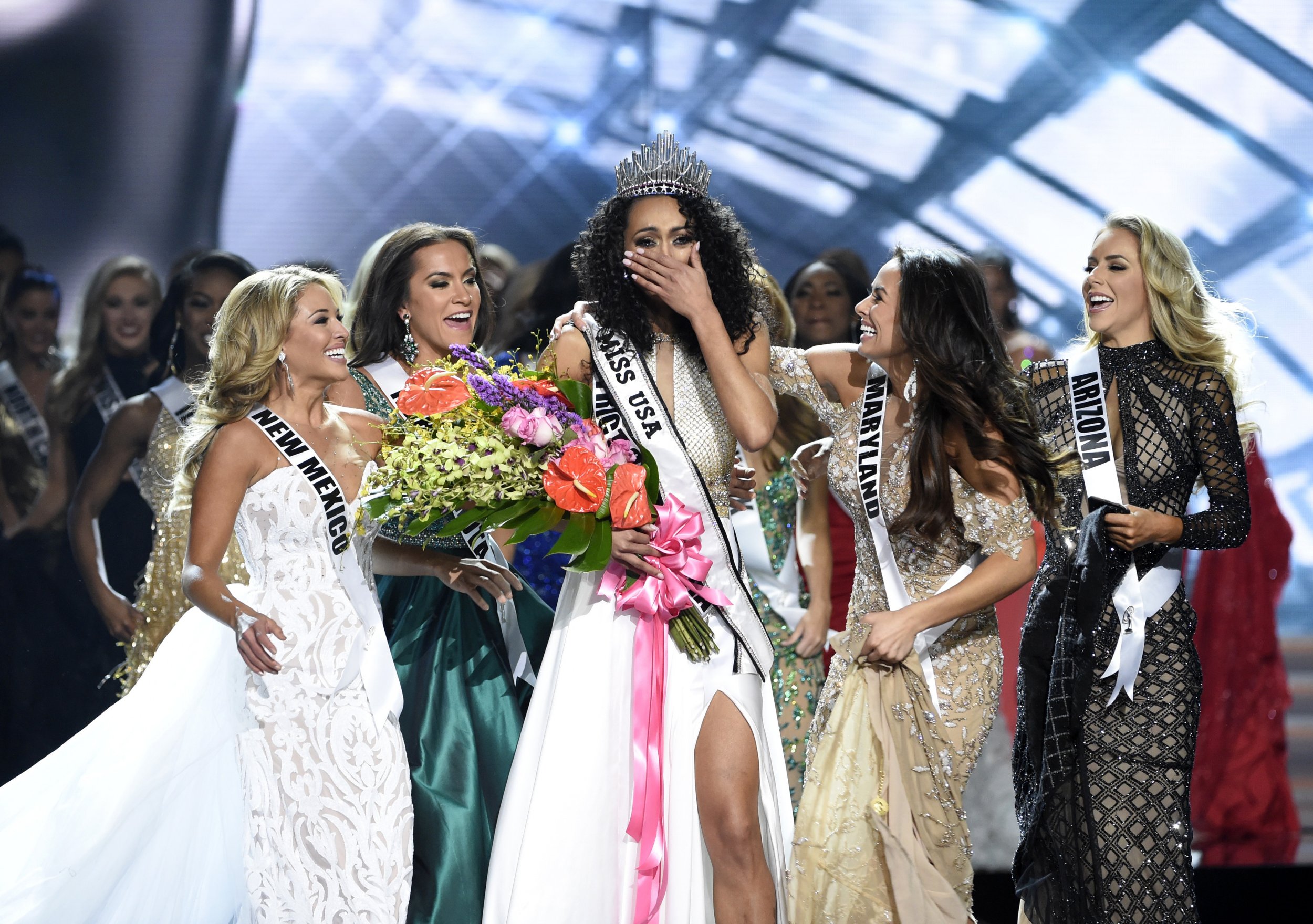 Miss District of Columbia, a physical scientist working at the U.S. Nuclear Regulatory Commission, took the Miss USA crown to the country's capital for the second consecutive year.
Born in Naples, Italy, 25 years ago, Kara McCullough won the title of Miss USA on May 14. The daughter of a now-retired U.S. Navy officer, McCullough is the seventh of 65 titleholders to be born outside the United States and will represent the country at the next Miss Universe competition. Last year Miss Universe was won by France.
It was not just her looks that made McCullough stand out from the competition. Out of the 51 contestants, the final five women were asked a series of questions discussing current topics, from the pros and cons of social media to women's rights. McCullough's first question concerned health care: Is it a right or a privilege? "I'm definitely going to say it's a privilege," Miss District of Columbia said.
McCullough, whose Twitter account follows three members of the Trump family— Donald Trump, Donald Trump Jr. and Ivanka Trump— added: "As a government employee, I'm granted health care and I see firsthand that for one to have health care, you need to have jobs. We need to continue to cultivate this environment that we're given the opportunity to have health care as well as jobs to all American citizens worldwide."
Her answer immediately drew mixed reactions from the liberal and conservative corners of Twitter, where the hashtag #MissUSA was trending throughout the show duration.
In another question and answer round, McCullough was asked about her opinion on feminism and if she considers herself a feminist. She replied she prefers the term "equalism."
"So as a woman scientist in the government, I'd like to lately transpose the word feminism to equalism," McCullough said. "I don't really want to consider myself—try not to consider myself like this die-hard, you know, like, 'Oh, I don't really care about men.' But one thing I'm gonna say, though, is women, we are just as equal as men when it comes to opportunity in the workplace."
Despite her unwillingness to adopt the term feminism, broadly defined as the social, political and economic equality of the sexes, McCullough has been a vocal supporter of female empowerment in the fields of Science, Technology, Engineering and Mathematics (STEM).
Not only does the newly crowned Miss USA run a community outreach program focusing on tutoring children on science and maths, but she also spoke out about gender inequality in the STEM fields. "The ratio of men to women in the nuclear industry is 24:1. That speaks volumes about gender inequality. Without surprise those statistics are driving me. I am working diligently toward my goal to provide students the opportunity to experience and experiment (no pun intended) with these fields of study before college. A renaissance of women industry leaders is only a hair flip [sic] away" McCullough wrote on Instagram on International Women's Day.
In an interview published on the Miss USA website after the competition, McCullough reiterated her views on unequal gender representation in STEM workplaces. "I want to see more women possessing leadership positions in private and government energy and health sciences agencies; not just conducting laboratory research," she said. "As a women scientist in the government, I have witnessed and been in many meetings where the ratio of men to women is 10:2. I believe more women should be given the opportunity to be representatives in the energy and medical fields."
McCullough earned her Bachelor of Science degree in Chemistry with a concentration in Radiochemistry from South Carolina State University in 2013. As a college student, she was both involved in science and in beauty pageants, winning the title of Miss SC State University 2012-2013. She won the title of Miss District of Columbia USA 2017 on December 17, 2016.