When 2-year-old dog Lex went missing, his family panicked. Though any family whose dog goes missing would rightfully begin to worry, Lex's family was especially concerned because Lex is deaf, and can't hear the calls of his owners. But thankfully, due to a GPS collar Lex was wearing when he escaped, the family was quickly reunited with their playful pup.
Lex's owner Jon Rollins told KTVI that Lex wanted to go outside and play in the gated yard, so he let the dog out. He then "went back to watch some TV and ... about five minutes later, I got an alert on my watch saying that Lex had left the property," Rollins told the outlet.
Eli Rollins, Jon's son, was also home when Lex escaped.
"Since he's a deaf dog, we can't just go calling out for him. He won't hear us. I was so worried because we just got him and I was so scared of anything ever happening to him," he told KTVI.
The outlet reports that the Rollins family adopted Lex last year from Speak St. Louis, a foster-based rescue program that houses double merle Australian Shepherds. When two merle dogs—dogs with marbled, lighter fur—are bred together, each puppy in the litter has a 25 percent chance of being born with the double merle gene.
Sadly, the double merle gene tends to cause eye abnormalities, hearing impairments, or sometimes both, because the dog has a decreased pigment on the skin. As such, the rescue's website says that double merle dogs are often surrendered or abandoned. Lex is a deaf, double merle shepherd.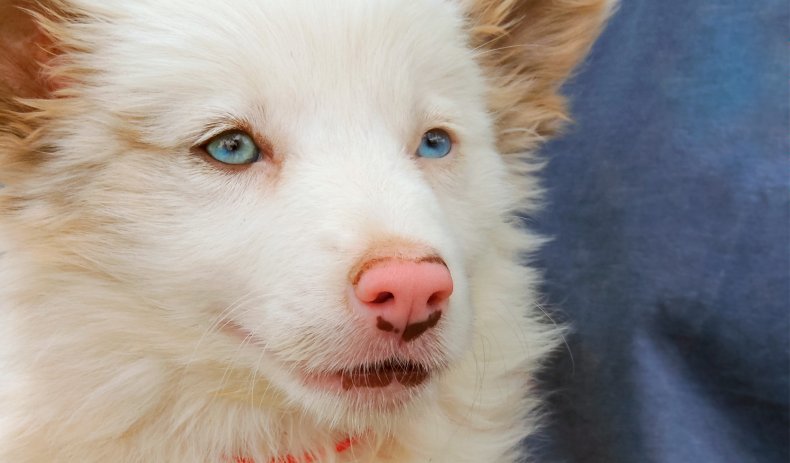 Lex's owner Jon is also deaf, and Rollins's wife, Allison, is a teacher of the deaf, reports KTVI.
Knowing extra precautions were necessary to ensure Lex's safety, Allison Rollins told the outlet that the family invested in a GPS collar. Called Fi, the GPS collar pairs with a mobile app that allows an owner to track their dog's location in real-time.
Rollins told KTVI that he knew he needed to find Lex fast. So, he checked the mobile app and, to his relief, saw that Lex was a block away.
"I went over there and I saw a family petting something and I thought it might be Lex," Rollins told KTVI. "So I drove to that family and they said 'is that your dog?' And I said 'yes, yes.'"
The Rollins family was so happy to be reunited with Lex.
"If we didn't have the tracker, I don't know if we would have ever found him," Eli Rollins told KTVI. "Or if we found him, it would've taken a very long time."