Missing Dog Reunited With Owners Six Years After Disappearing From Their Back Yard
A family is celebrating after finally being reunited with their lost dog which went missing from their back yard—six years ago.
Debi Vazquez and her daughter DaNae were devastated when their Chihuahua, named King, vanished in San Antonio, Texas, in 2014.
The dog had been out in the rain with the family's other two dogs, but did not return when called. King was not wearing his new collar because the owner's feared it would get dirty.
The whole family scoured for the beloved pet but after an extensive search, which included social media posts and the offer of a reward, they eventually gave up.
"It turns into a year, turns into two years, but we always had his picture on the phone," Debi Vazquez told Miami TV station WSVN after the dog had been found.
On Sunday—Debi Vazquez's birthday—the family received a call notifying them that King had been found.
Vazquez said: "They said 'King,' and I was like 'What!? King in Fort Lauderdale!?' He's having a life, you know."
As there were no flights available, the mother and daughter decided to drive for almost 20 hours to collect the now 15-year-old dog. Vazquez said: "No flights coming out this way until like, Thursday or Friday. I'm not gonna wait that long!"
She said that King will be treated like royalty, now he is back home.
Vazquez said: "He looks very sad, very skinny to me, but so happy to have him back in our family where he belongs."
Mystery still surrounds how the dog made the 1,300-mile journey east from San Antonio to South Florida.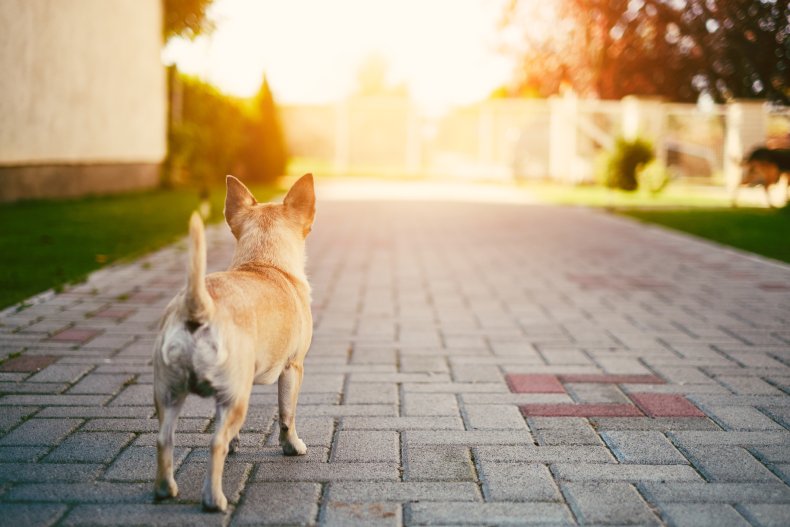 According to the news channel, staff at the Humane Society of Broward County said a woman surrendered him on Sunday and told them she had only had him for six months, but could no longer take care of him.
Staff there found the dog's microchip, which was registered to the Vazquezs, and contacted the family.
The Humane Society told local media that King's story highlights how important microchipping can be. And the mother and daughter are now urging other pet owners to ensure they chip their animals.
Vazquez said: "Everybody should microchip!" To which her daughter added: "Don't ever take the collar off!"