Missing Headless Statue of Hindu Sacred Cow Unearthed By Area Man Planting Banana Trees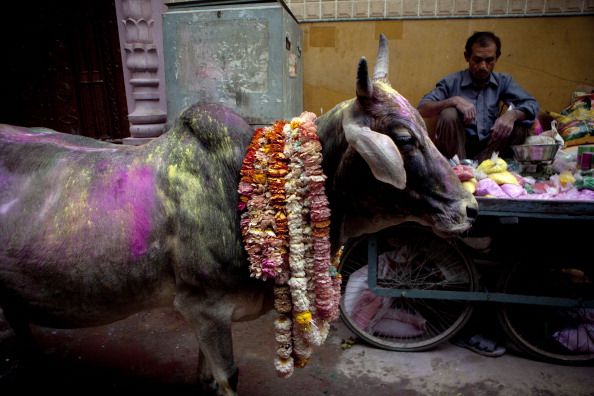 The search for a missing statue of a cow in the Central Java province of Indonesia came to an end when a local man came upon it in his neighbor's yard while gardening—most of it, anyway. The now-headless statue represents Lembu Andini, a cow sacred in Hinduism, according to The Jakarta Post.
Bimo Kokor Wijanarko, a cultural heritage analyst within the province, told The Jakarta Post that the statue appeared to date to the Hindu Mataram kingdom, which would make it somewhere around 300 or 400 years old. In Hindu tradition, Lembu Andini is a divine animal ridden by Shiva, one of the religion's three main deities. Based on its current headlessness, Bimo believed that the statue was stolen before it was buried.
"A lot of animal-shaped ancient relics were found headless," Bimo told The Jakarta Post. "Maybe this is because the heads of statues are very valuable."
The secretary of Siwal village, where the statue was found, told The Jakarta Post that artifact collectors had come looking for the statue several years ago, with people even digging for it in various points across the village. Despite their efforts, the cow successfully evaded capture until a local man, whom The Jakarta Post identified as Walidi, unearthed it while digging holes to plant banana trees.
"Then I called some neighbors to [help] lift the statue because it was very heavy. We needed eight people to lift the statue," Walidi told The Jakarta Post.
The statue is approximately 3 feet long and 2 feet tall, measurements that presumably don't include the missing head. The head of the Culture and Tourism Agency for Sukoharjo, the regency in Central Java that contains Siwal village, told The Jakarta Post that her agency would see that the statue was properly registered and reported to the Yogyakarta Cultural Heritage Preservation Agency. Other Mataram relics, including pottery and the ruins of a structure, have been found in the city of Yogyakarta before, according to a separate report by The Jakarta Post.
Cows have been sacred animals in Hinduism since the religion first took shape more than 3,000 years ago, according to PBS. Shiva himself is a force of both good and evil, destroying the world in order to re-create it, according to the BBC.
The Hindu Mataram kingdom was the central power in Java from the 16th century until the 18th century, when Dutch imperialism took hold. It saw the introduction of Islamic elements into the existing Hindu-Javanese culture.