The search for a submarine missing off the coast of Indonesia with 53 people onboard intensified on Thursday with additional vessels joining the hunt, as officials warned it may have sunk too deep to be rescued.
KRI Nanggala 402, which was taking part in a training exercise, failed to respond to a routine reporting call during a planned torpedo drill on Wednesday.
An electrical failure that may have rendered the submarine unable to resurface was given by the Indonesian navy as a possible cause.
The 44-year-old vessel is believed to be around 60 miles north of the island of Bali, where an oil slick and the smell of diesel fuel were reported.
Oxygen supplies onboard were expected to run out early on Saturday morning, giving rescue teams less than 48 hours to locate the submarine and free the crew.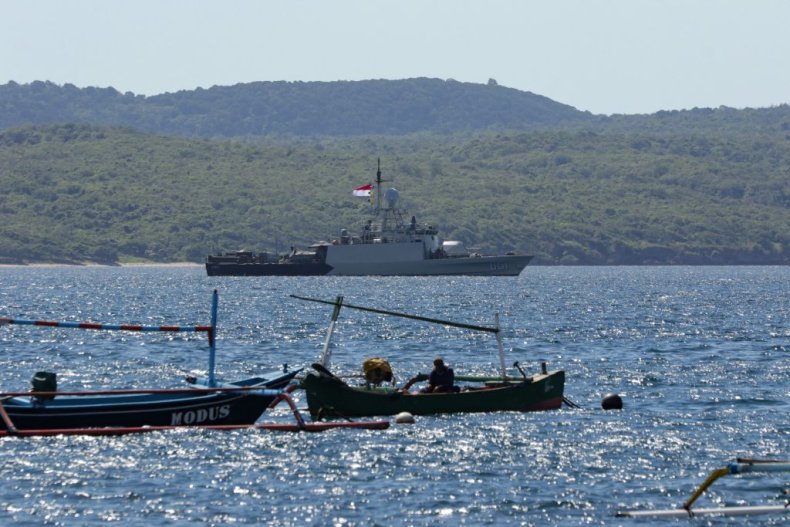 Hopes were raised when Admiral Yudo Margono, Indonesia's navy chief of staff, said an unidentified object with high magnetism had been located in the area.
However, it is feared that the submarine may have sunk below its collapse depth, where the structure could succumb to the increasing pressure and implode.
Indonesia's navy said it believed the submarine was at a depth of 600-700 meters (2,000-2,300 feet)—around three times deeper than its estimated collapse depth.
Frank Owen, secretary of the Submarine Institute of Australia, told The Associated Press: "Most rescue systems are really only rated to about 600 meters. They can go deeper than that because they will have a safety margin built into the design, but the pumps and other systems that are associated with that may not have the capacity to operate. So they can survive at that depth, but not necessarily operate."
French Navy Vice Admiral Antoine Beaussant told AFP: "If it went down to rest at 700 meters the likelihood is it would have broken up."
Peter Dutton, the Australian defense minister, told Sydney Radio 2GB the submarine was "in a very deep part of waters," which made it "very difficult for the recovery or for location."
Some 400 people, along with six warships and a helicopter, are involved in the search for the German-built submarine.
Indonesia's defense ministry said the 53 people on the missing submarine included 49 crew members, one commander and three gunners.
The 1,395-ton submarine was built in Germany in 1977 and first joined the Indonesian navy in 1981—one of five submarines in the country's naval fleet.
In 2017, a navy submarine disappeared off the coast of Argentina with 44 people onboard. It was found a year later at a depth of 907 meters.