It's been more than two weeks since a 20-year-old college student disappeared from the small city of Brooklyn, Iowa. Since then, despite widespread searches and the offer of a hefty reward, no trace of Mollie Tibbetts has been found.
Here's what we know so far about University of Iowa student's disappearance.
Disappearance
The last time anybody heard from Tibbetts, she was dogsitting for her boyfriend's brother at his home. She went for a jog on the evening of July 18, before returning to the house and exchanging a Snapchat with her boyfriend.
Tibbetts, however, never arrived at her job the next day.
The Search
The search for Tibbetts began immediately after she was reported missing, her aunt, Kim Calderwood, previously told Newsweek. Accompanied by search dogs, investigators combed through a pig farm and other areas as part of the search.
Investigators also said they executed search warrants for devices like Tibbetts Fitbit, as well as her social media accounts including Instagram, Snapchat and Facebook.
Increased Reward
The reward for any information leading to an arrest in the case or the location of Tibbetts has steadily increased since she vanished. On Saturday, a local electric company called TIP Rural Electric Cooperative of Brooklyn, Iowa, announced it would match the $1,000 reward being put forth by Crime Stoppers of Central Iowa.
That reward has now increased to $172,000, Tibbetts's mother said on Thursday.
"We believe Mollie is still alive. If someone has abducted her we are pleading with you to please release her," Laura Calderwood said at a press conference on Thursday. "We have raised $172,000 that will be paid to you as soon as Mollie is safely home."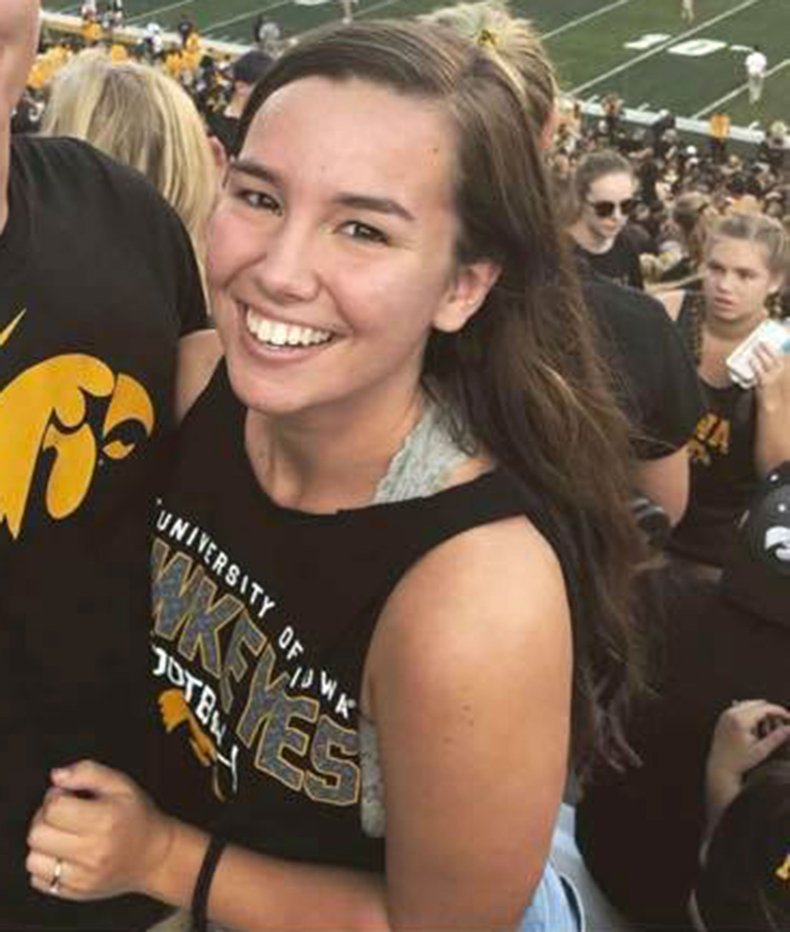 Suspects?
More than 200 interviews were conducted as part of the investigation into Tibbetts's disappearance, CNN reported. Authorities had not said officially whether they believed she was abducted, and the Iowa Department of Public Safety's Division of Criminal Investigation said in a statement that it did not have any suspects in the case.
"We haven't ruled anything out," Mitch Mortvedt, assistant director of the Iowa DCI, told the Des Moines Register last week. "But it's been a week so it's more and more suspicious to us."
Tibbetts's boyfriend was not being considered a suspect in the case.
'Sighting' Yields Nothing
Authorities said Wednesday that they were looking into a potential sighting of Tibbetts in Missouri.
"The Kearney Police Department did respond to a possible sighting on July 26 at a truck stop with our jurisdiction," Kearney Police told Newsweek on Thursday. "Officers conducted a thorough search of the area, spoke with all witnesses, and reviewed all available footage."
The sighting, however, proved to be nothing. An Iowa law enforcement officer confirmed to the Des Moines Register that it was not Tibbetts.
Anyone with information regarding Tibbetts' whereabouts or the investigation is urged to call the Poweshiek County Sheriff's Office at 641-623-5679 or tips@poweshiekcosheriff.com.