Who is Lauren Cho? Missing Woman's Media Coverage Compared to Gabby Petito Sparks Debate
In the wake of the heavily publicized disappearance of Gabby Petito, many have drawn similarities to missing 30-year-old woman Lauren Cho, noting the discrepancy in media coverage between the two women.
Cho was last seen leaving a residence in the California desert of Yucca Valley on June 28 this year. She has not been seen or heard from since.
At the time of her disappearance, Cho was wearing a yellow tee shirt and jean shorts in the area of Hoopa x Benmar, Morongo Valley, on foot, the Morongo Basin Sheriff's Station said in a public appeal to find Cho on June 30.
The following month, with still no sign of Cho, detectives and search and rescue teams searched the last known location she was seen in the 8600 Block of Benmar Trail and surrounding areas for evidence.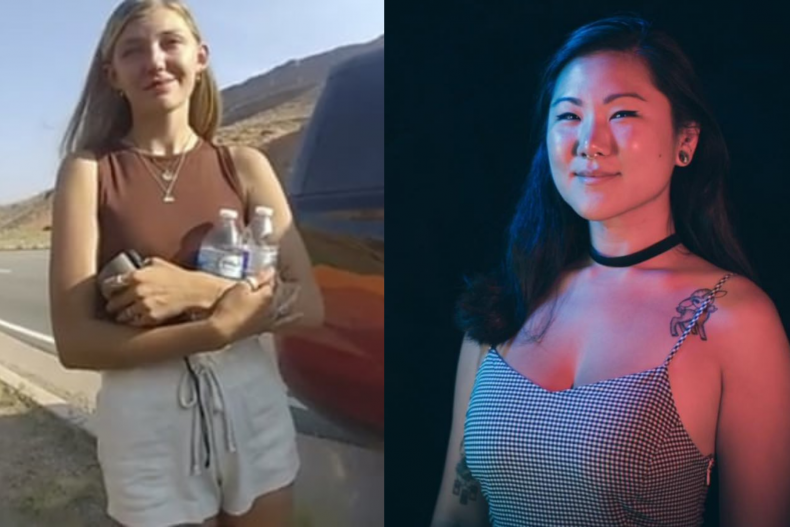 Aerial searches of the remote mountain terrain near the scene were also carried out, the Sheriff's Office said.
Cho had made the move to California from New Jersey just eight months before. Her friend Cody Orell is the last known person to have seen her after the pair were staying on a friend's property nearby.
Orell said on the afternoon of June 28, he went into the tour bus that they'd crossed the country in and she walked away.
"There was a 10-minute window there and she evaporated ... I searched all in the hills and no tracks, anywhere," Orell told the Hi-Desert Star.
Orell called their friends and police for help around 5 p.m., according to a sheriff's report cited by the publication.
The disappearance bears some similarities to 22-year-old Gabby Petito who was reported missing on September 11.
About two months prior she had left for a cross-country road trip with her fiancé 23-year-old Brian Laundrie. Laundrie returned home without her.
Investigators have since found remains believed to be of the missing 22-year-old in an area of the Bridger-Teton National Forest in Wyoming.
Many on social media have since campaigned for more media attention to be given to Cho's case.
"The gaps in investigations for marginalized groups is real," one woman tweeted. "We must do better and find answers like we did for Gabby Petitio. Let's find Lauren Cho."
"Unfortunately it happens all the time," another person replied. "There are many times one case gets more coverage than others, for example, Lauren 'El' Cho went missing earlier this summer, yet there was hardly any coverage on her case."
The popular true crime podcast Crime Junkie also addressed Lo's case in a September 19 episode covering Petito's case.
"Like Gabby, Lauren 'El' Cho went missing this summer as well after her friends say she walked out towards the mountains and was never seen again," the podcast hosts said. "Police have found no trace of her yet there has been very little media coverage."
A person who identified herself as Cho's sister addressed the outpouring of public support by posting on the 'Missing Person: Lauren 'El' Cho' Facebook page on September 19.
"We would like to take a moment to acknowledge the messages and questions that have come our way this past week regarding the Gabby Petito case in comparison to what is happening with El," she wrote.
"We realize that on the surface, the public information for both cases share some similarities. We understand the frustration many of you have expressed about how and why certain cases receive national coverage. Ultimately, these two cases are NOT the same and the differences run deeper than what meets the public eye.
"We are wholly appreciative of the love that continues to be shown to El. We empathize deeply with Gabby's family and hope that both our cases bring forth positive resolution. Somebody knows something. About El, about Gabby..."