Missing NC Boy Latest: FBI Using Parents' Voices in Search For Gastonia 6-Year-Old Maddox Ritch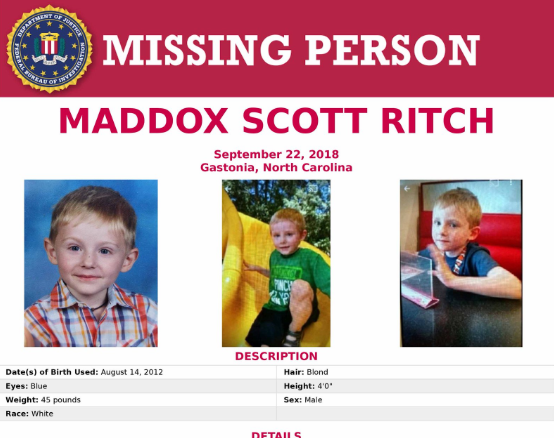 The FBI has joined the massive search for a 6-year-old boy who went missing in North Carolina. Maddox Ritch, who has autism, disappeared Saturday while he was with his father at Rankin Lake Park in Gastonia.
FBI agents are using pre-recorded messages from Maddox's parents to aid in the search, ABC News reported. Maddox is reportedly nonverbal, and FBI agents hoped hearing his parents voices might bring him out of the woods if he is there, according to ABC.
Maddox's father lost sight of him around 1:30 p.m. Saturday at the park, while they were walking around the lake.
"They got around to the back side of the lake," Gastonia spokeswoman Rachel Bagley told WSOC. "He started running, according to the parents, and when they started running after him, they lost sight of him, and no one has seen him ever since."
A massive search has been underway for Maddox since he went missing. Some 1,400 acres of land have been scoured, and a helicopter was deployed to aid in the search. The FBI in Charlotte said a SWAT team hand searched through dumpsters in the area, and Gastonia Police said search dogs from the National Center for Missing and Exploited Children were also helping. FBI special agent Jason Kaplan told ABC News authorities were exploring all possibilities in the case, "including abduction."
"But we're also going to make sure we search every inch of land around here to make sure that he's not simply lost," said Kaplan.
Authorities said more than 80 leads had surfaced in Maddox's disappearance, WCNC reported.
"We have spoken to many people who were there, but we want to make sure we talk to them all," Chief Robert Helton said, according to WCNC. "No piece of information is too small. Something you may think is insignificant could be helpful to our case."
Helton also said the family had been interviewed and was "working closely" with authorities. The Gastonia Police Department cautioned the public against spreading rumors relating to the search for Maddox.
"Do not be responsible for redirecting our efforts away from where they need to be," the department said. "We should all unite to find Maddox."
Maddox was described as 4 feet tall and 45 pounds, with blond hair and blue eyes. He was last seen wearing an orange t-shirt reading "I am the man" and black shorts with a white stripe.
Anyone with information was asked to call Gastonia Police at (704) 869-1075, a local FBI office, or the nearest American Embassy or Consulate.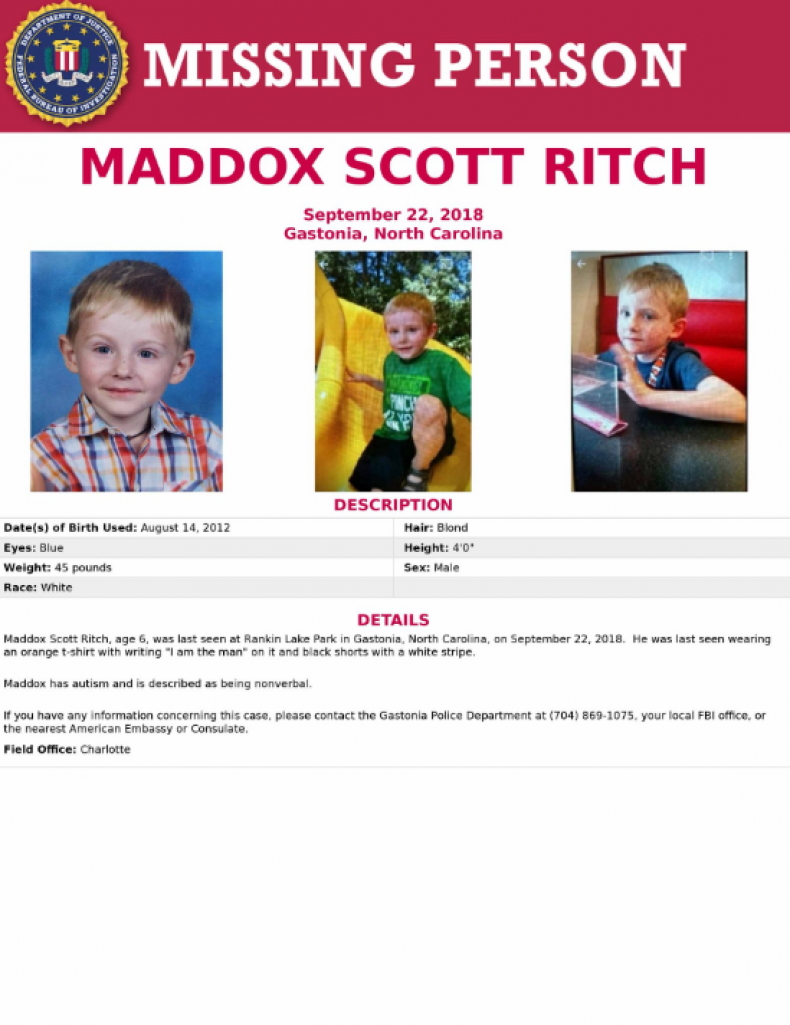 Missing NC Boy Latest: FBI Using Parents' Voices in Search For Gastonia 6-Year-Old Maddox Ritch | U.S.