Missing the Olympics? Airbnb Is Offering a Way to Get Your Olympic Fix This Week
In the face of the coronavirus pandemic, many events, both large and small, have had to be put on hold. Two of the world's largest events, the Olympics and Paralympics, were no exception and were both postponed until 2021. The Summer Olympics, which happens every four years, were planned to begin this week in Tokyo and will instead commence a year from now in the same venue.
Despite the cancelation, fans still have other ways for get their Olympics fix this summer. Airbnb, the site most known for its vacation rental feature, also began offering experience bookings—and now even online experiences. In celebration of what would have been the opening week of the Olympics, Airbnb has teamed up with the International Olympic Committee and the International Paralympic Committee to create an online five-day festival filled with sessions hosted by over 100 athletes from around the world. The event lasts from July 25 to 29 with the average cost of $25 for each Online Experience.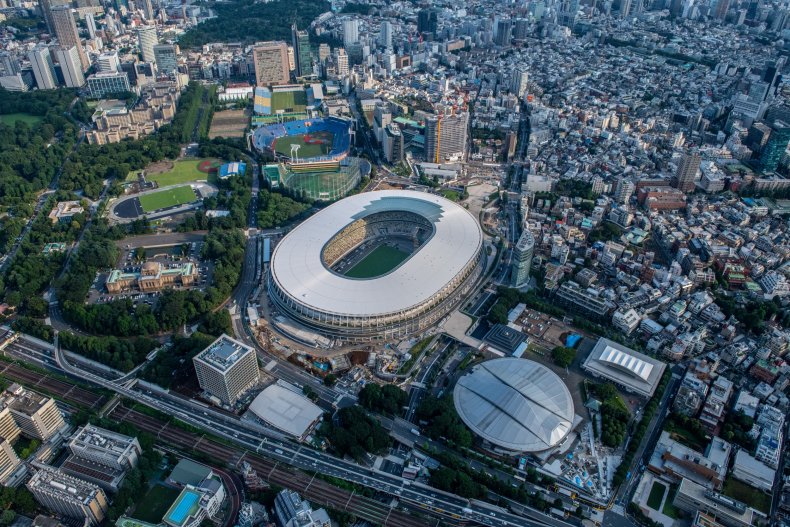 Athletes are covering a variety of topics that go beyond their work on the field, track or on the court. On the first day, Allyson Felix, the six-time gold medalist track and field star for Team USA will discuss her four-time Olympic career up to her return to the sport after giving birth to her child—and then will take guests through a 30-minute workout. "I'll share the lessons I've learned and I'll explain how these journeys have given me the ability to discover myself—on and off the track," Felix tells Newsweek.
For those who might be discouraged to stay motivated during this uncertain time, Felix says she knows the feeling.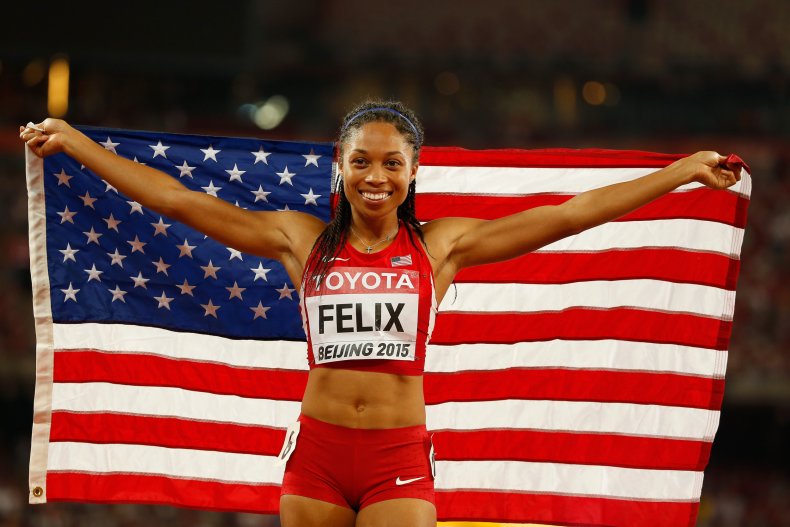 "I am right there with them. It is hard not to think about the loss and what could have been. But I have had to learn to adapt while holding onto hope," Felix said. "I hold onto my goals and being in Tokyo 2021 on that podium. Those goals and dreams haven't stopped, neither will I."
Her event is sold out as it was only open to 10 people, at $25 a spot. Nevertheless, the experience will be streamed for viewers all over the world to tune in.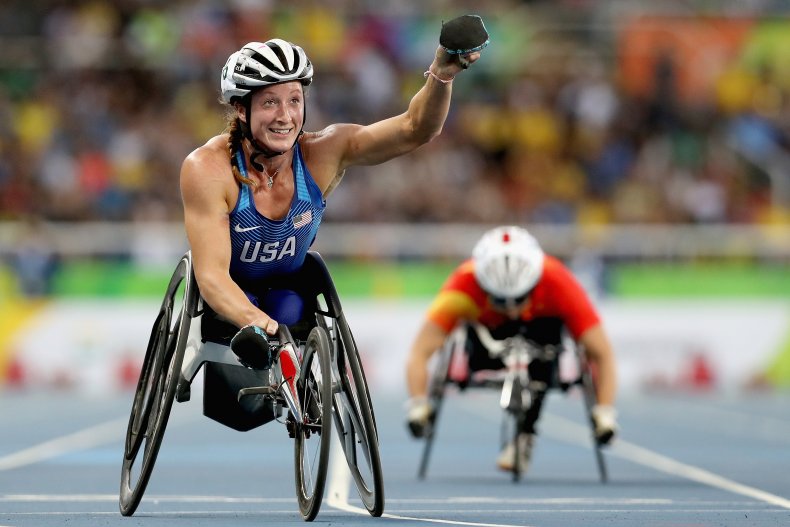 On the same day, 17-time medalist and paralympic athlete, Tatyana McFadden will host an event showcasing a workout and how she adapts certain moves for her own body. This event is open to 900 people and at time of publishing, still had open spots at $15 per person.
"I decided to get involved because I think it's just a great way to connect and uplift everyone in this time of uncertainty," McFadden tells Newsweek. "I'm hoping I can show others how I've altered my training and it will make a difference to someone watching."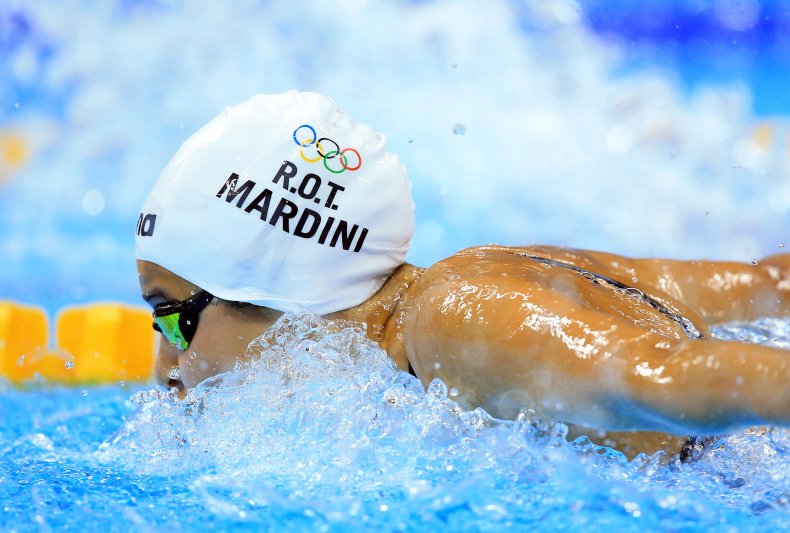 Yusra Mardini, Syrian swimmer and member of the first-ever IOC refugee Olympic team in 2016, will be hosting an event in which she talks about resilience. Mardini and her sisters saved 20 people's lives as they fled Syria and found safety in Europe. Her event is also capped at 10 people and sold out, but will be available to live-stream. All of the proceeds from Mardini's event will be donated to Give Something Back to Berlin, an organization whose aim is "fostering community integration, intercultural dialogue and participation among Berlin's diverse migrant populations," as it is a Social Impact Online Experiences
Rui Hachimura, a member of the Japanese national basketball team and who currently plays for the Washington Wizards, is offering a session on sneaker culture as he tunes in from the "NBA Bubble" in Walt Disney World. He will also discuss his upbringing and how he got interested in basketball. His experience will cost fans a bit extra, at $300 per person for the hour session, though the proceeds will go to Katarbia, an organization that works with youth across Japan.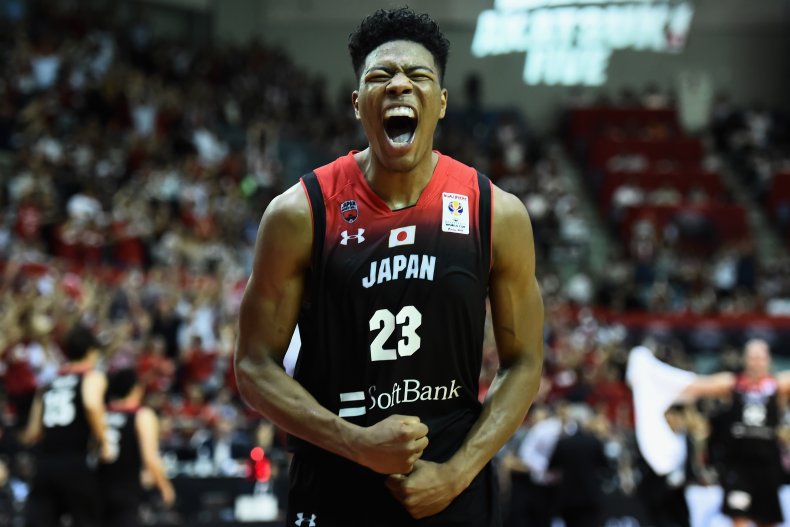 The profits made through these experiences will go to the athlete unless the event is classified as a Social Impact Online Experiences like the experiences hosted by Hachimura and Mardini. Beyond the five days of events that range from athletes whose names you've seen on billboards and magazines to those who you might not know as well but surely will after a session with them, many athletes have agreed to continue offering experiences in the coming weeks—after the event is over.