The Missing Sons Of The War On ISIS | Opinion
In January 2017, in an Erbil café, I met a woman called Nahla*, a breast cancer survivor who was stuck living under ISIS through much of its time controlling Mosul, Iraq's second-largest city. Her husband had died years before after an illness, and her son had been missing since May 2015. She had come to the Iraqi Kurdistan capital to try to find out where he was, with bags full of documents, and an energy that knew no bounds.
Her son, Adnan*, 25, fled Mosul when ISIS took control in June 2014 and enrolled at Baghdad University to continue his studies in sports science. On May 9, 2015, as his mother's health was deteriorating due to lack of proper cancer treatment under ISIS, he decided to drive back to the city to visit her. At the time, ISIS was allowing some people to enter or leave its territory. She last spoke to him as he was arriving at a checkpoint in an area controlled by armed forces called the Popular Mobilization Forces. After that he was no longer reachable.
We recently took a close look at 78 cases among the many hundreds of men and boys detained and forcibly disappeared by Iraqi military and security forces since 2014. Most that we documented were at the hands of the Popular Mobilization Forces, which are now under the control of Prime Minister Haider al-Abadi. This is particularly relevant because the outcome of the May elections may mean that PMF-affiliated political parties will play a more prominent role in Iraq at the political as well as military and security levels.
In July 2015, Nahla made her way out of Mosul to Baghdad, where she registered her son as missing with the central criminal court in Baghdad, the High Judicial Council, the prison at Baghdad International Airport, and the Ministries of Interior, Defense, and Justice. Then she retraced her steps and registered his case at all the police stations and checkpoints on the route he had taken, and at the Babil Operations Command, and all local courts in Babil and Karbala governorates, both of which he would have passed through. She shared with me the many documents she received from these offices, acknowledging her son's case and asking other government offices to locate him, without results.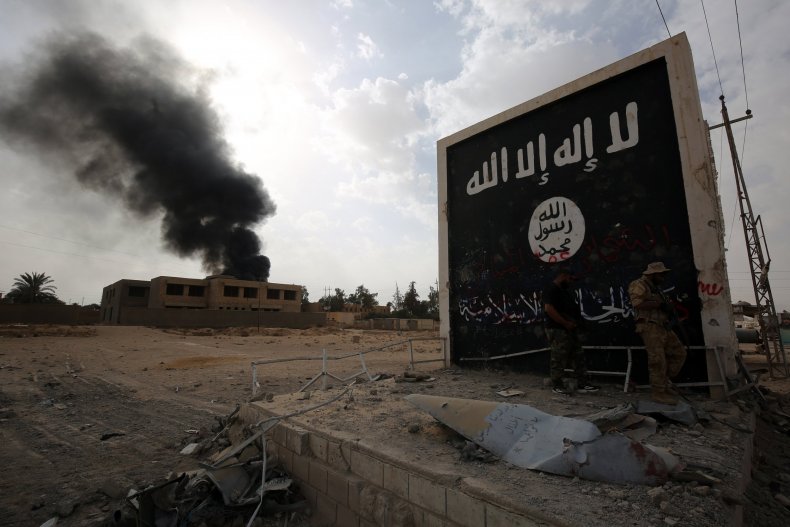 Then, on October 22, 2016, she saw Adnan on a TV screen, labeled an ISIS fighter in the first segment of a quasi-documentary on the war against ISIS in Iraq. It was shown on Al Mayadeen, an outlet often sympathetic to the Hezbollah Brigades, part of the Popular Mobilization Forces. In the documentary, Adnan stated he was a member of ISIS and that the group received support from U.S. troops, a common conspiracy theory in the region. He then attested to participating in events in 2016 in Mosul, well after he had gone missing. On October 26, Adnan appeared in the fourth segment of the piece, speaking about ISIS's policing and leadership systems, though he hadn't lived in ISIS territory for long. At the end of each segment Al Mayadeen thanks Hezbollah for the footage of the interviews.
Nahla told me she noticed the distinctive curtains behind her son in the footage, which seemed to match curtains in photos of Hezbollah's headquarters posted on its Facebook page. The footage led Nahla to believe that Hezbollah was holding her son. She went to Al Mayadeen's offices in Baghdad, begging them to help her locate her son. They refused. She then got the Security and Defense Committee in Parliament to write to Hezbollah, asking about her son—they told her they had sent a letter in December 2016 but as of May 2018 had yet to inform her of any response.
Nahla then started to research what international options were open to her and she lodged a complaint with the Committee on Enforced Disappearances under the U.N. human rights office. It ordered the government to provide information on Adnan's whereabouts. But she has heard nothing.
With all these efforts, Nahla has not found her son. For families like hers the idea that those responsible for their relatives' disappearance continue to walk free is terrifying. If Iraq is to move forward, the new government will need to take immediate steps to provide answers to them about where their relatives are and if they are still alive. The government will need to show it is serious about putting an end to these disappearances, and that groups that took Adnan and the others and never revealed what happened to them will be punished.
*Names have been changed to protect identity.
Belkis Wille is a senior Iraq researcher at Human Rights Watch.
The views expressed in this article are the author's own.​​