The recently removed statue of white supremacist former Governor Theodore Bilbo is now sitting in a storage closet in the state Capitol in Jackson, according to a Mississippi House clerk.
Andrew Ketchings told reporters that it was his decision to remove the statue and that he had been bothered by it for years "because of everything [Bilbo] stood for." It is now in a closet behind one of the building's elevators, draped in a fire blanket.
Bilbo served as governor from 1916 to 1920 and again from 1928 to 1932, then joined the Senate in 1935 until his death in 1947. While in office, he advocated for Black Americans to be deported to Africa to preserve "racial purity," according to the Encyclopedia Britannica.
The statue had been on display for decades, first in the center of the Capitol, then in a House committee room since the 1980s, according to the Associated Press. Ketchings, who was part of the Mississippi House in the late 1990s and early 2000s, said the Mississippi Legislative Black Caucus was meeting in the room where the statue was last standing and Black lawmakers asked that it be moved.
Ketchings told reporters "it was way past time" to remove the statue and he felt more strongly about the issue after reading through Bilbo's quotes.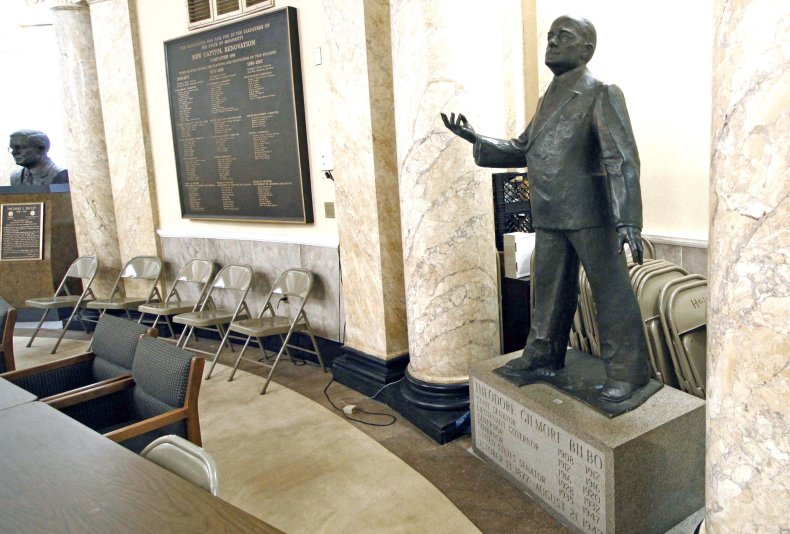 Bilbo attempted to block racial justice legislation at every turn in his career, the Encyclopedia Britannica said. He once filibustered to try to block a proposed anti-lynching bill, saying stopping lynching would "open the floodgates of hell in the South," adding that rape, mobs, additional lynching and more would increase "a thousandfold" and "red-blooded Anglo-Saxon White Southern men will not tolerate" this, Mississippi Today reported.
Ketchings said a work crew moved Bilbo's approximately life-sized statue in October using $4,000 to $5,000 of public money, according to AP. State Representative Lee Yancey told Mississippi Today that moving it could not have been an easy task.
"He is 5-foot-2 and weighs 1,000 pounds, so he did not go willingly," Yancey said.
The Mississippi Today report said most people in the Capitol did not notice that the statue was missing until last week despite it being gone since the legislative session began on January 4.
Before Ketchings came forward about removing it, people were baffled over where it had gone, with state Representative Tom Miles telling the local news site it was like the "Where's Waldo?" of the Capitol.
The Mississippi Legislative Black Caucus did not immediately respond to Newsweek's request for comment.
Update 2/9/22, 4:38 p.m. ET: This story was updated with additional information.