Missing Submarine With 44 Crew Found a Year After Disappearing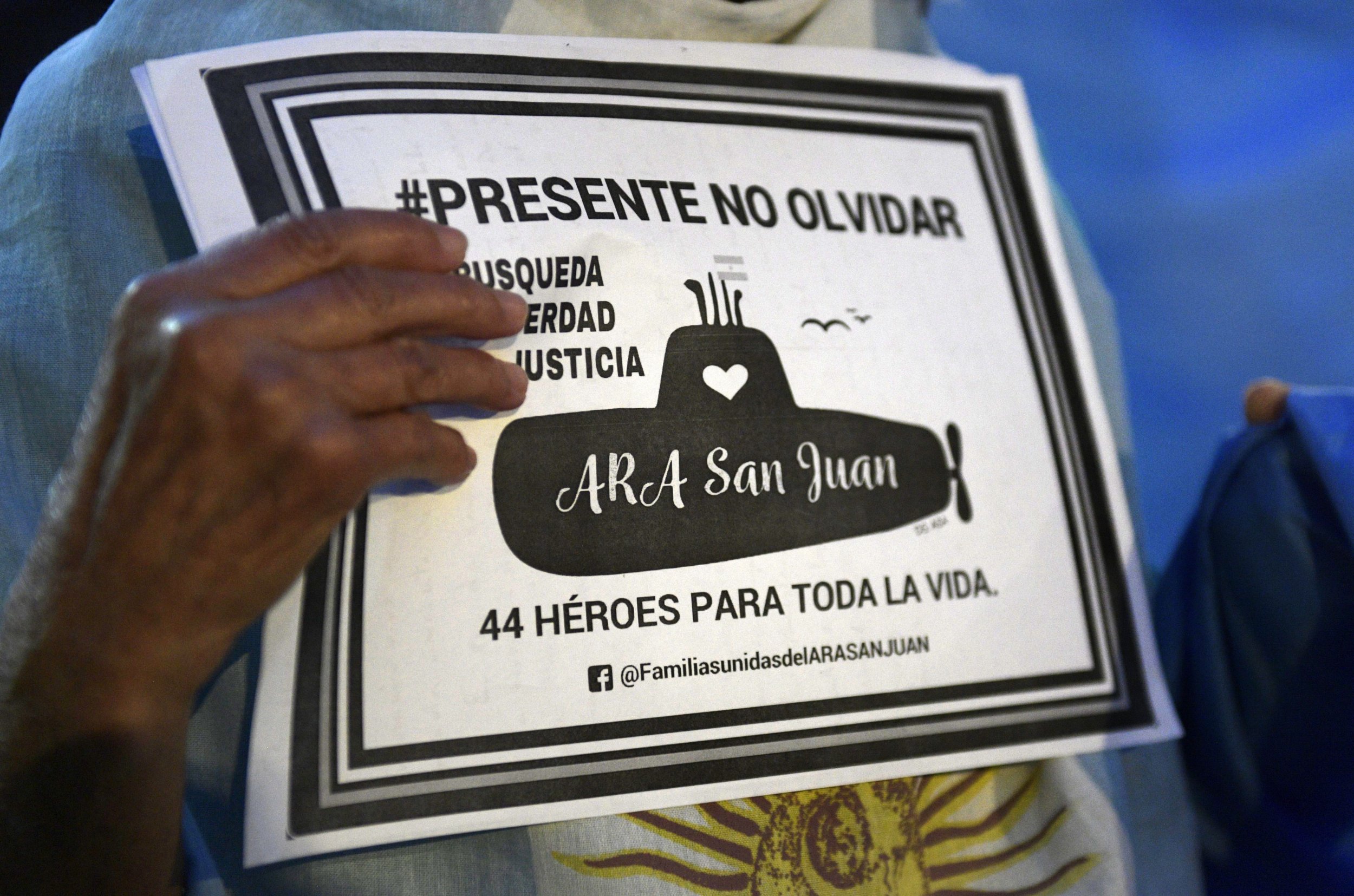 The Argentinian navy has found a submarine that went missing one year ago with 44 sailors aboard.
The ARA San Juan was found Friday, sitting 2,620 feet below the Atlantic Ocean, the BBC reported. It disappeared 270 miles off the Argentinian coast on November 15, 2017.
The initial rescue mission was called off after two weeks, with investigators unable to establish exactly where the submarine was lost. But a U.S. company has now been able to locate and positively identify the lost vessel off the Valdes Peninsula in Argentine Patagonia.
The Argentinian navy earlier shared an image of a 196-foot object on the seafloor noting it might be the San Juan. It later confirmed "positive identification" using a remote-controlled submersible vehicle launched from the American Ocean Infinity ship, The Guardian reported.
The San Juan was returning from a mission to Ushuaia—a city at the southernmost tip of South America—when it reported an "electrical breakdown." Naval commander Gabriel Galeazzi said the ship surfaced and its crew explained they had a "short circuit" in the vessel's batteries, the BBC explained.
Though it was ordered to immediately return to the Mar del Plata naval base, commanders suddenly lost contact with the submarine. The last communication with the crew was at around 7:30 a.m. local time on November 15, when the captain confirmed that all the crew were well.
Enrique Balbi, a spokesman for the Argentinian navy, told reporters last year that water had entered the submarine through the ship's snorkel, which is used to draw air from above the water when the vessel is submerged.
This water then dripped onto a battery tray at the very front of the ship, causing it to short circuit and smoke. The submarine then disappeared before commanders could ascertain the extent of the problem.
Eight days after the ship disappeared, the Comprehensive Nuclear Test-Ban Treaty Organisation said it had detected a noise several hours after the submarine's last contact that could be linked to its loss.
The Vienna-based body reported a "hydro-acoustic anomaly" around 30 nautical miles north of the submarine's last-known position at 10:31 a.m. local time. The organization maintains a network of listening posts to monitor nuclear explosions.
The Argentinian navy said the sound may have been the submarine imploding.
Just two days before the discovery, families of the missing 44 crew had gathered to listen to President Mauricio Macri. He said the families should not feel abandoned and stressed his "absolute and non-negotiable commitment" to discover "the truth" of what happened.