Missing Submarine Race Against Time As Only Few Hours of Oxygen Left
Rescue teams hunting for a missing submarine are engaged in a race against time to find the vessel and its 53 crew, with the oxygen supply running low.
The Indonesian Navy's KRI Nanggala 402 disappeared on Wednesday during a training exercise and officials said an electrical failure may have left the submarine unable to resurface.
The 44-year-old vessel is believed to be around 60 miles north of the island of Bali, where an oil slick and the smell of diesel fuel were reported.
Fears have grown that the vessel may have sunk below its collapse depth, making it vulnerable to implosion due to the pressure, and that oxygen supplies may run out as early as Saturday morning.
Maj. Gen. Achmad Riad, a spokesman for the Indonesian military, said: "We will maximize the effort today, until the time limit tomorrow 3 a.m."
The search effort has intensified in the last 24 hours amid concern over the dwindling oxygen.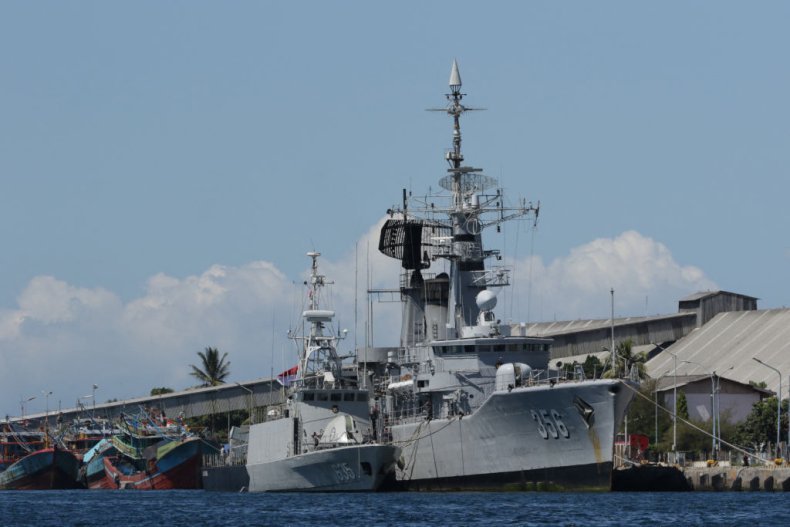 The U.S. announced late on Thursday it was sending "airborne assets" to the scene and two Australian warships, a helicopter and Singaporean and Malaysian vessels are also on their way.
A patrol plane and 24 ships are now involved in the hunt, which is complicated by the fact that the submarine was not built with a rescue seat around an escape hatch, which would have facilitated underwater rescues by providing a watertight seal between the stricken watercraft and the rescuing vessel.
John Kirby, a spokesperson for the Pentagon, said: "We are deeply saddened by the news of Indonesia's lost submarine, and our thoughts are with the Indonesian sailors and their families. At the invitation of the Indonesian government, we are sending airborne assets to assist in the search for the missing submarine.
"@SecDef Austin is scheduled to speak with his counterpart, Indonesian Defense Minister @prabowo Subianto tomorrow morning to convey our sorrow and to discuss how else the United States can be of assistance."
As yet there have been no concrete signs of the submarine, however search teams have located an unidentified object with high magnetism in the area.
Indonesia's defense ministry said the 53 people on the missing submarine included 49 crew members, one commander and three gunners.
The 1,395-ton submarine was built in Germany in 1977 and first joined Indonesia's navy in 1981—one of five submarines in the country's naval fleet.
In 2017, a navy submarine disappeared off the coast of Argentina with 44 people onboard. It was found a year later at a depth of around 3,000 feet.