In mid-April, the U.S., UK and France joined forces to bomb what they said were three government sites in Syria reportedly used as chemical weapon facilities. The attack was in response to a suspected chemical attack on the town of Douma that had killed dozens of Syrian civilians. A day after the attack, President Donald Trump declared "Mission Accomplished."
What exactly was that mission? Bashar al-Assad is more consolidated in his pernicious power than before, his main supporter Russia rides the high moral ground at the UN, and his other accomplice Iran is more entrenched in both Syria and Iran. If Assad indeed used chemical weapons against civilians—I have no doubt he is perfectly capable of any heinous crime, but I would also not credit the U.S., UK, or France with any legitimacy to verify that report—he can use them again.
The bombing in fact accomplished exactly the opposite effect of "Mission Accomplished"—except of course for a couple of days distracting the world attention from the domestic woes of Donald Trump with Robert Mueller doggedly on his tail.
Syria is now a quagmire. Anything and anyone, any military force or political project that comes near it, disappears into the thicket of multiple proxy wars among opposing forces. To understand the terror of that quagmire we need to pull back for a long shot.
Remembering Syria
I remember walking out of our hotel lobby and taking a stroll with a Syrian-Palestinian friend in downtown Damascus. It was a pleasant midsummer afternoon in 2003 and we were walking towards a popular cafe called Rawda where we were to meet a group of leading Syrian filmmaker friends. The late Omar Amiralay was there, and so were Mohammad Malas and Ossama Mohammed.
My first book on Iranian cinema had just been translated into Arabic and published in Damascus. I was working on my edited volume on Palestinian cinema, and in that cafe we had arranged for a meeting with a young Palestinian archivist and film historian, Bashar Ibrahim, to help him safeguard rare footage from early Palestinian cinema. We sat in that beautiful café, talked, laughed, shared memories, drank coffee and then a few of us went for dinner on the rooftop of a splendid Damascene restaurant.
That is now all like a dream—a mirage that never was. Syria is no longer Syria. It was systematically destroyed over the last eight years—and no one and nothing is more directly and personally responsible for that destruction than the monstrous tyrant Bashar al-Assad—who was willing to rule over the ruins of Syria rather than allow for a peaceful, purposeful transition to democracy.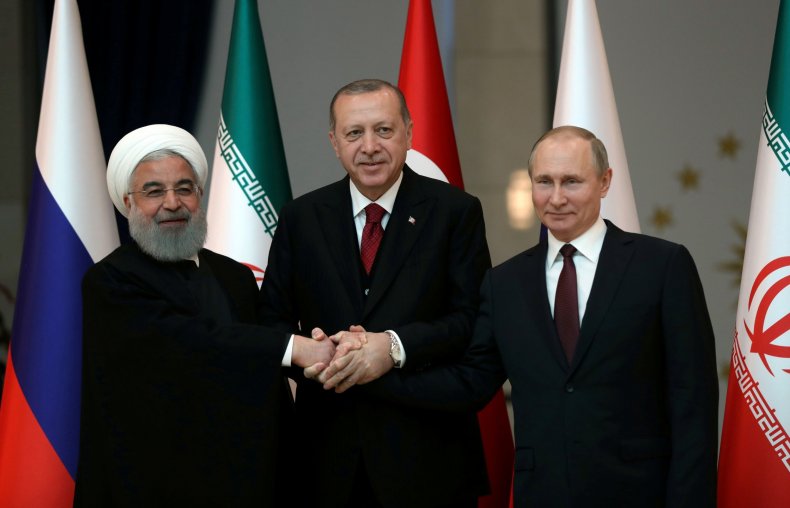 Like all other nations in the region, Syrians have dreamt, desired, reasoned, envisioned, and articulated their hope and aspirations for a democratic future through their films, fictions, poetry, and critical thinking. The urbanity and broad horizons of that desire have informed generations of Syrians for decades.
Now look at the ruins of Syria, from one end to the other. Like all other nations in the course of the Arab Spring, Syrians rose peacefully demanding their civil liberties and political freedom from prolonged tyranny.
The first person that bloodied their noble, principled and peaceful uprising was Assad, long before any other actor and factor entered the scene. Today, it no longer matters if he did or did not gas his own people with nerve agent sarin in Eastern Ghouta. He has already done everything to justify the suspicion that he did.
The Syrian revolution began like all other uprisings in the Arab world around it in 2010—peacefully, happily, resoundingly, optimistically. And then monsters began to crawl out of those innocent beginnings.
Eight years into the bloody mayhem that ensued, it is estimated that about half a million Syrians have been killed, over a million injured, and more than 12 million displaced—mostly internally, in Lebanon, or in Turkey, but many also found their way into Europe and beyond.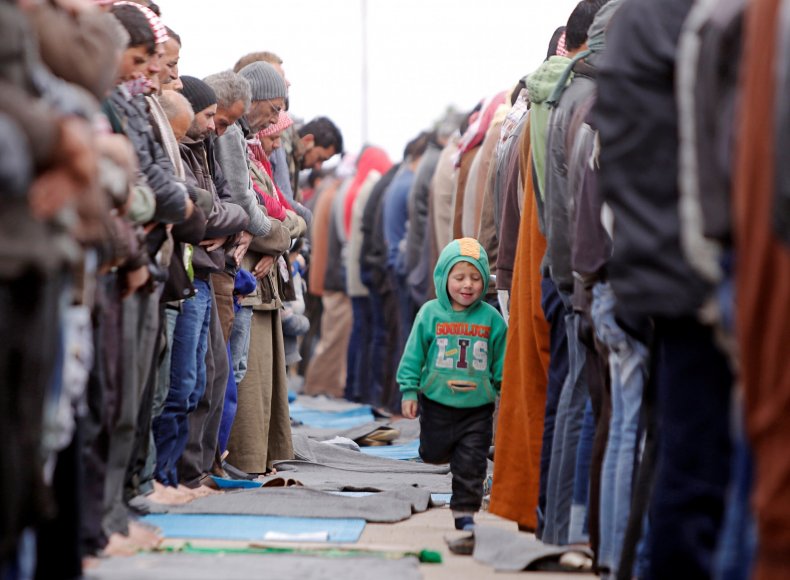 The bloodshed began early in the course of the revolution, when Assad had his security and intelligence forces arrest, torture, and murder peaceful protestors. Between March and July 2011, Assad was principally responsible for the bloody crackdown on the peaceful uprising.
By July a faction of the Syrian army had defected and formed the Free Syrian Army and openly revolted against Assad. An almost immediate byproduct of this crucial defection was the degeneration of the collective uprising into vicious sectarian identity politics between the majority Sunni and minority Alawid ruling faction.
Exacerbating these sectarian hostilities was the counterrevolutionary mobilization of the two opposing forces of Iran and Saudi Arabia that had a common concern with the democratic uprisings in their regions. Their siding with or against Assad was and remains a purely opportunistic gesture, intensifying the sectarian conflict, but in effect derailing the Syrian and other Arab revolutions from their democratic objectives—with Iran, Iraq, and Hezbollah on Assad's side, and Saudi Arabia leading the active support of most Sunni Arab states against him.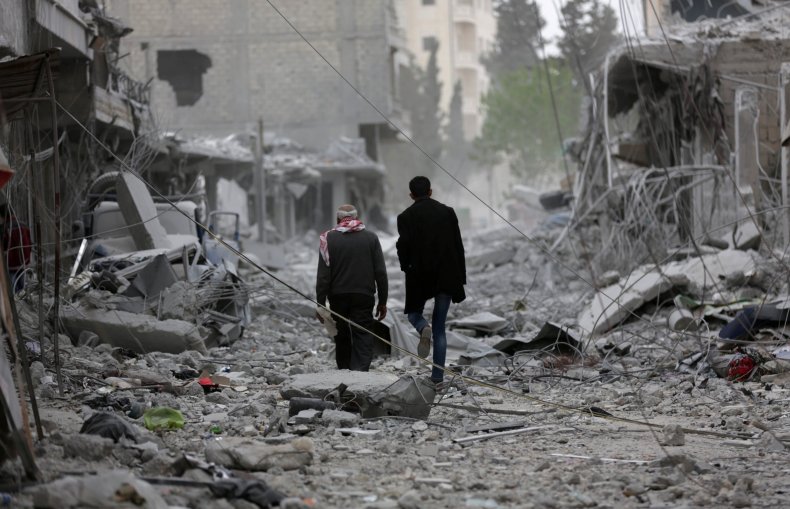 The conflict and the proxy war were soon underlined by a false Sunni-Shiite (Arab-Persian) divide. This was and remains an entirely bogus smoke screen. The real conflict was and remains between democratic mobilization of nations and the counterrevolutionary mobilization of the ruling states.
The same subterfuge covered all other states that now poured their military wherewithal into Syria. The U.S. and Russia extended their Cold War posturing from Ukraine and Crimea into Syria. Turkey used the excuse of defeating terrorism to dismantle Kurdish democratic aspirations in Syria and Turkey.
In the midst of them all, the diabolic Islamic State militant group (ISIS) was the doppelganger of all the counterrevolutionary forces combined. By fighting ISIS, all these ruling states in fact created a bloody sideshow that violently criminalized the legitimate revolutionary mobilization of Arab nations.
The dream of a democratic Syria was thus turned into a nightmare. Triumphant today are the forces of tyranny and fanaticism, of both Sunni and Shiite vintage, Saudi and Iranian sort.
Hidden in plain sight is the fact and force of Syrian people as a nation, as a potential polity, now effectively reduced to half of its pre-revolutionary size, but still their phantom force haunting their homeland. Yes, the physical site of that democratic dream is destroyed but just like the memory of that delightful evening at Rawda Café in Damascus, the poetry of that inaugural uprising remains crystal clear.
Hamid Dabashi is the Hagop Kevorkian Professor of Iranian Studies and Comparative Literature at Columbia University. Born in Iran, he received a dual PhD in Sociology of Culture and Islamic Studies from the University of Pennsylvania, followed by a postdoctoral fellowship at Harvard University. An internationally renowned cultural critic, his writings have been translated into numerous languages. His books include ​​The Arab Spring (Zed, 2012) and ​​Can Non-Europeans Think? (Zed, 2016).
The views expressed in this article are the author's own.