Body of Missionary Killed by Arrows From Isolated Tribe Still on Island, Police Facing Difficulties Recovering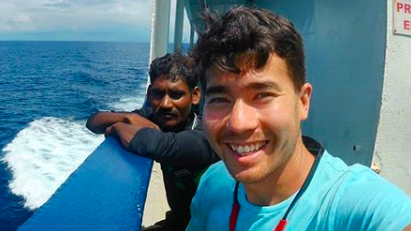 Recovering the body of the 27-year-old American missionary has proven to be difficult Thursday by Indian authorities.
John Allen Chau, an Alabama-native, was killed by Northern Sentinel islanders after attempting to reach the island to convert the isolated tribe to Christianity.
The islanders continue to live the way their ancestors did thousands of years ago—where strangers are seen as a threat and are quickly attacked.
"It's a difficult proposition," said Dependera Pathak, director-general of police on India's Andaman and the Nicobar Islands, in a Fox News report. "We have to see what is possible, taking utmost care of the sensitivity of the group and the legal requirements."
Pathak told Fox News that seven people had been arrested for assisting Chau to the island—including the five fishermen, Chau's friend and a local tourist guide.
Officials are consulting with anthropologists, tribal welfare experts and scholars to find a way to recover the body from the restricted island, where photos or videos on the tribe are considered illegal.
Chau reportedly knew the dangers of this tribe; however, he paid fishermen to take him to the island by kayak.
The family of the 27-year-old took to Instagram to release a statement saying they "forgive those reportedly responsible."
"He loved God, life, helping those in need, and had nothing but love for the Sentinelese people," the statement read. "We forgive those reportedly responsible for his death."
According to authorities, Chau was in the area since October 16 and stayed on a neighboring island to prepare for his encounter with the Sentinelese. This wasn't the first time the 27-year-old visited this particular region: In 2015 and 2016 Chau visited the Andaman islands.
In letters obtained by the Daily Mail, Chau had made several attempts to speak with the tribe—bringing various gifts to build rapport.
Though the islanders were clearly unreceptive, the missionary would yell, "My name is John, I love you and Jesus loves you," his letters explained.
According to the fishermen who transported Chau to the island, the missionary was reportedly shot by arrows and dragged by the tribe where his remains where buried. However, an official cause of death cannot be confirmed until his body is recovered, according to Pathak.
This is not the first time that the Sentinelese has become violent to outsiders. In 2006, two Indian fishermen—Sunder Raj and Pandit Tiwari—washed up on the shoreline after their boat drifted too close to the island while fishing for mud crabs. Both were killed by the Sentinelese. A helicopter attempted to retrieve their bodies but was driven off by arrows.
The Indian government has not sought to punish anyone for the murders.