Mississippi Police Officer Fired For 'Racist, Misogynistic' Kamala Harris Social Media Post
A Mississippi police officer was fired for posting highly controversial comments on social media concerning Vice President-elect Kamala Harris.
Byhalia Police officer David Pannell's post mocked Harris' "Cindarella story" ascension to the second-highest political office in the nation following the recent November 3 poll and also falsely asserted that Democratic President-Elect Joe Biden had dementia, according to local media reports.
"She will be an inspiration to young girls by showing if your sleep with the right powerfully connected men then you too can play second fiddle to a man with dementia," Pannell wrote.
His comments drew an immediate rebuke from the National Association for the Advancement of Colored People (NAACP), which slammed the post as "racist" and "misogynistic", the FOX13 news channel reported on Thursday.
"Officer Pannell's comments about the career ascendancy of Vice President-Elect Kamala Harris were racist and misogynistic and unbecoming of a public servant that works in a city that is 45 percent African American," the organization said in a statement.
"The Marshall county NAACP and the Mississippi State Conference NAACP is committed to fighting systems of racial injustice and any other systems, actions, or language that does not represent or benefit all Mississippians," it added.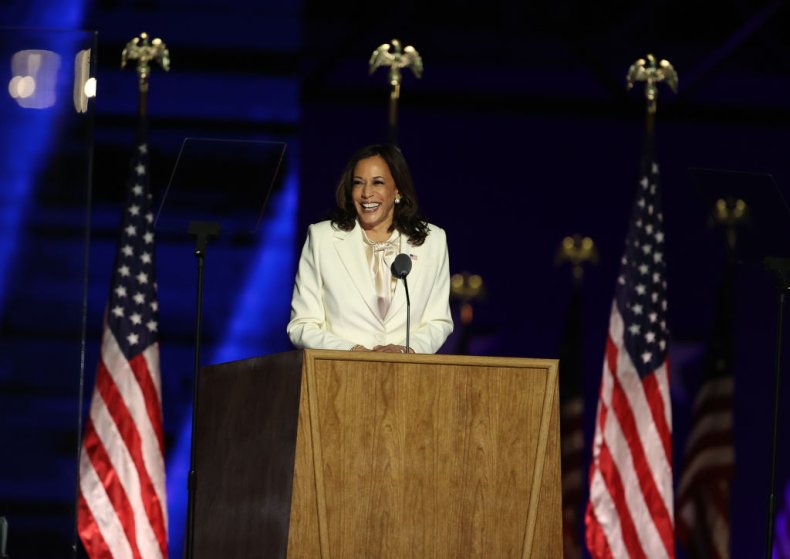 Amid the scrutiny, Byhalia Police Chief Ben Moore confirmed to FOX13 that Pannell had been fired from the force.
Moore added that a formal announcement regarding Pannell's termination would be made during a Board of Alderman meeting scheduled to take place next week, on November 17.
Newsweek contacted Byhalia Police for comment.
Commenting on the developments, Marshall County NAACP president Rodney Lowe told FOX13 Pannell's conduct was "unbecoming of an officer."
Lowe also said he hoped the outcome of the November 17 meeting would send a strong message to the citizens of Byhalia over the incident.
"I commute through Byhalia all the time patronizing some of their businesses there," he added. "The last thing we need to be worried about is biases from the police department."
Marshall County prosecutor Shirley Byers meanwhile revealed that she had been texted regarding Pannell's post before then sending evidence of his comments on to Moore on Monday, who was reportedly unaware of the post until then.
"I found it to be discriminatory in terms of sex, race and illnesses because he talks about all three," FOX13 quoted her as saying. "As a woman of color and the county prosecutor I have a problem with it."
Byers did however also state that she had worked with Pannell before and found no issue with his conduct during those encounters.
"If I needed anything in terms of a case that he may have been handling there was no problem," she said. "So, I've never had any problems with him."
Harris has represented California in the Senate since 2017 and is the first woman, and woman of color, to be elected vice president. Biden is set to be inaugurated as the nation's 46th leader on January 20.