Mississippi 8th-Grader Dies of COVID Shortly After Gov. Reeves Downplays Risks to Students
An eighth-grade girl from Mississippi died just hours after testing positive for COVID-19—and less than a day after Governor Tate Reeves downplayed the risk of the virus during a press conference Friday.
The student, who was not identified, attended classes at her school for most of the week before testing positive for the virus, The Mississippi Free Press reported. Her health declined quickly after the diagnosis and reportedly passed away Saturday morning.
The teenager was described as a perfect student whom every teacher loved, according to WLBT-TV.
Smith County Schools, the school district she attended, announced August 10 that students and employees would be required to wear a mask after several people tested positive for the virus.
During a Friday press conference, Reeves, a Republican, reiterated his policy of not mandating masks in schools, saying the risk of students becoming severely ill from the virus is low.
"If you look at those individuals under the age of 12, what you find is that it is very rare that kids under the age of 12 have anything other than the sniffles," he said.
He acknowledged that severe COVID-19 cases do rarely occur in children and that the state has had a handful of children die from the virus.
Mississippi State Health Officer Dr. Thomas Dobbs said that as of Friday, four children have died from the virus in the state, one during the summer. That number is now five.
"For those under 12 that are not currently eligible for the vaccine, it is highly unusual for there to be any significant effects," Reeves said.
He said any parent who is concerned about their children contracting the virus in school is recommended to go to their local school district and request a mask mandate. He said students are also welcome to wear masks in the schools if they feel that will protect them.
"I have confidence that the individual school district around Mississippi are taking all of the local factors into account," Reeves said.
COVID-19 cases have surged in Mississippi due to the highly-transmissible Delta variant. On Friday, the state had a 7-day-average of 3,217 new cases per day, a significant increase from a month earlier, when that number was 392, according to data from John Hopkins University. It is among the least vaccinated states in the country, as only 35.92 percent of the population is fully vaccinated.
Throughout the state, more than 4,400 students are in quarantine after being exposed to the virus, Dobbs said during the press conference. Reeves said the majority of students remain in the classroom.
"If we have approximately 450,000 Mississippi kids in classrooms across the state—if there's 5,000 that are quarantined, that means there are 445,000 in the classroom learning," he said.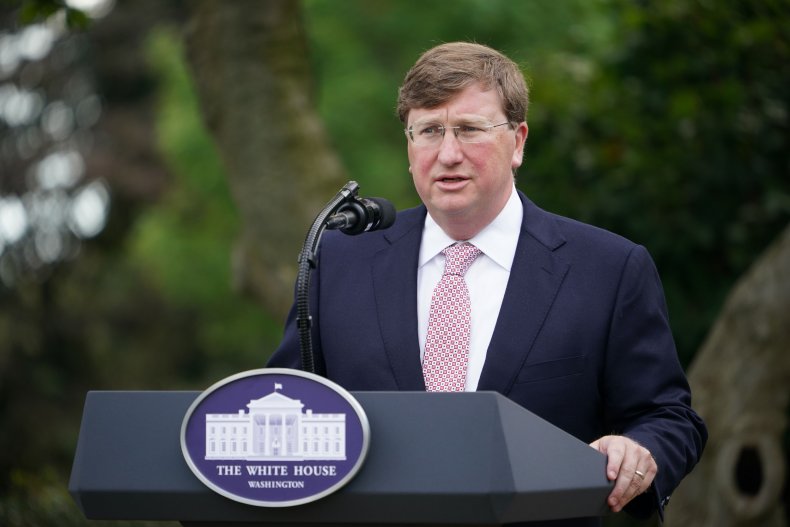 The governor on Thursday announced that Mississippi's state of emergency would be extended for 30 days, but that "there will be no statewide mandates."
Newsweek reached out to Reeves' office for comment, but had not heard back by publication. This story will be updated with any response.