Mississippi, Arkansas River Flooding Latest: Flash-flood Risk in Illinois, Kansas, Missouri Rising With Heavy Rains Expected
Flood warnings continue for the Mississippi and Arkansas Rivers, with snowmelt expected to contribute to the heavy rainfall seen over the past month. The National Weather Service (NWS), advised that flood warnings would continue for South Carolina, Virginia, Colorado and Kansas until Thursday morning.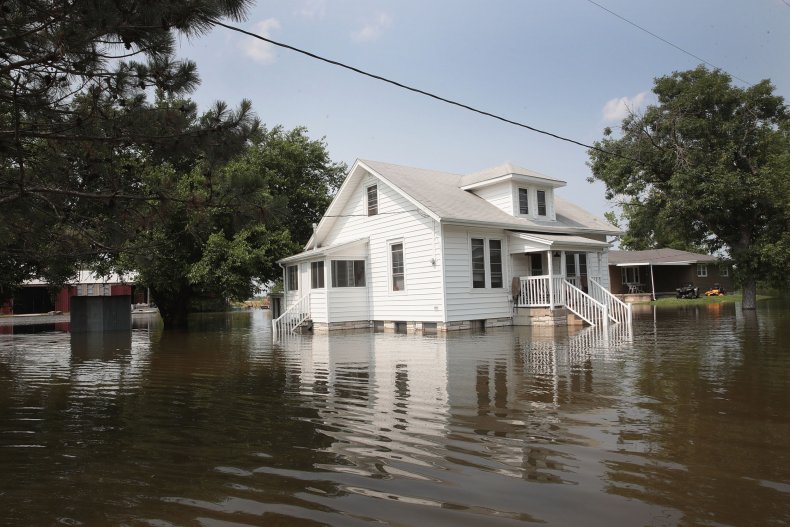 NWS Pueblo in Colorado released a statement that the Arkansas River at Canon City, which has already seen flooding, will be subject to rising levels due to snowmelt flooding. This will affect Fremont County. The Rio Grand River near Del Norte is also prone to snowmelt, affecting Rio Grande County. The warning forecasts that Del Norte will have minor flooding with the current stage showing as 5.4 feet, and the flood stage at 5.5 feet. It is predicted to rise by the early morning to near 5.8 feet by early Thursday afternoon.
The Arkansas River at Canon City, Colorado, is forecast to get minor flooding by Friday afternoon, with the current stage at 9.4 feet, and the flood stage at 10 feet. Water levels will rise above flood stage to near 10.2 feet by early Saturday afternoon, with minor overbank flow occurring for low-lying areas along the river.
In Kansas, flood warnings are in place for the following streams: Big Blue River near Blue Rapids affecting Marshall County; Black Vermillion River at Frankfort affecting Marshall County; and Fancy Creek near Randolph affecting Riley County. At Big Blue River, the stage was at 54.1 feet; the flood stage is 26 feet. Moderate flooding will affect Marysville to Tuttle Creek Lake.
In Illinois, flood warnings continue for the Illinois River at La Grange Lock and Dam, Meredosia, Valley City and Hardin, based on precipitation projections for the next 24 hours. Missouri is also on alert for floods at Grand River near Brunswick, Missouri River at Glasgow. The Missouri River itself at St Joseph, Atchison, Leavenworth, Parkville, Sibley, Napoleon, Waverly, Miami and Boonville will affect surrounding counties.
The Mississippi River is under flood warnings near Arkansas City, Greenville, Vicksburg and Natchez. This will affect surrounding counties. At Natchez, the river has moved passed the flood stage of 48 feet, at 57.4 feet as of 8:00 p.m. local time on Wednesday. The river will continue slowly rise to 57.7 feet around Saturday.
NWS advises all residents affected by these flood warnings to not drive or walk through roadways covered in water, as it may be deeper than it appears. Residents should also check in with their local police departments, sheriffs or emergency management departments for updated information on evacuation or other precautionary measures.