Mississippi Bringing in Refrigerated Coolers to Store Bodies as Morgue Space Runs Out and Coronavirus Spikes
There isn't a morgue in Hinds County, Mississippi, and that has forced county leaders to bring in refrigerated trucks to store bodies awaiting autopsy as cases of the novel coronavirus continue to surge.
The rising number of COVID-19 cases has caused an overflow at hospital morgues and private facilities, the Mississippi Clarion-Ledger reported.
Hinds County Medical Examiner Sharon Grisham-Stewart told WLBT-TV the county has always used private storage facilities to store the dead bodies until they can be examined and released to next of kin.
"It baffles me that the Capitol City doesn't have a morgue," she said.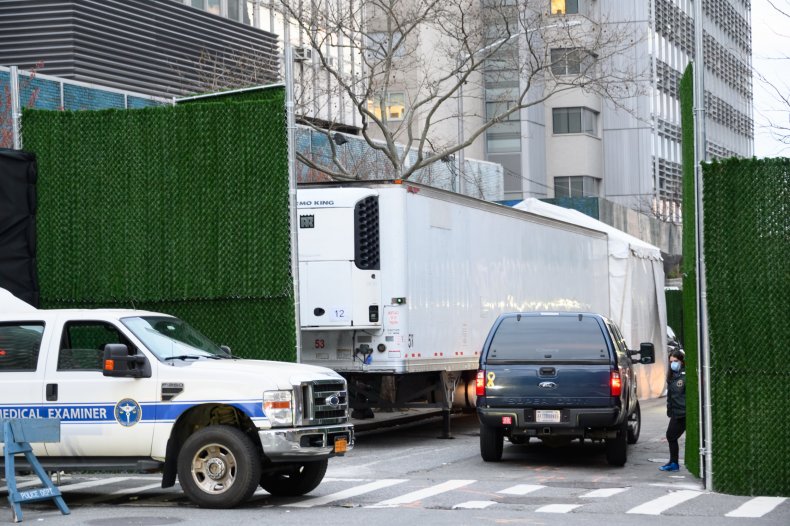 Since the start of the COVID-19 outbreak, the state has recorded 48,053 confirmed cases of the novel coronavirus with 1,436 deaths, according to the Mississippi State Department of Health.
Hinds County has reported more cases of COVID-19 than any Mississippi county, with 4,070 confirmed cases and 78 deaths from the virus as of July 22.
Other cities and counties in the U.S. experiencing spikes in COVID-19 cases have also resorted to using refrigerator trucks to store the dead after running out of morgue space.
On July 15, CBS News reported that city leaders in San Antonio, Texas, Corpus Christi, Texas, and Phoenix had requested refrigerator trucks, due to a shortage of morgue space.
New York City, which saw a record number of coronavirus cases at the start of the COVID-19 crisis in March, was also forced to use refrigerated trucks to store bodies when the city ran out of morgue space.
Hinds County is not only dealing with the state's highest number of COVID-19 cases, but it is also experiencing a record number of homicides in 2020.
There have been 57 homicides in Jackson, Mississippi since the start of this year, with three of those reported on July 4, according to the Clarion-Ledger.
Grisham-Stewart told Newsweek that the record number of deaths from homicides, COVID-19, and natural causes has created a backlog of cases in the local and state level.
"Every coroner in the state is experiencing this same issue," she said, adding that deaths among the homeless population in Hinds County have also added to the problem.
Robert Graham, who serves on the county's board of supervisors, told Newsweek that county is looking at several options, including the purchase or lease of a refrigerator truck.
"As of right now, we still have the same problem," Graham said. "We don't have any place to put [the bodies]. We are still working on a contingency plan."