Mississippi Coronavirus Outbreak Linked to Summer Frat Parties
A statewide uptick of coronavirus cases has been linked to several recent fraternity parties in Oxford, Mississippi, a health officer announced during a press conference Thursday.
Dr. Thomas Dobbs, Mississippi State Health Officer, said that officials had identified a cluster of coronavirus cases and outbreaks linked to University of Mississippi fraternity parties, and that Oxford is in either the beginning or middle of a significant outbreak.
"What we've identified so far is that it seems to be related to community transmission and social gatherings, and we have linked quite a few patients back to fraternity rush parties that are happening in the summer," he said during Governor Tate Reeves's coronavirus press conference.
Dobbs announced that 381 new cases and five additional deaths had been reported statewide as of June 17. More recent numbers are not available because the state's health department is currently experiencing technical issues in its data reporting system, according to its website.
In Lafayette County, where Oxford is located, officials reported 209 total confirmed coronavirus cases as of June 17.
But that number is likely much larger due to college towns like Oxford, Jimmy Allgood, the city's emergency management director, told Newsweek.
The reporting system is set up to be based on the person's county of residence — not the county in which they were tested, he said.
While the University of Mississippi may not be currently in session, many of its students live in Oxford year-round even though their permanent residence could be in another state.
Allgood said he had been telling Oxford's Board of Alderman about this unique scenario for weeks, but the situation recently reached a tipping point when city officials were able to get data on non-residents from local urgent care clinics.
During a June 16 board meeting, Oxford Mayor Robyn Tannehill announced that she had called four local urgent care clinics to get an idea of the number of University of Mississippi students who have tested positive since June 1 — data that is not reported in the county or state's daily numbers.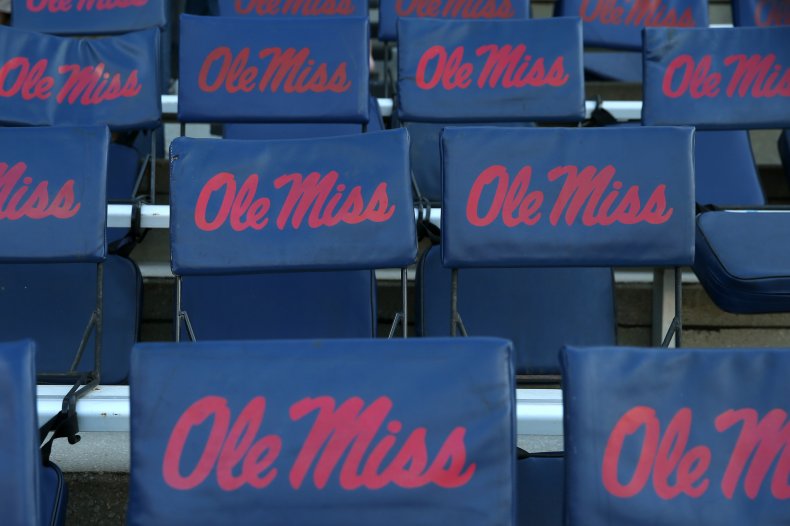 There have been a total of 162 additional confirmed cases since June 1 just from the out-of-county students alone, according to Tannehill.
"We know that a lot of these cases go back to rush parties," she said during the meeting.
Holding such parties would be in violation of state law, Dobbs said.
Under Reeves's Safe Return executive order, which remains in effect until June 29, indoor gatherings where social distancing is not possible must be kept to 20 people are less.
"That is clearly not happening in these scenarios," Dobbs said.
Members of the University of Mississippi administration are aware that a social event took place in Oxford, Noel Wilkin, the school's provost and executive vice chancellor for academic affairs, said in an emailed statement to Newsweek.
"This event took place without our knowledge or approval, and as soon as we heard about that event we gave a clear directive that all social and recruiting events are suspended for the summer in all cities for all fraternities and sororities," according to the statement.
The recent events could pose a threat to a safe return of all University of Mississippi students in the fall.
Allgood's office is pushing to educate the student community to understand that while coronavirus symptoms may not be as severe in younger people, it could be transmitted to someone who could severely affected, he said.
As of June 16, Mississippi has reported 20,641 cases and 938 deaths due to the virus.
During Thursday's press conference, Dobbs stressed the importance of remaining vigilant as the state's numbers continued to rise.
"My head is sore from banging it on the wall," Dobbs said. "Wear masks, social distance, don't do mass gatherings and certainly follow the rules."