Mississippi Faces Damaging Winds, Hail Amid Major Flooding: 'It's Not Something Anyone Wants to See'
After torrential rain triggered widespread flooding across Mississippi, officials warned that parts of the state could have a difficult weekend.
Heavy rain in Mississippi breached levees and dams, flooding roads and farmlands, and left some residents able to access their homes only by boat. Areas were still under flash flood warnings on Friday and parts of the state could see severe thunderstorms over the weekend, potentially bringing with it hail and damaging wind gusts.
"After the week we've had this is not something anyone wants to see," the Mississippi Emergency Management Agency (MSEMA) posted on Twitter.
Hail could be up to the size of a quarter, according to the National Weather Service (NWS), but the NWS noted that the risk is only "marginal," the lowest on a five-category scale.
Two levees were breached in Tallahatchie County, causing flooding to adjacent farmland, and a dam breached in Carroll County, as well. Shortly after officials warned the breach could happen, the dam failed around 9 p.m. Thursday night.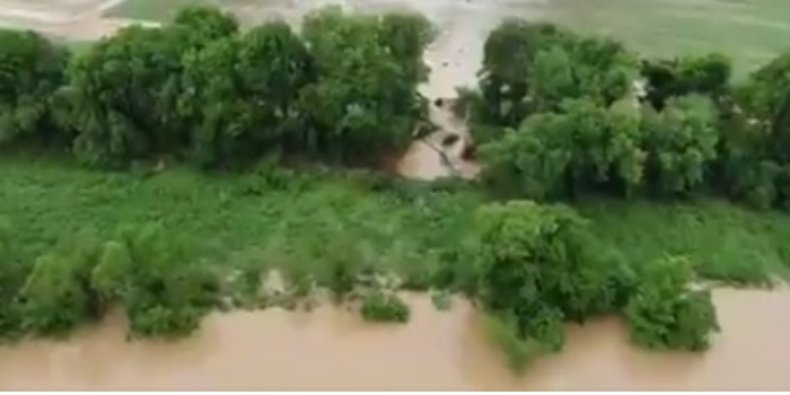 Fortunately, the breach occurred in a heavily wooded area, so Carroll County Emergency Management Ken Strachan told Newsweek that if there's damage to homes, it will be limited. As of Friday morning, they hadn't received any reports of homes being impacted and the water wasn't high enough to flood a bridge, either.
Additional showers and thunderstorms are possible on Friday afternoon, according to the NWS, and given how wet the soil already is, the agency warned that additional flash flooding could occur.
Andy Sniezak, National Weather Service meteorologist in Memphis, told the Clarion-Ledger that more than seven inches of rainfall were recorded on both Wednesday and Thursday. Having that happen twice in two days is something Sneizak called "just incredible."
"Yesterday they were doing rescues in Bolivar County. We do have the Red Cross out there helping displaced individuals. Those are the areas we're watching. Unfortunately, it seems to be one of those storms that just hovers," Malary White, MEMA director of external affairs, told the Clarion-Ledger.
In Bolivar County, about 150 to 200 homes have been inundated with water, but assessing the true damage will have to wait until the water goes down. Delta Council, which represents agriculture interests, estimated that the flooding would cause farmers to lose thousands of dollars worth of crops and chemicals, according to the Associated Press.
To help accommodate people who were displaced from their homes because of the flooding, the MSEMA set up two shelters in Bolivar County and one in Tallahatchie County.