Jackson Has A $1 Billion Water Problem—Feds Gave Mississippi $75 Million
The Environmental Protection Agency (EPA) recently gave the state of Mississippi $75 million for water infrastructure projects. However, the water system in the city of Jackson alone—which is facing issues that prompted an emergency—needed $1 billion to be fully replaced, according to the city's mayor.
Many residents in Jackson have been without usable water following the flooding of the Pearl River, which led to issues at the city's O.B. Curtis Water Plant. The issues caused "low or no water pressure for many Jackson customers," the city stated on Monday, noting that the water shortage could last into the coming days.
The current crisis isn't the first time Jackson has faced water issues, as the city had been on a boil water notice a month before the flooding. In February 2021, the city faced another water crisis after storms froze equipment there and thousands went without water for weeks, per Engineering News-Record.
Mississippi Today reported Wednesday that just last month, the EPA had flagged issues with the system, including frequent line breaks, water storage problems, poor maintenance, and customer complaints.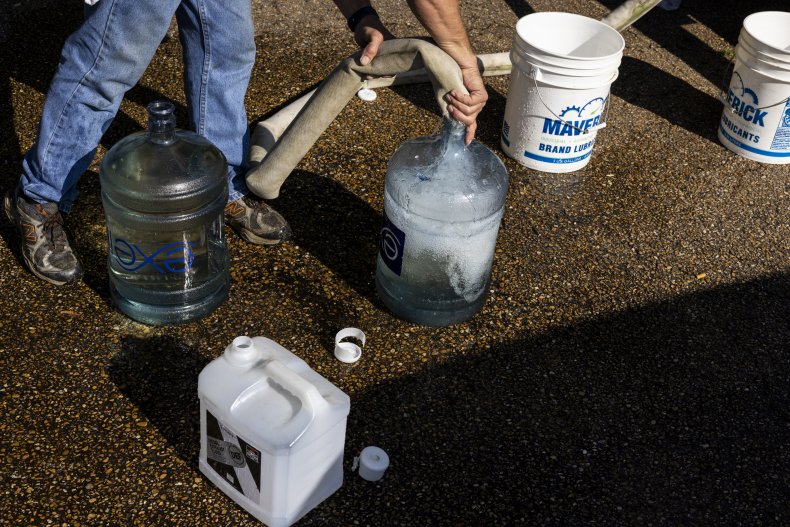 In December 2021, the EPA announced that Mississippi would receive $75 million for water infrastructure projects as part of the newly-signed infrastructure law.
"The funding will create jobs while upgrading America's aging water infrastructure and addressing key challenges like lead in drinking water and per- and poly-fluoroalkyl substances (PFAS) contamination," the agency said in a statement.
"Communities such as Jackson with critical water infrastructure needs will be encouraged to apply for this new funding," it continued.
But in February 2021, as the city was facing the other water crisis, Jackson Mayor Chokwe Lumumba told news station WLBT that the city's water system would cost around a billion dollars to repair.
"It's a very expensive system to repair. It is expensive to change out hundred-year-old pipes that will cost literally more than a billion dollars to replace our entire system and so, you know, the good people that are at our Water Department and our Water Treatment facilities are working as diligently as they can in order to get that back up," Lumumba said.
In a statement to Newsweek on Thursday, a spokesperson for the EPA said: "As part of the coordinated federal response to the water crisis, Administrator Regan has deployed EPA staff to Jackson, Mississippi to support with the emergency assessment of the City's water treatment plants."
"EPA has also expedited delivery of critical equipment to help repair the OB Curtis Water Treatment Plant. As we continue to closely monitor the water crisis, we are coordinating with all levels of government to support the people of Jackson and ensure everyone has access to safe, reliable water," the spokesperson added.
In recent days Mississippi Governor Tate Reeves warned Jackson residents to avoid drinking tap water, and the Mississippi State Department of Health urged residents not to open their mouths while they shower. Jim Craig, the director of health protection for the Mississippi State Department of Health also said residents should boil water that they plan on consuming.
Newsweek has reached out to the EPA and a local environmental engineering expert for comment.