Mississippi Gov. Tate Reeves Claims Biden Called Middle America 'Neanderthals'— Did He?
Republican Mississippi Governor Tate Reeves has claimed that President Joe Biden said everyone in "middle America" are "Neanderthals," although the president's actual remarks do not appear to justify the claim.
Biden criticized the GOP governors of Mississippi and Texas for recently easing COVID-19 restrictions, Texas, including the ending of mask mandates, as ill-advised "Neanderthal thinking" due to the ongoing pandemic on Wednesday. Reeves compared the comments to former Secretary of State Hillary Clinton's infamous remarks describing some supporters of former President Donald Trump as "deplorables," while falsely claiming that both of the Democrats had directed their remarks towards "all of us in middle America."
"Today, I feel the same way that I did the day that Hillary Clinton called all of us in middle America deplorables," Reeves said during an appearance on Fox News. "When President Biden said that we were all Neanderthals, it struck me as someone who needs to get outside of Washington, D.C. and actually travel to middle America."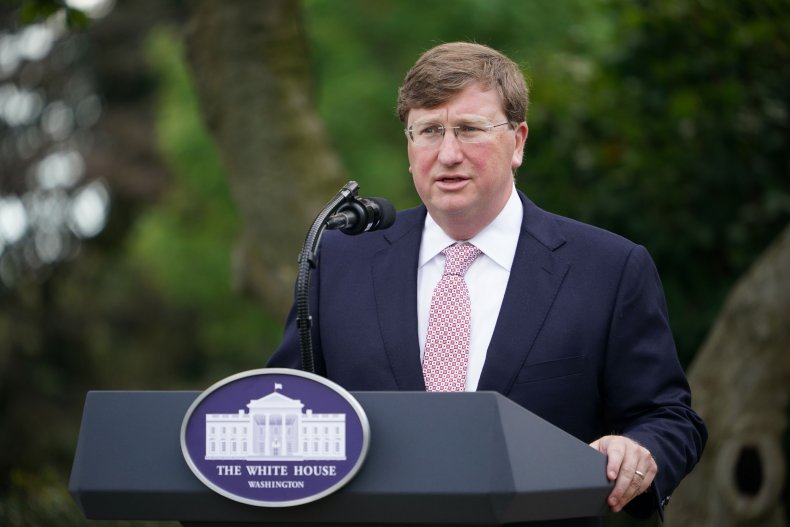 Texas Governor Greg Abbott announced on Tuesday that he was ending the mask mandate, as well as fully reopening the state, citing falling numbers of new COVID-19 cases and increased efforts to vaccinate residents of the state. Reeves quickly followed suit with a similar announcement, although businesses in Mississippi remain subject to some limits on capacity.
While the remarks from Biden may have seemed unusually pointed, especially in light of the president's continued messaging on civility and nonpartisan "unity," they were made in the context of a discussion on public health restrictions and the decisions of the governors themselves, rather than the people who live in their states or the rest of the center of the country.
"I think it's a big mistake," Biden said when asked about Texas and Mississippi during a news briefing. "Look, I hope everybody's realized by now, these masks make a difference. We are on the cusp of being able to fundamentally change the nature of this disease because of the way in which we are able to get vaccines into people's arms. We've been able to move that all the way up to the end of May, to have enough to get every adult American a shot."
"And the last thing, the last thing we need is Neanderthal thinking—that in the meantime everything's fine, take off your mask, forget it," added Biden. "It still matters.... It's critical, critical, critical that they follow the science. Wash your hands, hot water, do it frequently. Wear a mask a stay socially distanced... I know that you all know that. I wish the heck that some of our elected officials knew it."
Newsweek reached out to the office of Reeves and the White House for comment.