Mississippi Governor Defends Hyde-Smith 'Public Hanging' Comment by Calling African-American Abortion 'Black Genocide'
Mississippi Governor Phil Bryant defended Republican Senator Cindy Hyde-Smith for joking that if one of her supporters invited her "to a public hanging," she'd "be on the front row," Monday afternoon by saying that people should be paying attention to African American abortion rates instead of her words.
Hyde-Smith is currently in a runoff race against African American former Congressman Mike Espy, after neither party received the 50 percent vote required to declare victory in Mississippi.
"Absolutely we have been sensitive to race relations in this state," Bryant, who has been criticized for declaring April "Confederate Heritage Month," said during a press conference held in conjunction with Hyde-Smith.
"We brought the President of the United States here to open the civil rights museum and African American leadership failed to even come to the event because the president was there," he said, before equating public hangings to legal abortions. "Today I talked about the genocide of over 20 million African American children. See in my heart, I am confused about where the outrage is at about 20 million African American children that have been aborted. No one wants to say anything about that, no one wants to talk about that."
National Right to Life President Carol Tobias stood near Bryant as he made the statement.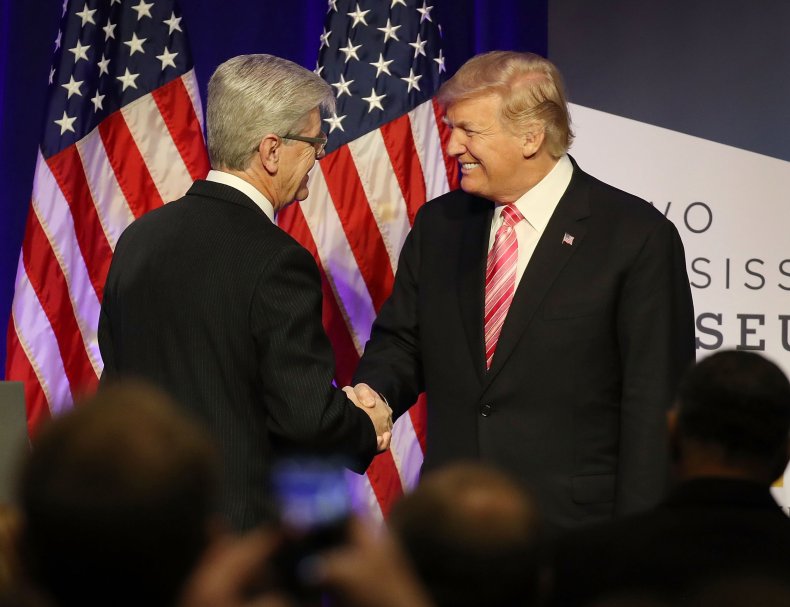 Bryant first raised the topic of African-American abortion rates earlier Monday morning. "Look at African Americans," he said. "According to Wikipedia, had those children not been aborted, the African American population would be 48 percent larger in America. Forty-eight percent larger. We can play with those numbers, and we can look at statistics, but the cold, grim truth is, children are being murdered." Newsweek was unable to locate the Wikipedia article he referred to.
Associating African-American abortion rates with a "black genocide" is a well-known strategy of right-wing super PAC, Stars and Stripes Forever, which is closely associated with the white conservative John Philip Sousa IV, the great-grandson of marching music legend John Philip Sousa.
The group, which pushed Ben Carson to run for president in 2016, has run political ads claiming that "61 percent of black deaths are caused by abortion" and that "more than 1,800 black babies are aborted each day." None of these statements have any factual backing.
Bryant chaired Mississippi's failed Personhood Initiative in 2011 which sought to amend the state constitution to say that personhood began at the moment of fertilization. The initiative would have banned birth control and abortion in the cases of rape and incest. It would have also prohibited abortion procedures performed to save the life of the mother.
"Cindy Hyde-Smith is fighting for those children. This Christian woman, this mother, this wife has fought hard to protect those unborn. And she will do so in the United States Senate as she continues," said Bryant on Monday.
In a statement Sunday, Espy called Hyde-Smith's comments about public hangings reprehensible. "They have no place in our political discourse, in Mississippi, or our country. We need leaders, not dividers, and her words show that she lacks the understanding and judgment to represent the people of our state," he wrote.
Hyde-Smith responded with a statement of her own, saying she "used an exaggerated expression of regard [for a supporter], and any attempt to turn this into a negative connotation is ridiculous."
President Donald Trump has given Hyde-Smith his "complete and total endorsement." Governor Phil Bryant is also closely aligned with the president and has visited with him on numerous occasions.