To prevent the "poisoning" of an entire generation, Mississippi Governor Tate Reeves is looking to give $3 million to schools and nonprofits to educate young people on the "incredible accomplishments of the American way."
Part of the governor's job is to submit his proposal for the upcoming executive budget and this year, Reeves prioritized the economy, the pandemic and education. Along with $5 million for training teachers in computer science and increasing math coaches, Reeves wants to create a "Patriotic Education Fund" to combat the "indoctrination in far-left socialist teachings."
Those teachings, Reeves wrote in the budget proposal, emphasize America's "shortcomings" instead of the "exceptional achievements of this country."
"Revisionist history has aimed to tear down American institutions, and it is poisoning a generation," Reeves wrote. "Capitalism, democracy, and other uniquely American values have been the victims of a targeted campaign from foreign and domestic influence—aiming to destroy the pillars of our society."
Pushes to remove statues of people tied to slavery and the Confederacy, as well as, Christopher Columbus, reignited amid calls for racial justice. In Portland, statues of Harvey Scott, an opponent of women's rights, and Presidents Abraham Lincoln and Theodore Roosevelt were torn down. Protesters across the country, including in Washington, D.C., North Carolina, Minnesota and Virginia, also toppled monuments erected to Columbus.
For those who support the removal of the statues, the monuments celebrate an era of America's history when a portion of the population was considered lesser than another part of the population because of the color of their skin. Those who oppose removing the statue often take the stance that those men lived in a different era and taking the statues down erases America's history.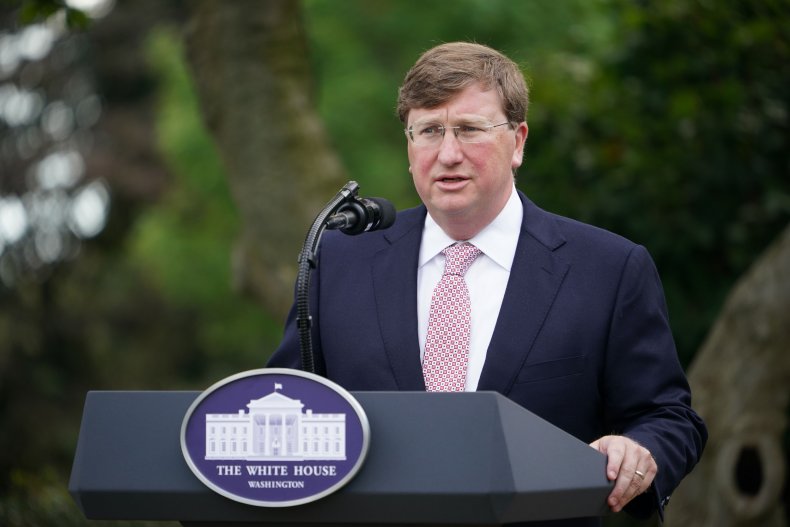 While signing a bill to retire the Mississippi flag that incorporated the Confederate flag in June, Reeves pushed back against attempts to "erase history."
"I know there are people of goodwill who are not happy to see this flag changed. They fear a chain reaction of events erasing our history—a history that is no doubt complicated and imperfect," Reeves said. "I understand those concerns and am determined to protect Mississippi from that dangerous outcome."
This isn't the first time Reeves has spoken out against socialism and on Monday, said the shift to move the country in a more socialist or communist direction "don't make sense in America." Socialism is still an unpopular idea in America and an NPR poll from February found only 38 percent of people between the ages of 18 and 38 had a favorable view of it. However, support for Medicare-for-All has grown, a policy that some consider a stepping stone to a socialist society.
Despite a lack of broad support for socialism, younger generations are more likely to view it favorably than older generations and Reeves said Mississippi needs to do a "better job" teaching young people about the nation's history.
"Teaching our young people the good and the bad. Teaching our young people about America. What makes America the greatest place on Earth. What makes America, these United States of America, the greatest country in the history of mankind," he said on Monday.
The $3 million will be used to fund grants for schools and nonprofits to fight back against the "socialist indoctrination" some people were pushing in the country. He called it a "small amount of money that could have huge dividends."
Newsweek reached out to Reeves for comment on specifics of how grants would work but did not receive a response in time for publication.
Reeves' proposal isn't entirely original and comes two months after President Donald Trump announced a "pro-American curriculum" grant. He also signed an executive order establishing the "1776 Commission," a national commission to promote "patriotic education," and encourage educators to teach children about the "miracle of American history." In his executive order, Trump criticized teachings that turned the founders of America into villains and not heroes.