Mississippi Governor Retires State Flag With Confederate Symbol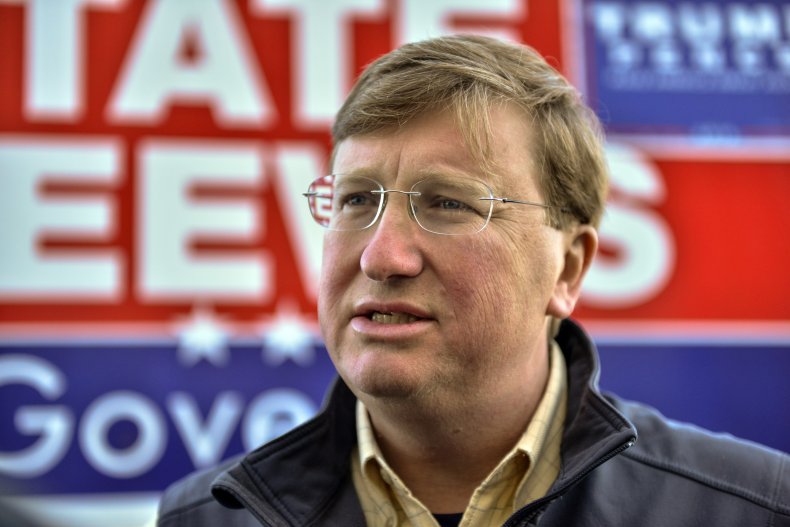 Mississippi Governor Tate Reeves signed a bill into law Tuesday that mandates the state's flag be replaced with a new version that does not incorporate the Confederate flag.
The state's legislature voted Sunday to permanently retire the controversial flag, which had been adopted in 1894 and features a reproduction of the Confederate battle flag. The bill calls for a commission to design a new flag that excludes any Confederate imagery but includes the words "In God We Trust."
"Tonight, I am signing a law to turn a page in Mississippi by retiring a flag we have flown since 1894," Reeves said at the signing ceremony. "We are a people of great faith, now more than ever we must lean on that faith, put our divisions behind us and unite for a greater good."
"I understand the need to commit the 1894 flag to history and find a banner that is a better emblem for all Mississippi," he added. "A flag is a symbol of our present, of our people and our future. For those reasons, we need a new symbol."
Leading up to the legislature's vote, Reeves had insisted that the issue should be left to "a vote of the people." He later indicated he would sign the bill if it passed and on Tuesday acknowledged that he had changed course, remarking that he was "not a man who likes to change his mind."
Residents will vote on approving the new flag in the election on November 3. If the flag is rejected, another new design meeting the same criteria will be presented in a special election.
The flag had been the last remaining U.S. state flag to fully incorporate the Confederate battle flag. It attracted controversy for decades but calls to remove flags and other emblems of the Confederacy had increased following widespread protests sparked by the May 25 death of George Floyd, an unarmed Black man killed in police custody.
Pressure to replace the flag was also bolstered by the prospect of the state losing the ability to host prestigious college sports events, with the NCAA recently announcing they would ban the state from holding postseason events long as the flag continued to fly.
A 2001 referendum to replace the flag was defeated by 64 percent of Mississippi voters and until recently opinion polls continued to show a clear majority of Mississippi residents supported keeping the flag, despite the state's population being 38 percent Black.
However, a poll released last week indicated a large shift in public opinion, with 55 percent of Mississippi voters favoring replacing the flag, compared to only 43 percent in a similar poll conducted 18 months earlier. Support increased to 72 percent when "In God We Trust" was included in a new flag design.
Newsweek reached out to the office of Reeves for comment. This article will be updated with any response.