Senator Cindy Hyde-Smith Posed with Confederate Artifacts: 'Mississippi History at Its Best!'
Photographs haver emerged that show Republican Mississippi Senator Cindy Hyde-Smith posing with Confederate uniforms and weaponry.
The photographs were taken on a visit Hyde-Smith made in 2014 to the Jefferson Davis Home and Presidential Library and posted on her Facebook page.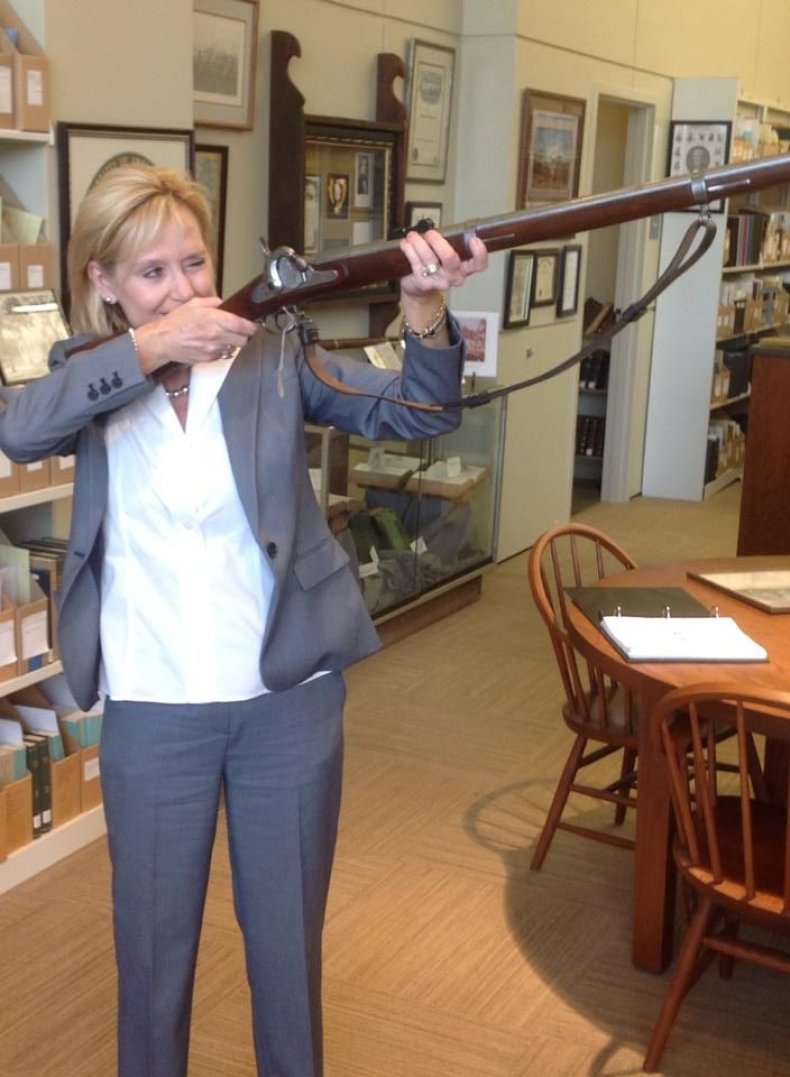 They show the senator wearing a Confederate soldiers cap, as well as holding a period rifle and a sword.
"I enjoyed my tour of Beauvoir. The Jefferson Davis Home and Presidential Library located in Biloxi," Hyde-Smith wrote. "This is a must see. Currently on display are artifacts connected to the daily life of the Confederate Soldier including weapons. Mississippi history at its best!"
Senator Hyde-Smith did not immediately respond to a request for comment.
Statues and other monuments memorializing the confederacy have become sources of fierce controversy in recent years, with towns and cities across the U.S. removing them.
The pictures have emerged with Hyde-Smith facing widespread criticism after remarking at a campaign event earlier in November that she'd gladly attend a "public hanging" if invited by a supporter.
The comments, which went viral, recalled the state's history of racist lynchings, said critics.
Her opponent in the state's November 27 Senate runoff, Democrat Mike Espy, is African American.
Earlier Tuesday, Trump had defended Hyde-Smith's hanging comment, claiming it was a joke.
"She made a statement, which I know she feels badly about it, and it was just sort of said in jest," Trump said. "She is a tremendous woman and it is a shame that she has to go through this."
During a debate with Espy Tuesday night, Hyde-Smith said there was no ill-will in her hanging comments.
"For anyone that was offended by my comments, I certainly apologize. There was no ill will, no intent whatsoever in my statement," Hyde-Smith said Tuesday .
She went on to accuse Democrats of using the comments as a "weapon."
"I also recognize that this comment was twisted and it was turned into a weapon to be used against me," Hyde-Smith said. "A political weapon used for nothing but personal and political gain by my opponent. That's the type of politics Mississipians are sick and tired of."
If he wins, Espy will be the first African-American senator to represent Mississippi since Reconstruction.
Hyde-Smith was appointed to the Senate earlier this year after incumbent Thad Cochran retired for health reasons.
Senator Cindy Hyde-Smith Posed with Confederate Artifacts: 'Mississippi History at Its Best!' | U.S.