Mississippi Hospital System Goes From Not Enough Beds to Not Enough Staff Amid COVID Spike
As Mississippi faces a shortage of hospital staff to keep up with rising COVID-19 cases, the state's Department of Health ordered all hospitals to allow the transfer of patients in critical condition to and from their facilities.
The system, called Mississippi MED-COM, will allow patients urgently in need of services like surgery or ventilators to be transferred to another hospital in the state that has the means to fulfill those needs. The order is set to stay in place until Jan. 23.
The University of Mississippi Medical Center in Jackson has been seeing a large number of transfers from smaller hospitals in more rural areas. UMMC's vice chancellor for health affairs, LouAnn Woodward, said the center has also been overwhelmed, having to leave over 50 hospital beds empty due to a lack of medical staff to help.
"We don't have enough staff to open up all the beds that we have," Woodward said. "Earlier in this pandemic, we had staff and needed resources to help open additional beds, and we did. Now, we have beds but no staff."
The shortage is partly due to job openings that are left unfilled. But the lack of staff has been exacerbated by some existing staff members having to stay home after testing positive for COVID-19 themselves.
According to data from the Mayo Clinic, Mississippi has seen a dramatic spike in its average positive COVID-19 test rate. In mid-November, the rate was at 5.7 percent. In mid-December, the number had only risen by about three percentage points. But since then, the percentage has skyrocketed, with the rate standing at 42.6 percent as of Jan. 12.
The state health department's data show that the number of hospitalizations has also increased, going from about 248 hospitalizations Dec. 21 to 1,211 on Jan. 10. Of the 1,211 hospitalized, 240 were in an intensive care unit and 93 were on ventilators.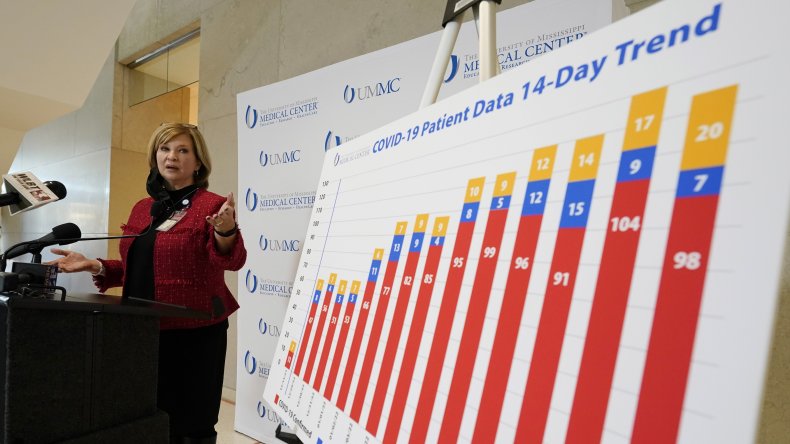 The order applies to the transfer of patients who have had a heart attack or stroke; those who need immediate neurosurgical intervention, such as people severely injured in car crashes; transplant patients who are experiencing complications; and patients who need to be on a ventilator but are in a hospital without an intensive care unit, respiratory therapy or a ventilator.
The state Health Department reported Tuesday that more than 1,200 people were hospitalized with COVID-19 across Mississippi as of Monday. That is nearly five times as many as were hospitalized with COVID-19 three weeks earlier.
The Associated Press contributed to this report.