Mississippi HS Football Coach to Lead Team Via Construction Lift for Second Game as He Continues COVID Quarantine
The story spread quickly last weekend—a high school football coach in Mississippi coached his team from a construction lift because of coronavirus.
This Friday, Brennan Pugh plans to do it again.
"It's definitely different. I would absolutely prefer to be [there] and be able to look at the players in their eyes and them see me on the field," the Vardaman High School head football coach told Newsweek.
Pugh is in his second week of quarantine for COVID-19, a necessity after someone close to him tested positive for the novel coronavirus. However, Pugh said once he got the news he began thinking of ways to coach his team without being close to them.
He told Newsweek that the idea of coaching from a lift came to his mind "pretty quick" as he lives directly behind the Rams' football field. It also happens that his family owns a hardware store.
"So, pretty quickly, I got on the phone with my parents and asked my stepdad if they would donate the lift," Pugh told Newsweek. "They were very helpful and said, 'absolutely' and so the next day at like 2 o'clock, before practice it was delivered and got it hooked up."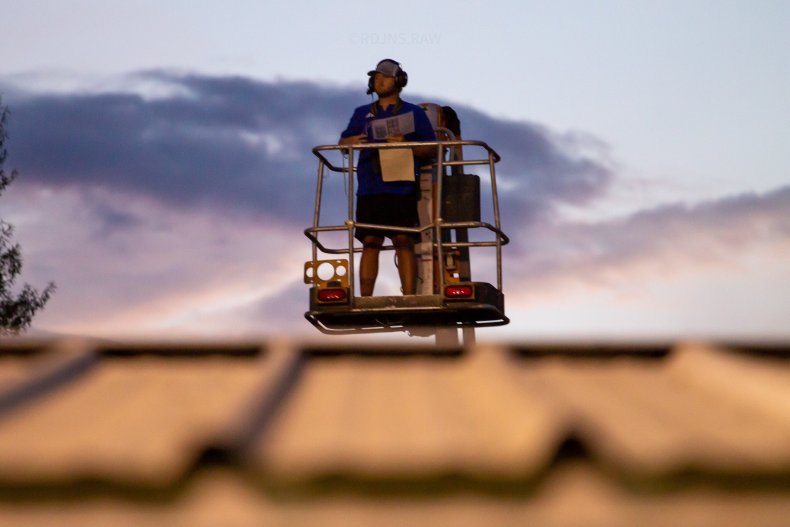 "It was kind of all a perfect storm," Pugh said. "It wouldn't have been possible if I didn't live where I lived and was able to put it in my backyard."
Pugh said he was also very lucky that his stepdad owns a hardware store and was able to donate the lift for a couple of weeks.
But since his quarantine began, Pugh has been at practice, hovering above the field and giving instructions from the same headset he uses during games to communicate with other members of the coaching staff.
"We kind of intentionally didn't make a big deal about it. We talk to them a lot about finding a way to get things done and not making excuses," Pugh said. "So, when they went out to get on the field, they looked up, saw me up there, the coaches told them what we're doing and we just kind of rolled with it."
This week, the Rams will host the Hamilton Lions for homecoming. While high school homecoming games in the South are typically filled with glittery decorations and girls in evening dresses being escorted across the field, Pugh said he had no plans to decorate his lift to fit the occasion.
"Maybe I should," he said.
Friday's game will also mark the first division contest for the Rams, who are looking for their first win after going 0-2. Vardaman dropped last week's game against Holly Springs 20-14.
Despite not being in direct contact with his team, Pugh told Newsweek that he believes that he, as well as his players and assistant coaches, have been able to adjust to the changes.
"It's definitely different, but I think they've adjusted to it well, and the assistant coaches, we've all had to do a good job at working together," Pugh said, noting his appreciation for headsets, which help him communicate to his team from above.
He added that while he does not think coaching from the lift is a benefit or gives his team an advantage, "I think we've done as good of a job as we can at making the best of it."
Pugh is still unsure about how long he will have to continue quarantine but is hoping this week will be the last game he coaches from the lift.