Mississippi Imposing Few Restrictions on Mardi Gras, Despite 1305 Percent COVID Case Jump
Despite a growing number of COVID-19 cases due to the Omicron variant, Mississippi Mardi Gras events are going forward as scheduled with little to no restrictions.
The events began Wednesday in the city of Biloxi with a Twelfth Night Celebration. A crowd of people largely without masks gathered for the event at a lighthouse.
Health experts told the Sun-Herald, a newspaper based in Biloxi, the state's upcoming events are likely to spread the virus. Johns Hopkins University researchers reported Mississippi has the highest rate of COVID-19 deaths in the country, currently at over 10,520. Over the last two weeks, the daily new case average for the state has jumped by 1,305 percent.
According to the Mayo Clinic, this spike began mid-December. The average positive test rate in mid-November was 5.7 percent, but by mid-December, that number had more than doubled. As of January 8, the rate has skyrocketed to 42 percent.
Harrison County, where Biloxi is located, currently has almost 19,250 cases for every 100,000 people.
During a Friday press conference, Mississippi State Epidemiologist Paul Byers said about 73 percent of the COVID-19 samples being sequenced are Omicron, so he believes the variant is driving up infections in the state, as it is around the world, the Sun-Herald reported.
However, event organizers in Mississippi are ready to go back to normal after nearly two years of pandemic shutdowns. Jennifer Schmidt, executive director of the Gulf Coast Carnival Association, told the Sun-Herald "as of now we're moving forward with everything."
"We've got to get back to life," Schmidt said. "We can't live in fear. While we are being cautious and monitoring daily, it could change tomorrow, or in 15 minutes. It just all depends."
Coast Mardi Gras Museum Board Member Patrick Chubb echoed a similar sentiment to Gulfport, Mississippi's, WXXV-TV.
"People on the Gulf Coast are all about Mardi Gras," Chubb said. "We are so ready to get rid of this COVID and get back to normal. We are ready to return with all the balls and parades and fun and parties."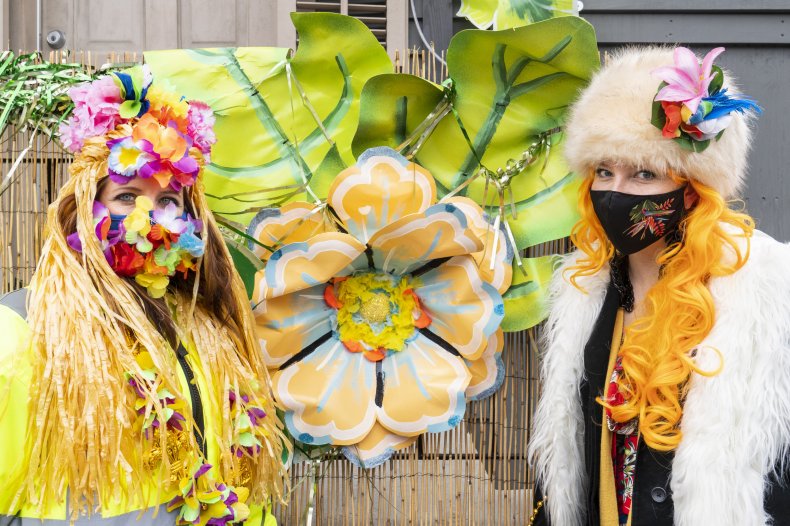 While the celebrations in Mississippi aren't nearly as large as the ones in nearby New Orleans or Mobile, Alabama, they still bring in visitors for the traditional wintertime event.
Biloxi Mayor Andrew Gilich is monitoring COVID-19 cases and hospitalizations but the city hasn't canceled or postponed any Mardi Gras events so far, said spokesperson Cecilia Dobbs Walton.
The Associated Press contributed to this report.