In the Wake of the Colin Kaepernick Ad, Mississippi Law Enforcement Will No Longer Use Nike Products
The Mississippi Department of Public Safety, the umbrella agency for the state's highway patrol troopers and other law enforcement, will no longer purchase Nike products after the Colin Kaepernick ad campaign, according to Gov. Phil Bryant and Commissioner Marshall Fisher.
"As commissioner of the Department of Public Safety, I will not support vendors who do not support law enforcement and the military," Fisher told Mississippi Today on Friday.
Bryant told the news outlet that he supports Fisher's decision. "He has a right to determine what vendors DPS does business with, and it's not going to be with a company that pays an individual who has slandered our fine men and women in law enforcement."
Kaepernick, formerly a quarterback for the San Francisco 49ers, rose to prominence for kneeling during the national anthem before games in 2016 as a protest against racial injustice in the United States.
Donald Trump has frequently, and successfully, sought to paint the protests quite differently -- as a direct insult to police officers and soldiers -- despite Kaepernick's intentions. He often brings the issue up to motivate his base, and increase divisions, at times of political difficulty.
But others disagree. "What is more American than engaging in peaceful protest asking for equal protection under the law?" Senator John Horhn of Mississippi said.
This is not the first time Nike has been dropped because of this ad campaign. College of the Ozarks in Missouri decided to drop Nike apparel from its athletics department. Ben Zahn, mayor of Kenner, Louisiana also placed a ban on Nike products in the city two days after the campaign was unveiled, saying that the use of the city's resources would no longer be used to purchase Nike products.
"Under no circumstances will any Nike product or any product with the Nike logo be purchased for use or delivery at any City of Kenner Recreation Facility," read a memorandum that was leaked on Twitter by activist Donna Brazile. The ban has since been lifted.
Kaepernick's Nike advertisement was for the 30th anniversary of the company's "Just Do It" campaign that launched in September. The advertisement is a close-up black and white photo of Kaepernick with the words, "Believe in something. Even if it means sacrificing everything," emblazoned across his face. Many showed their support, but others began burning their Nike gear in response to the ad and posting the videos on social media.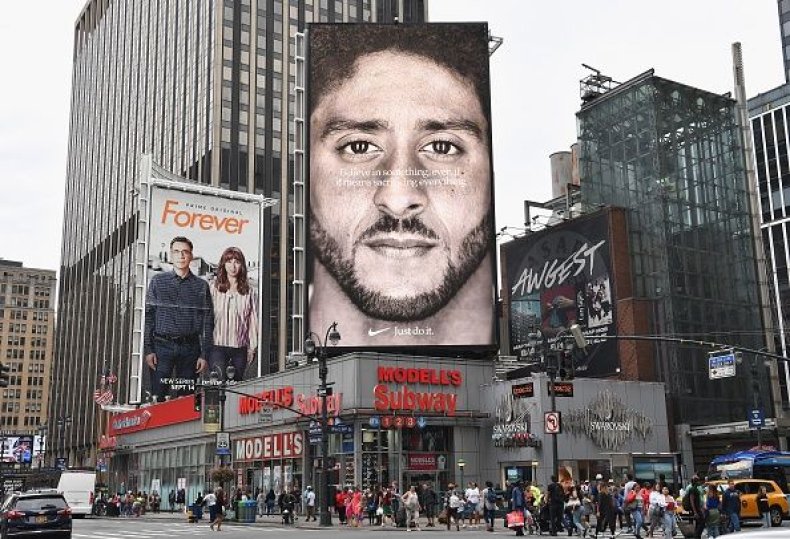 Kaepernick has not played in the NFL since 2016. Dozens of other players followed his lead, which led to heavy criticism of the NFL and many angry fans boycotting the sport entirely. Due to this controversy, Nike, which signed Kaepernick in 2011, held off in using him for ad campaigns. However, Nike kept him on their roster even after Kaepernick became a free agent in 2017.