Man Dressed As Captain America Detained in Attempted Burglary On Ex-Marine's Property
A Mississippi man is in jail after attempting to break into the home of an ex-Marine earlier this week.
Thirty-six-year-old David Hobbs was dressed as Captain America when police caught him in the backyard of a home in Clarksdale, Mississippi around 3 a.m. Tuesday, according to local media.
Hobbs' plans to enter a shed on the property were foiled when he mistakenly set off the alarm, alerting the homeowner to his presence. The former marine, whose identity has not been made available to the public, reportedly held Hobbs at gunpoint until help arrived.
According to The Smoking Gun, Hobbs was also wearing fairy wings during the attempted break-in, though the reason for his costume remains unclear.
The alleged costumed prowler is currently being held at Coahoma County Jail on a $25,000 bond.
This was not Hobbs's first run-in with the law. He was in the middle of a three-year probation for a grand larceny conviction, the Mississippi Department of Corrections told WREG-TV.
The station also reported that Hobbs had been spotted in the neighborhood trying to break into residents' sheds on multiple occasions. This was the first attempt he made while wearing a costume, members of the community said.
"It's just crazy, you know," neighbor Otis Wilborn said to the TV news outlet. "You come out at that time in the morning, and someone's prowling around on your property. You know, you've got a family you're trying to protect."
"Normally, I see him, he be straggly looking with jeans and a t-shirt or something like that," another neighbor told the station.
Hobbs is set to appear in Clarksdale Municipal Court Tuesday, September 17 on a burglary charge.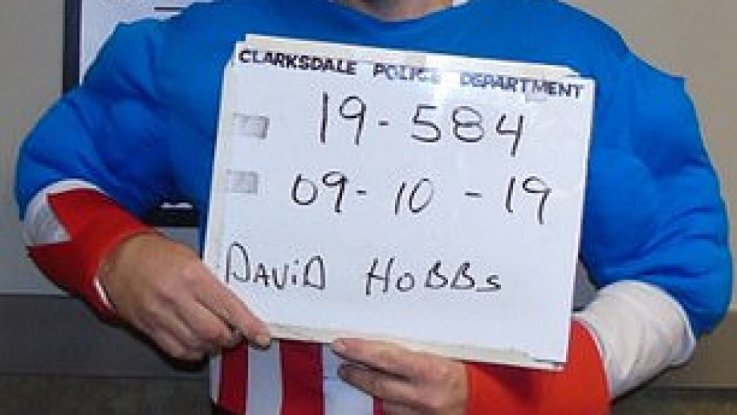 Since news of the arrest, fans of Marvel's Captain America franchise have taken to Twitter, finding amusement in the situation.
"We need criminal and crazy control," someone wrote on the social media site.
"Well, at least it wasn't Batman," another person tweeted.
In December, police in Council Bluffs, Iowa were on the search for two men who had robbed a convenience store dressed as classic superhero duo Batman and presumably Robin (he was wearing a green body suit), reportedly carrying a rifle and sword while making off with the money around 4 a.m.
"When comparing data from the first six months of 2018 with the first six months of 2017, all property crime categories showed a decrease," the FBI reported earlier this year. "Burglaries were down 12.7 percent, larceny-thefts decreased 6.3 percent, and motor vehicle thefts declined 3.3 percent." The bureau did not provide statistics on the number of crimes committed by superheroes.
Man Dressed As Captain America Detained in Attempted Burglary On Ex-Marine's Property | News