Mississippi Man Votes Wearing Confederate Flag and Noose T-shirt: 'Everyone Was Silent'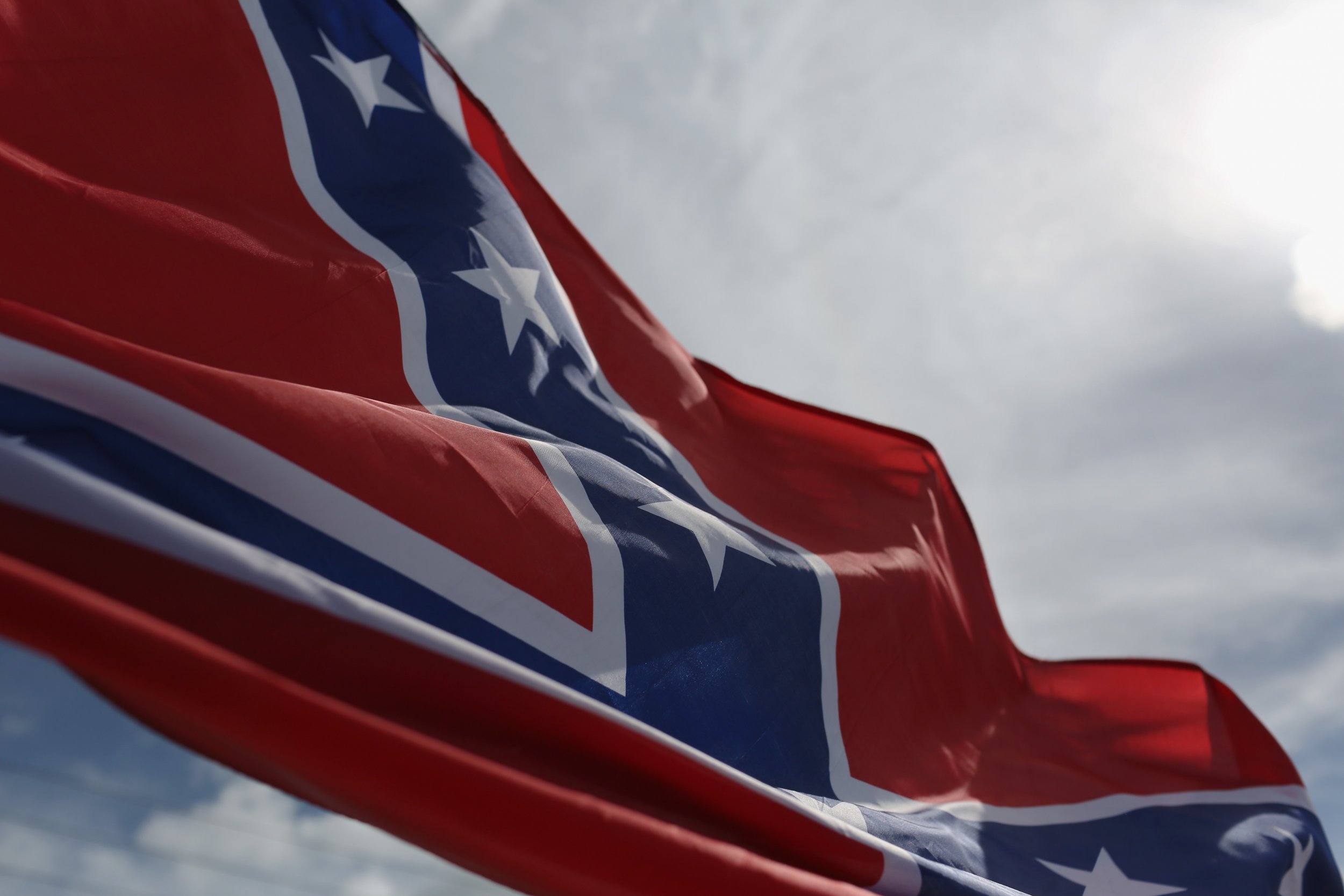 A photo of a man voting in Mississippi on Tuesday while wearing a controversial T-shirt has sparked outrage. The T-shirt was emblazoned with the image of a Confederate flag with a noose in the middle and the words "Mississippi Justice."
Election commissioner for DeSoto County Paule Beale, identified the location where the incident occurred as the Summershill precinct at 7600 Pleasant Hill Road in the city of Olive Branch, the Memphis Commercial Appeal reported.
"We at first thought it was Photoshopped," Beale told the news outlet, "but we know the lady who was instructing him on using the voting machine."
Ashleigh Parker, a local resident, was in line to vote at the polling station when she saw the man. "I was in line with my boys at the same time," she wrote in a Twitter post. "I was disgusted and horrified. We all were. He does not speak for the majority of our city. I wish I had spoken up, but I didn't want to bring attention to him."
Another voter at the polling station, who identified himself only as Rashaud to BuzzFeed News because of safety concerns, took pictures of the man in the question.
"When I saw him, I wanted to say something, but my mom was like, 'Don't say anything,' so I took a picture and posted it on Facebook," Rashaud told BuzzFeed.
This photo began attracting attention online and quickly went viral after a friend of Rashaud's posted it on Twitter, accompanied by the incorrect claim that the man was a poll worker. (Rashaud said that, initially, he thought the man worked at the station but realized later that he was mistaken).
"It's crazy–they try to say the rebel flag is not racist, but to have a noose on the rebel flag, it's like, what are you trying to say?" he told BuzzFeed. "It just shocks me that people feel it's OK to come out in public like this. I was just kind of shook up. Everyone was silent. No one said anything," he told WREG-TV, virtual channel 3.
As the image circulated, the man was identified by some social media users as a nurse who worked at the Regional One Health hospital in Memphis.
The hospital confirmed to Fox 13 that he was an employee there and that they were investigating the incident. Once this is completed, an appropriate course of action will be taken, the employer said.
"Regional One Health takes the health and well-being of our patients and the community we serve seriously," a spokesperson for the hospital said in a statement. "All allegations of inappropriate behavior involving employees are reviewed and investigated."
DeSoto County officials say that the man did not break any laws by wearing the controversial T-shirt to the polling both, Fox 13 reported.