Mississippi Mayor Calls Out Governor for Putting Lives 'in Jeopardy' by Lifting Mask Mandate
The mayor of Jackson, Mississippi, the state's capital and largest city, strongly criticized Governor Tate Reeves' announcement that a statewide COVID-19 mask mandate would be lifted on Wednesday.
Reeves, a Republican, made the announcement with the signing of an executive order on Tuesday. The mandate will be lifted as of 5 p.m. on Wednesday, but the governor said Mississippi residents were still encouraged to wear the face coverings. Indoor businesses will still be restricted to operating at 50 percent capacity, masks will remain required in K-12 schools and municipalities are free to maintain their own local mask mandates.
"We're making a decision [in Mississippi] to sabotage our efforts. It is against the advice of our health experts, and it is premature. No one celebrates victory in the third quarter," Jackson Mayor Chokwe Antar Lumumba, a Democrat, told CNN in a Wednesday morning interview. Lumumba said that his city would continue to implement a mask mandate, as allowed by the governor's executive order.
"It makes no sense that we're choosing to sabotage our efforts and put people and lives and businesses in jeopardy," the mayor said.
Newsweek reached out to Reeves' press office for comment, but did not immediately receive a response.
"Today, I signed what I expect will be one of my last executive orders regarding COVID-19. Our hospitalizations have plummeted, and our case numbers have fallen dramatically as well," Reeves said Tuesday after signing the new executive order. "In fact, our case numbers have fallen to the point where no county meets the original criteria for a mask mandate."
New COVID-19 infections have decreased substantially since early January, when the Southern state was reporting more than 3,000 new cases per day. Mississippi's current seven-day average of new daily infections stood at 582 as of Tuesday, according to The New York Times' tracker. That's a decline of nearly 30 percent over the past two weeks. New deaths are declining less dramatically, however. Deaths from COVID-19 in the state peaked at 98 on January 12 and have since declined to 43 on Tuesday. Over the past two weeks, Mississippi has seen an 8 percent decrease in daily COVID-19 deaths.
The Clarion-Ledger, a Jackson-based newspaper, reported that local officials have attributed the recent decline in new COVID-19 infections at least partially to winter storms that caused testing to stop for several days throughout Mississippi. Additionally, some testing sites have conducted less COVID-19 tests as vaccines have ramped up throughout the state.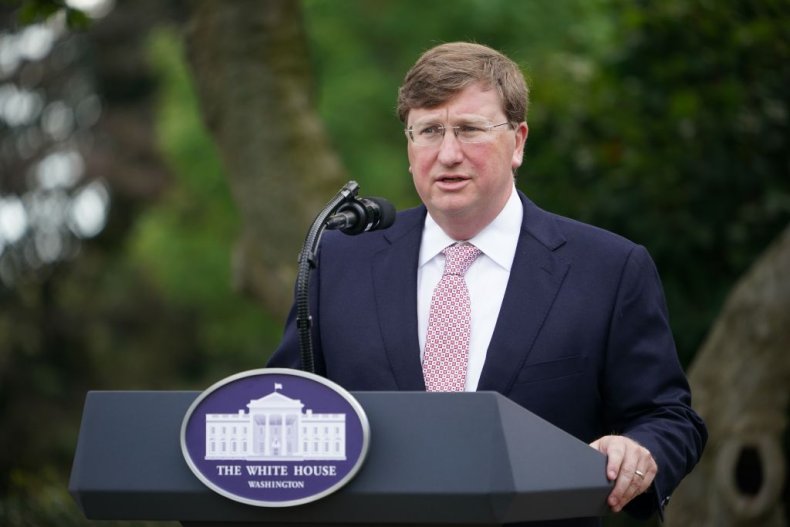 Independent Mayor Toby Barker of Hattiesburg, the state's fourth largest city, said that he would continue to implement a mask mandate as well "for the foreseeable future." He urged residents to "do right by your family, friends, neighbors, co-workers, fellow church members, people in your life that need to be protected."
In a Tuesday Twitter post, the Mississippi Department of Health urged residents to remain vigilant. "Despite a decline in COVID-19 cases, significant community transmission continues. MSDH advises all Mississippians 65 and up, or 16 and older with serious chronic medical conditions, to avoid all social gatherings outside of the household until vaccinated," the agency cautioned.