Mississippi Mayor Mandates Masks, Says Elvis Statues Are Not Being Removed
A Mississippi mayor stated that face masks must be worn in all public indoor spaces and denounced what he called a "global conspiracy" in a message posted Friday on his personal Facebook page.
Jason Shelton, mayor of Tupelo, shared a North Mississippi Health Services (NMHS) Facebook post thanking the mayor for requiring masks throughout the city.
"My job as mayor is do to my best to keep our community safe, not make easy or politically popular decisions," Shelton wrote on his personal Facebook page about the announcement.
Shelton continued on in the post to state that his residents were "not the target of some type of global conspiracy," and "covid is not a hoax."
The city's Elvis Presley statues would not be removed, Shelton wrote, stating that it is "impossible to erase history and no one has attempted to do so."
Tupelo, where Presley was born, features several statues of the famous rock musician in various parts of the city.
Statues and monuments have been a topic of debate throughout Mississippi in the recent weeks, as protests speaking out against systemic racism and police brutality have erupted across the world.
On June 18, state officials announced that a statue of a Confederate soldier on the University of Mississippi's campus in Oxford would be moved from its prominent location to a campus cemetery.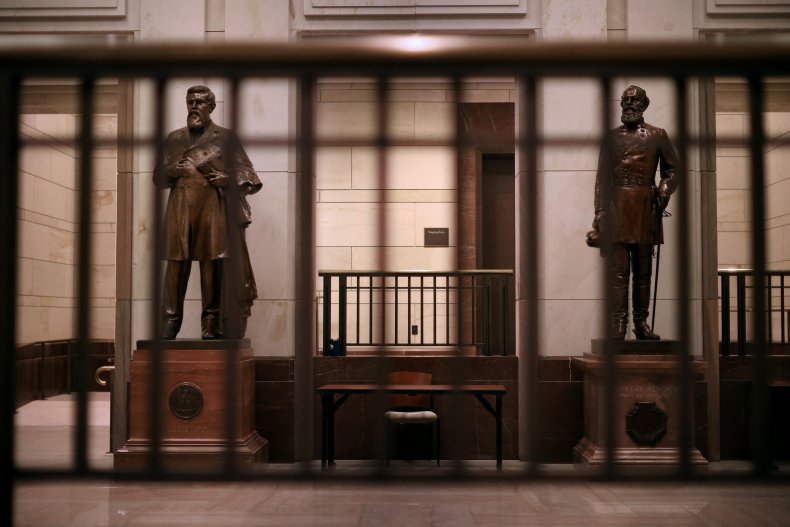 Shelton's Facebook post on Friday was met with mixed reaction in the comments.
"So thankful for your leadership," wrote one resident. "So proud of our city."
Several commenters expressed their disappoint over the mask mandate.
"My safety is my responsibility, not yours," wrote another resident. "Mask [sic] are not safe. Thanks for nothing."
Shelton could not be immediately reached by Newsweek for further comment on his Facebook post or the executive order.
Shelton announced the order Friday after posting it on the Tupelo Mayor's Office Facebook page, citing the increased number of positive coronavirus cases in the area and requests from medical and city officials as his reasoning behind issuing the mandate.
According to the order, Tupelo has had a total of 429 positive coronavirus cases since the crisis began in March and it is experiencing increases of 11.7 cases per day.
Tupelo, which has a population of nearly 40,000, accounts for most of Lee County's recorded coronavirus cases. The county had reported a total of 437 cases and 15 deaths since March, according to data made available Friday evening by the Mississippi State Department of Health.
The city's main hospital, the Northeast Mississippi Medical Center (NMMC), has been either near or at its licensed capacity for treating coronavirus patients throughout the last two weeks, the order stated.
"On behalf of North Mississippi Health Services and North Mississippi Medical Center-Tupelo, we would like to thank Mayor Jason Shelton for taking a stance as a leader in public health by approving masking requirements for our city. We wholeheartedly support this decision," according to a statement posted on the NMHS Facebook page.
The mask requirement will go into effect June 29 at 6 a.m. The NMHS wrote that it will support Shelton's mandate by distributing donated masks to Tupelo residents who need one.
NMHS Chief Medical Officer Dr. Jeremy Blanchard spoke about the importance of wearing a mask in a live video posted Friday on the NMHS Facebook page.
"We need your help. This is the only disease in my whole career where the prevention of it, the caring of it ... it's the first time where all of the superpowers live in the hands of the audience that's watching right now," Blanchard said.
Representatives from NMHS and NMMC could not be immediately reached by Newsweek for additional comment.