Mississippi Officials Say Mask Mandate Still Valid Despite 'Fake' Governor's Letter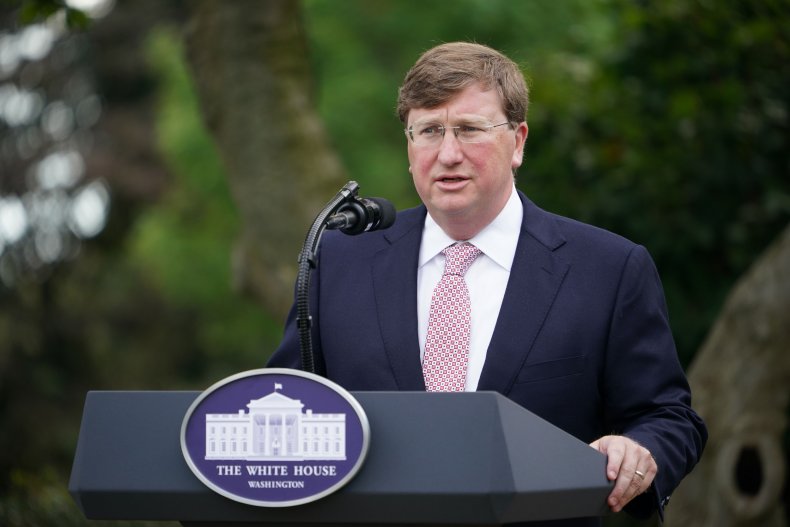 Mississippi officials have warned that a "fake" letter purportedly from Governor Tate Reeves is falsely claiming that the state's face mask mandate has been abolished.
The Mississippi Emergency Management Agency shared a copy of the letter, with the word "FAKE" stamped over it in red lettering, on Facebook and Twitter on Sunday. The agency warned that the letter was not written by Reeves or anyone else in his office and that the mandate is still in effect.
"A 'letter' claiming to be from the governor's office is circulating on social media," the agency wrote. "The letter is a FAKE. Stay up to date with the latest executive orders posted on the Secretary of State's website. And any major changes will be addressed in a press conference and an updated executive order."
Reeves ordered the statewide mask mandate on August 4, days after the state reached a peak of more than 1,775 new COVID-19 cases on July 30. It was initially ordered for a two-week period but has been extended multiple times since then.
The latest extension is set to expire at 5 p.m. on Wednesday, unless it is again extended. The Republican governor has previously issued extensions as late as the same day the mandate was set to expire.
New cases of the virus declined after the mandate went into effect. Regardless, the public health restriction provoked significant criticism in the heavily Republican state, with a recent poll showing the governor's approval rating dropped more than 20 percent by late August.
The forged letter includes a photo of Reeves accompanied by a copy of the Mississippi state seal in the background and claims to be an "official notice" while featuring suspicious verbiage for a supposedly official document.
Purportedly from "the Office and Desk" of the governor, it states that it is a "formal letter to all Residents and Business" announcing that the mandate will be "abolished" at the beginning of October.
"Meaning that it will be no longer required to wear them [masks] in the state of Mississippi, NO BUSINESS can refuse your entry with out a mask on," the letter reads. "All business are hereby ordered to take down all facemasks must be worn on or in they establishments. (Signs)"
The letter is dated September 17 and ends with the governor's forged signature. Reeves spokeswoman Renae Eze told The Associated Press that the letter is "absolutely fake" on Monday. It is not clear who wrote the letter, how widely it was circulated, or believed, online.
Mississippi surpassed 97,000 cases of COVID-19 on Sunday, including more than 2,900 related deaths.
Newsweek reached out to the office of Reeves for comment.