Mississippi, Only State to See Spike in COVID Cases Over Past Week, Eases Restrictions
Mississippi, the second state that eased its COVID-19 mitigation restrictions, is the only to see a spike in cases over the past week.
According to data from the COVID Tracking Project, Mississippi saw a 62.4 percent increase in cases over a seven-day period. On February 23, the state was reporting an average of 358.3 new cases a day, but this number has since increased to 581.9, as of Tuesday.
Overall, Mississippi has seen at least 295,675 cases of the coronavirus since the start of the pandemic, as well as 6,743 deaths.
The uptick in cases in Mississippi over the past week comes as Governor Tate Reeves announced the removal of the statewide mask mandate and the removal of restrictions on nearly all businesses.
"Starting tomorrow, we are lifting all of our county mask mandates and businesses will be able to operate at full capacity without any state-imposed rules. Our hospitalizations and case numbers have plummeted, and the vaccine is being rapidly distributed. It is time!" the Republican governor wrote in a tweet on Tuesday.
While speaking during a press conference on Tuesday, Reeves spoke about the executive order and said "this order removes all of our county mask mandates and allows businesses to operate at full capacity without state imposed rules or restrictions."
"If businesses or individuals decide to take additional precautions, they are absolutely within their rights. In fact, it may be smart, but we are not going to continue to use the heavy hand of government when it is no longer justified by the reality we see," Reeves said during the press conference. "The only rules that will remain in this order are a capacity limit of 50 percent on indoor arenas and those that govern K-12 schools."
Newsweek reached out to Reeves' office for comment but did not receive a response in time for publication.
Texas Governor Greg Abbott also announced a removal of the state's mask mandate on Tuesday.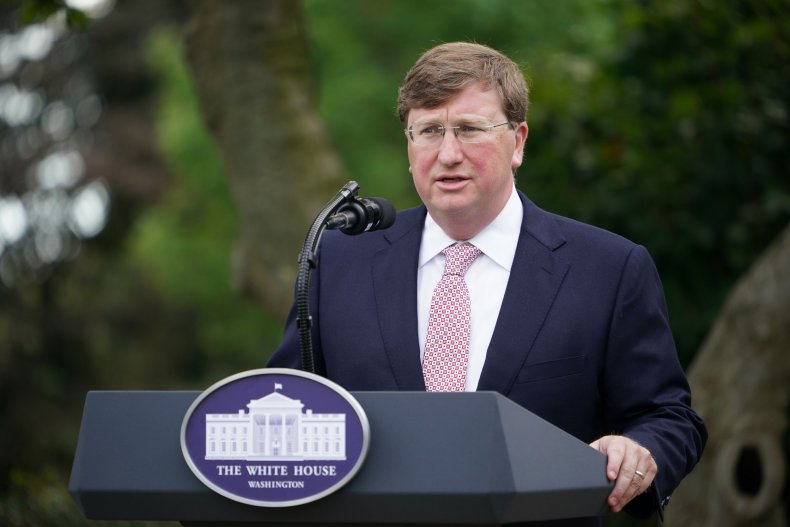 "It is now time to open Texas 100 percent," Abbott said during a press conference on Tuesday, while adding that the removal "does not end personal responsibility," but "it's just that now state mandates are no longer needed."
Shortly after the announcement from both Republican governors, they received criticism from many, including President Joe Biden and Centers for Disease Control and Prevention (CDC) Director Dr. Rochelle Walensky.
"I think it's a big mistake. Look, I hope everybody's realized by now, these masks make a difference. We are on the cusp of being able to fundamentally change the nature of this disease because of the way in which we're able to get vaccines in people's arms," Biden said on Wednesday when asked about Texas and Mississippi. "The last thing—the last thing we need is Neanderthal thinking that in the meantime, everything's fine, take off your mask, forget it. It still matters."
During a White House COVID-19 response team press briefing on Wednesday, Walensky said "I think we at the CDC have been very clear that now is not the time to release all restrictions," and noted that she "would still encourage individuals to wear masks to do the right thing to protect their health."