A Mississippi bill would prevent transgender inmates in the state from submitting a request to change their name or legally change their gender marker.
Under the so-called "Real You Act," HB 1099, inmates would be able to get name change requests approved only if a county sheriff, the state's Department of Corrections commissioner or a department chaplain, or the district attorney filed the request, LGBTQ Nation reported.
The bill originally would have prevented minors from changing their gender markers, but it ultimately was changed to apply to those who are incarcerated. The Mississippi House of Representatives passed the bill last week, according to LGBTQ Nation.
If the bill becomes law, Mississippi would become at least the 10th state to bar people who have been convicted of felonies from changing their names while incarcerated, NBC reported. It would also join a wider collection of laws and proposed legislation across the U.S. that limit what transgender people can and cannot do.
South Dakota Governor Kristi Noem, for example, signed a bill into law last week that bars transgender girls and transgender college-age women from participating on female sports teams. South Dakota became the 10th state to enact such a ban, joining Montana, Texas, Arkansas and Mississippi, among others.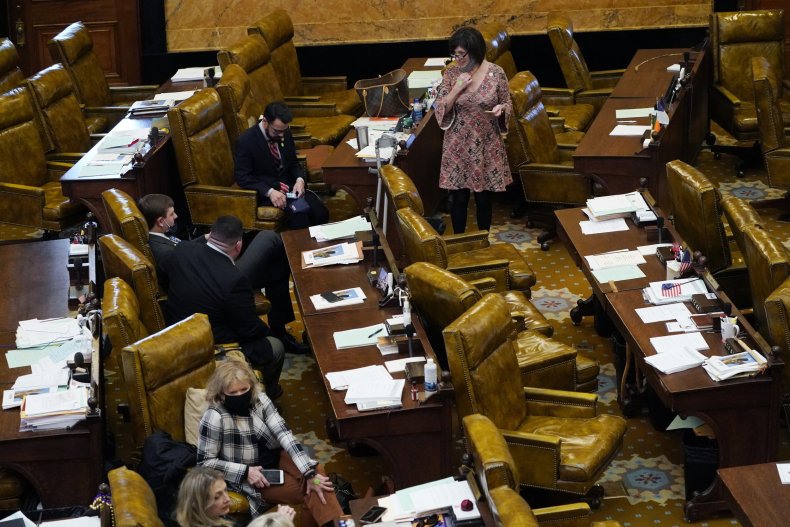 The Human Rights Campaign (HRC) condemned the bill last week and the Mississippi House for passing it. Rob Hill, the Mississippi state director for the HRC initiative Project One America, said in a statement that the state representatives who moved the proposed legislation forward "have again made Mississippi an innovator in anti-transgender discrimination."
"In a country that incarcerates a larger share of its people than any other, transgender individuals are disproportionately likely to end up behind bars. And once they are there, they face much higher levels of mistreatment and violence. They are often housed in facilities that do not match their gender identity, are inappropriately placed in solitary confinement, and face astronomically high rates of sexual assault," the statement read.
"This bill does nothing to address any of the actual issues being experienced by incarcerated transgender people and instead places another hurdle in front of them," Hill added.
The bill is now headed to the state Senate for a vote after the House passed it in an 84-30 vote, according to LGBTQ Nation.
Newsweek has reached out to Mississippi Representative Jeff Hale, a Republican who is listed as the bill's primary sponsor, for comment.
Update 2/10/22, 3:23 p.m. ET: This article was updated with additional information.