Who Will Replace Mississippi's Republican Senator Thad Cochran?
Two Senate seats are now up for grabs in Mississippi after 80-year-old Republican Senator Thad Cochran announced he is resigning April 1 on Monday.
"I regret my health has become an ongoing challenge," Cochran said in a statement. He is one of the longest serving senators in history and was first elected in 1978.
"It has been a great honor to serve the people of Mississippi and our country," he said, noting he hopes announcing his resignation now will ensure "a smooth transition" to a new senator.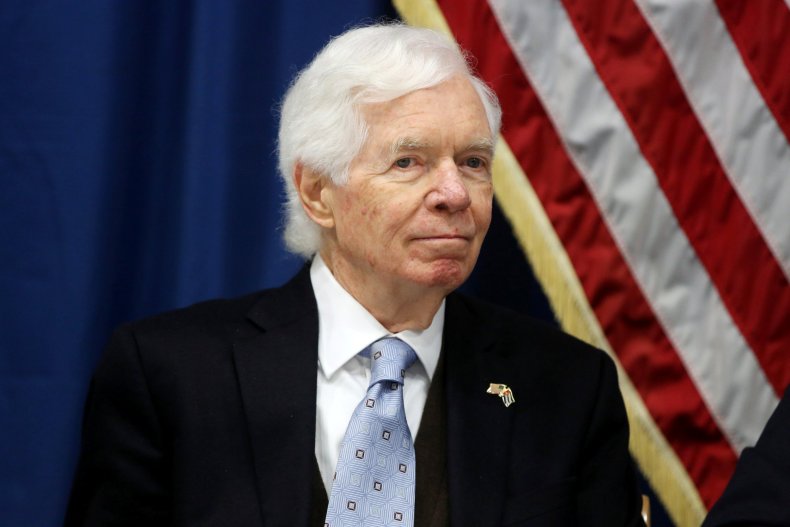 Cochran's resignation means both Senate seats in Mississippi will now face an election this year as Republican Senator Roger Wicker defends his seat in the 2018 midterm re-election vote.
Cochran completed a little over half of his six-year term and his seat was not set to face a vote in this fall's midterm elections. Right now Republicans hold a narrow 51-to-49 seat majority over Democrats in the the Senate. Another race complicates the possibility of holding onto it.
A special election will now be held in November. Cochran's departure means Republicans will also need to find a new chair of the Appropriations Committee.
Following Cochran's resignation, former Democratic House Representative—and President Bill Clinton's first agriculture secretary—Mike Espy said he has a "strong intention to run" for the Senate seat.
Tea Party-allied Republican State Senator Chris McDaniel is already running against Wicker but told NBC News he will keep all "options on the table" when asked if he would consider switching to run for Cochran's seat. President Donald Trump has endorsed Wicker.
Read more: Is Roy Moore broke? Former Alabama Senate candidate issues plea for cash
Some analysts saw Cochran's departure as an opening for Democrats in the deeply Republican state. "Democrats should keep an eye on any state where Trump is barely above water and where a weak general election candidate may end up being the Republican choice against the Democrat," wrote CNN politics analyst Harry Enten Tuesday.
Enten pointed to a December poll of Mississippi voters by Mason-Dixon that gave Trump a 51 percent approval rating and 43 percent disapproval rating. A Gallup poll tracking Trump's approval in the state over the course of 2017 gave him a 48 percent approval to 46 percent disapproval rating.
Mississippi's Republican Governor Phil Bryant is now in the position of finding an interim replacement for Cochran. Senate Majority Leader Mitch McConnell has suggested Bryant step down and have someone appoint him to the position.