Mississippi River Flooding: High Water Levels Stop Barge Traffic Above St Louis and Illinois, Arkansas Rivers
Flooding along the Arkansas River has taken the life of a man from Texas, with warnings still in place.
According to the National Weather Service (NWS), Pueblo, Colorado, has issued a flood warning for the Arkansas River at Canon City, affecting Fremont County. The water levels are expected to rise above flood stage in the early hours of Friday morning producing minor flooding through to Sunday.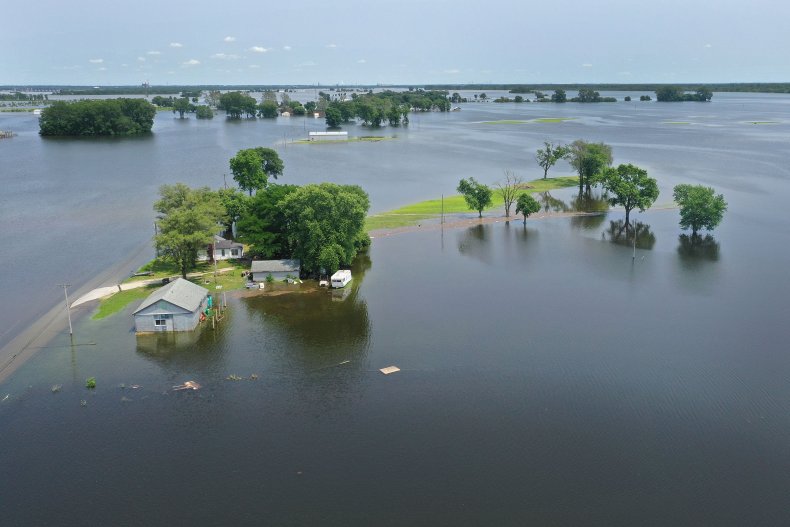 The NWS has advised residents to stay away from the banks of rivers and streams in the area due to them being easily broken and falling into the deadly, fast-flowing water. Twitter users have also shared images of debris floating down the river and fast-flowing waves, as well as people taking to the waters for rafting.
However, the flooding has already cost one life. According to KKTV, Sameer Prasla, 42, from Texas, died when his raft flipped over while in the Arkansas River west of Canon City. He was rafting with a group from the Boy Scouts of America. First responders were unable to revive him at the scene. Pueblo County Sherriff and its Police Department (PPD) have placed restrictions on activities on the Arkansas River due to the dangerous conditions.
The Arkansas River has been hit with flooding for the last month. According to Associated Press, relentless flooding inundated communities and damaged or spilled over levees on three major rivers in two states at the end of May, with historic flooding sending hundreds of people to temporary shelters at Fort Mill.
The NWS has warned that other rivers will be prone to flooding in Arkansas, Mississippi and Louisiana. Those affected are the Mississippi River near Arkansas City, Greenville, Vicksburg and Natchez. Counties and parishes affected are Chicot, Desha, Bolivar, Washington, East Carroll, Issaquena, Tensas, Claiborne, Jefferson, Warren, Concordia, Adams and Wilkison. Mississippi River forecasts are based on rainfall that has occurred and what is to come over the next 48 hours.
There are also active warnings for the next 24 hours for Illinois and Missouri, with the Mississippi River. Areas prone to flooding are Canton, LaGrange, Quincy, Lock and Dam 21, Hannibal, Saverton, Clarksville, Winfield, Grafton, Mel Price LD, St. Louis and Chester.
Flood warnings are also continuing for Fourche Lafave River Near Houston, Texas, affecting Perry County, with major warnings in place for Pendleton and Pine Bluff, Arkansas.
NWS advises that if anyone comes to flooded roads that they should turn back and not drive through.