Viral Video Shows Mississippi River Flooding at St. Louis as River Approaches Historic Levels
Stunning drone footage of the Mississippi River showed how much the waterway had swelled before it crested over the weekend.
The drone captured footage of the Mississippi and the River Des Peres in south St. Louis Saturday, as the rivers approached historic heights.
The video, viewed roughly 7,500 times as of Tuesday 4.00 a.m. ET, shows rows of half submerged trees and street lamps peeking out from the surface of the water. Dozens of large sandbags form temporary flood barriers. Stretches of highway disappear beneath the water as vehicles splash through other, less saturated, roads.
Other aerial images have shown the devastating extent of the flooding that has hit the Mississippi in recent weeks. The enormous river is the second largest in North America, and borders or passes ten U.S. states.
Over the weekend, the River Des Peres was higher than 30 feet near St. Louis this weekend, the U.S. Geological Survey reported. But water levels dipped back below 30 feet Monday.
The Mississippi River hit almost 45 feet high at St Louis Saturday, and continues to hover around the 45-foot mark, the agency reported. The two rivers crested on Sunday morning, according to local station KTVI.
During the Great Flood of 1993, the Mississippi River crested at 49.6 feet at St Louis, The Weather Channel previously reported. On Sunday, it crested at 46.02 feet, according to the National Weather Service, the second highest in history.
Back in 1993, some 20 million acres of land were submerged when the Mississippi and Missouri rivers flooded over a period of several months, NASA previously noted. The record-breaking flood was one of the most devastating and costly in U.S. history. Although this weekend's river [levels didn't reach those heights], the extent of recent flooding has caused serious disruption to numerous industries, including farming.
Chris Boerm, a transportation manager for an agricultural commodities company, recently told Bloomberg: "In '93, the flood was really kind of concentrated in Iowa and the Upper Midwest... This has been much more expansive, getting all the inland rivers."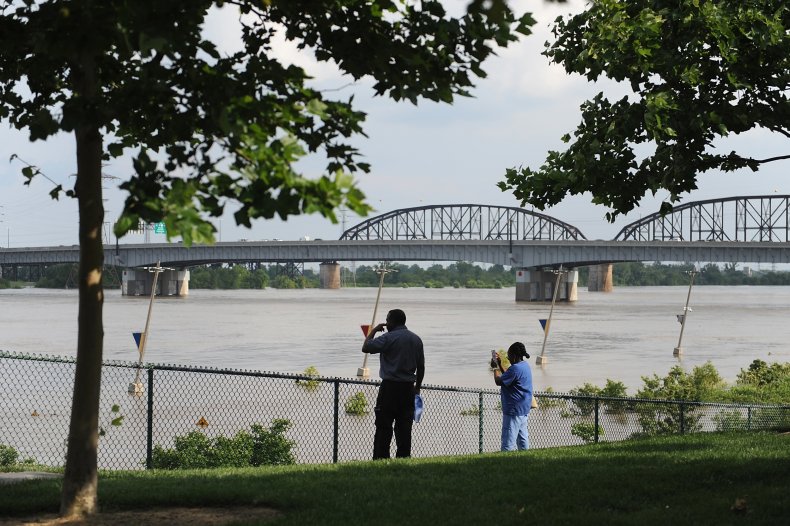 The Ohio River, the Illinois River and the Arkansas River have all been affected, as well as the whole of the Mississippi.
Iowa corn farmer Bob Hemesath added: "We are going to be missing almost three months of river traffic, I don't even know how we will get caught up...If the river facilities don't have barges that are caught up on old crop they won't be able to ship new crop. It's another stress for farmers."