Mississippi Senate Race Polls, Issues, Candidates, Election Results Time: Everything You Need to Know
Three weeks after the midterm elections, the final Senate race of 2018 is set to wrap Tuesday night in Mississippi.
Neither Mike Espy, the Democratic challenger, or the incumbent Republican senator, Cindy Hyde-Smith, reached 50 percent of the vote in the November 6 election, so their race will finish in a runoff today.
The runoff election has been a short campaign crowded with controversy, high-profile political and celebrity appearances and massive amounts of money. But what it all comes down to today are the voters. Espy hopes for outsize Democratic and African-American turnout, while Hyde-Smith likely has her fingers crossed for just the opposite.
Polls have consistently put Hyde-Smith in the lead, but the November 6 election had Espy trailing Hyde-Smith by only 0.4 points. Recent surveys and internal polling, however, give Hyde-Smith a likely 5- to 10-point lead over Espy. But with Hyde-Smith embroiled in racial controversy following her remraks about attending a public hanging, she's not a definite shoo-in.
Polls close in Mississippi at 7 p.m., and results should be known a few hours later.
Here's a breakdown of who the candidates are and why the race is important.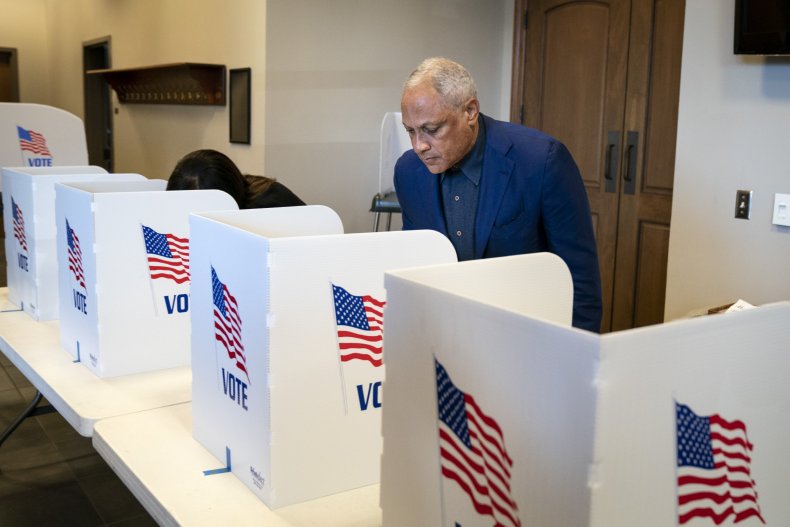 The Candidates
Cindy Hyde-Smith was appointed by Mississippi Governor Phil Bryant to fill out the rest of Senator Thad Cochran's term when he left office in March for health reasons. So, while she is a Republican and an incumbent senator in a deep-red state, she has yet to actually win a U.S. Senate election.
Before she took over for Cochran, Hyde-Smith served two terms as the Mississippi commissioner of agriculture and commerce, and 12 years as a state senator. Though originally a moderate Democrat, Hyde-Smith switched parties and became a Republican in 2010.
Hyde-Smith aligns closely with President Donald Trump. She has voted for his agenda 100 percent of the time, more than any other Republican senator. She is against the Affordable Care Act and abortion rights, a longtime member of the NRA and supports full funding for a border wall.
The president has returned her support by coming to Mississippi at last a handful of times to stump for her. "Polls are open in Mississippi. We need Cindy Hyde-Smith in Washington. GO OUT AND VOTE. Thanks!" the president tweeted Tuesday.
Hyde-Smith tweeted to her supporters that a vote for her was a vote for Trump. "Make no mistake—a vote for me is a vote for [Trump] and #MAGA," she wrote. "It's why Liberal Mike Espy and the radical DNC have targeted our campaign for defeat, and it's why we need to make sure EVERY MS conservative gets to the polls on 11/27."
Trump won Mississippi by nearly 17 points in 2016 and still has a 59 percent approval rating in the state, so aligning with the president would appear to be a useful strategy here.
Since the general election, however, Hyde-Smith has become mired in racial controversy. While meeting with supporters she was caught on tape saying to a local rancher that if he "invited me to a public hanging, I'd be on the front row." Walmart, Major League Baseball and Google have since pulled their financial support from her campaign.
At first, Hyde-Smith refused to apologize for her comments but eventually said she was sorry if she had offended anyone and that she was just joking.
Last week, the Jackson Free Press reported that Hyde-Smith had attended a private segregated academy created in the 1950s after the Supreme Court ordered that public schools allow African-American students to attend. She also sent her daughter to a segregated academy.
Hyde-Smith has a long history of voting to honor the Confederacy and to create a revisionist history of the Civil War. In 2014, the state senatorial candidate posted a photo of herself holding a rifle and wearing a Confederate hat. The caption read that this was "Mississippi history at its best!"
Her comments and actions are particulary significant because her Democratic opponent is black, and if elected, Espy would be Mississippi's first African-American senator since Reconstruction.
Espy began his political career as a U.S. representative for Mississippi's 2nd Congressional District before former President Bill Clinton appointed him as the first African-American secretary of agriculture.
After one year, Espy resigned from his Cabinet position, shrouded in controversy. The White House had accused him of misusing government perquisites and accepting gifts, such as sporting tickets, airfare and lodging from lobbyists. Indicted in 1997, a jury acquitted him of all charges the following year.
Hyde-Smith has used this as a central point in her campaign. Espy has maintained that the allegations against against him were unfair and this week said that even the late Supreme Court Justice Antonin Scalia had said the case brought against him "was overwrought and was de minimis and should not have happened."
Politically, Espy is a moderate Democrat. He has crossed party lines to support Republican candidates in the past and received the NRA's Silver Rifle award in 1988. He does support Medicaid expansion and opposes a border wall.
Why This Election Matters
Trump described the runoff race in Mississippi as "the most important Senate race in your lives," Monday night.
Mississippi is one of the reddest states in the U.S. If Espy flips it, it would signal a huge gain for Democrats. It would also mean that Republicans would have won only one additional seat in the U.S. Senate this year, when many had expected a much larger gain.
Trump sees Hyde-Smith as a key ally in the Senate and wants to keep her there at all costs. At the same time, racial tensions run high, and the controversy Hyde-Smith has embroiled herself in will be hard for her to shake, even if voters do return her to Washington.
Mississippi Senate Race Polls, Issues, Candidates, Election Results Time: Everything You Need to Know | U.S.