Mississippi Sends Its First Hate Criminal to Prison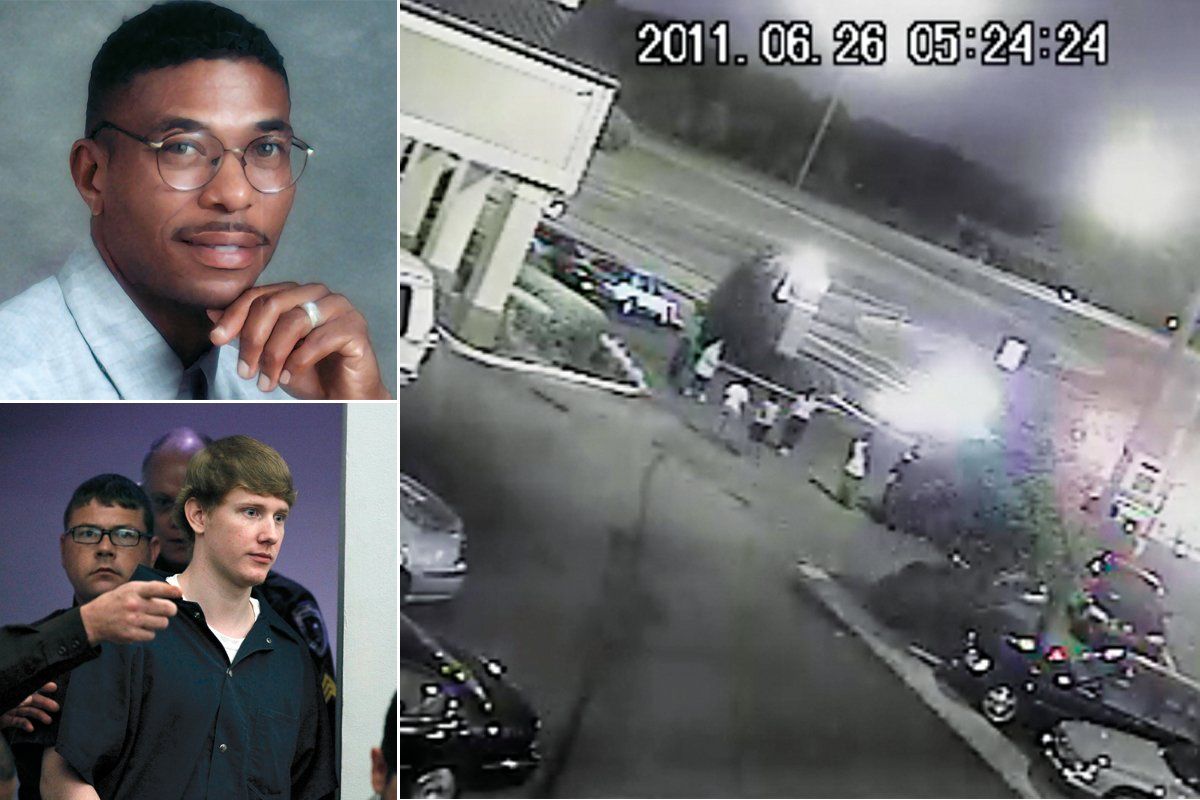 "Do you want to go muddin'?"
It's nearly midnight in Brandon, Miss., home to what the FBI calls a gang of "racist thugs" as bad as any in Southern history. I've apparently just met some of them at an all-night car wash, the village square in a town where wrecking and wiping-down your pickup truck marks time as reliably as the calendar. Since last summer, when a local teenager named Deryl Dedmon was accused of murdering a black man for his skin color, reporters have been a regular presence here and at the Sonic Drive-In next door.
Most have been sent off with "no comment, ma'am," or a jerk of the thumb and stern instructions to "take those questions elsewhere." I got the same treatment at first. But after a night of talking about anything else but the town's sudden infamy, the mood softened and the boys—all of whom were with Dedmon either before or during the murder—have decided to show me a good time. Or their version of it anyway.
The plan is to go off-roading in nearby Puckett, home to "300 Good Friendly Folks and 'a Few Old Soreheads,'?" as the town welcome sign reads. One of the boys drives off to get tow chains, "in case we land in a pond." Fifteen minutes later we are packed in a souped-up pickup truck, beers open, slaloming down boggy backroads. We emerge into an overgrown field, where we spin donuts in third gear. Shotgun shells and a hammer bounce around the cab. The truck's muffler has been removed for added horsepower—and noise. "This is our life," yells the driver, whom we'll call Trevor. "This is what we do."
In the very same field last June a plan was hatched that left a 47-year-old African-American man dead—beaten, and then crushed by a truck. In the aftermath, the FBI conducted more than 200 interviews, charging Dedmon and two others—John Aaron Rice and Dylan Butler—in the first civil-rights-related murder case under the 2009 Hate Crimes Prevention Act. The FBI s still investigating "known and unknown" participants in what they say is a related spree of hate-fueled trips into Jackson, including assaults using beer bottles, shod feet, and a slingshot loaded with marbles, according to the Justice Department.
In what's fashionably called a "post-racial" world, the crimes mostly recall the state's past: Emmett Till, Medgar Evers, Mississippi Burning. But it is also part of "an undeniable headwind of intolerance" in this country, according to Thomas Perez, the head of the Justice Department's Civil Rights Division. He compared the crime to the 1998 murder of James Byrd Jr., a black man dragged to death behind a pickup truck by white supremacists in Texas, and asked, "How is it possible that such a depraved act could occur?"
"I was young and dumb, ignorant and full of hatred," Dedmon told the court. But just what did that hatred mean?
I went to Mississippi to find out, and what I discovered was deeper, scarier, and more complex than a single country boy gone bad or even simple, pre-civil-rights-era racism. In fact, the kids in Dedmon's social circle don't think they're racist at all. Sure, many use the N word, sometimes even in anger. But they say they don't mean it in a racist way, any more than the town's monument to the Confederate dead is meant as a call to arms. "It's heritage, not hate," says Trevor, echoing a common defense of Southern pride. The trips to west Jackson, he and others believe, were driven by social status—reveling in the lawlessness of poor neighborhoods—not skin color. Surprisingly, besides the boys' mothers, their black friends tend to agree.
The Dedmon case is shocking for many reasons, but none more disturbing than this belief that a churchgoing white teenager could kill a blameless African-American man he called a "nigger" and not be a racist. By all legal definitions, what he did was a hate crime. And yet it also appears to have been a chillingly unacknowledged one—an extreme example of white people doing racist things while rejecting the R word itself. David Duke. George Wallace. James Watson. Michael Richards. Don Imus. The list is long and always growing, the rolls swelling in banal and not-so-banal ways. At root, all this "nonracism" reflects a national confusion—now that police dogs and burning crosses are behind us—about just what a 21st-century racist is.
The night of the crime began merrily enough. It was Trevor's birthday, and he and a friend made a bonfire out of old wooden pallets. As others arrived, almost all in pickup trucks, each backed up to the blaze, dropped their tailgates and welcomed folks in for a beer or 12. Besides alcohol, marijuana and pills were also circulating, according to some people there, and by the small hours, many of the high-school partiers were as lit as the fire: kissing and hugging, belting out their favorite songs.
One of them was Dedmon, a wispy, blue-eyed boy with a curtain of blond hair hiding half his face. He was just five feet tall without his boots on, and known more for following than leading. He was having fun, but eventually his night began to sour.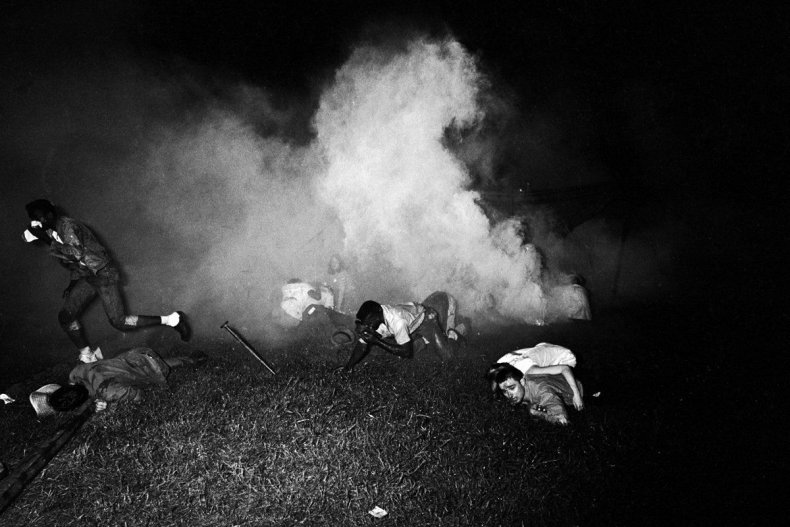 "He was having girl trouble," a friend told police. The girl he liked had kissed someone else; another girl he liked seemed annoyed to discover her competition. So by 4 a.m., with the party breaking up, he connected with some friends, including John Aaron Rice, a tall thin boy known for street racing his white Mustang, and Dylan Butler, a beefier kid with military dog tags tattooed on his chest and Facebook photos of himself holding dead animals by the tail. The plan, nebulous at first, soon crystallized around a single idea, according to the FBI: to go to Jackson and "f--k with some n--gers."
So far the Justice Department has brought charges against only Dedmon, Rice, and Butler, but more arrests have been promised on related incidents. On at least five prior occasions, starting last Easter, the gang had gone on similar trips, according to prosecutors. At first they merely drove through blighted black neighborhoods, drinking and yelling racial epithets. But the behavior escalated. One night a driver gunned the engine, driving toward a black man, forcing him to jump out of the way. Another night Dedmon and Rice slung beer bottles at black pedestrians, striking one in the head, one in the crotch. On yet another night the weapons were marbles and a sling shot. Finally, Dedmon and others began to pursue seemingly homeless or intoxicated black men on foot, beating and stomping one man until he begged for his life, according to court documents.
And then came the murder. Using previously undisclosed court documents, interviews with law enforcement, and conversations with people present at or familiar with the crime, it's now possible to sketch the events in detail.
With the plan hatched, Dedmon got into a green Ford F-250 pickup, bringing along one of the girls he liked and her friend. Butler and Rice piled into a white Jeep Cherokee driven by a 20-year-old friend, who brought along a handgun. A fourth passenger, just 17, came along too.
The two vehicles headed for a battered part of Jackson the boys called "Jafrica"—a black neighborhood, yes, but a name members of the group say they chose because "it's the Third World," "a zoo," a crime-ridden state of nature. By 4:45 a.m., the Cherokee swung into a Wendy's parking lot on a strip of fast-food outlets, auto shops, and dollar stores. It's a place where the laws of family, church, and state don't seem to apply, a world away from the low crime and unlocked doors of Brandon.
Next door was the Metro Inn, a notorious roach motel. Police had been summoned, on average, more than once a day over the past year for a slew of muggings, rapes, shootings, aggravated assaults, and at least two murders. There was no more dangerous place to be in the city—especially not in James Anderson's condition.
Butler and Rice first spotted him banging on the window of an orange Chevy Avalanche, visibly intoxicated, according to the government. The boys thought he was either a hapless carjacker or a man without his keys. In fact, he was an assembly-line worker at a Nissan plant in Canton. In the evenings, he cooked soul food for his partner of 17 years, James Bradfield, and a young relative he was helping Bradfield to raise. Come Sunday he was reliably found in church. But on Saturdays, after working in his garden, he sometimes went out "bucking," as he told friends. It was his term for "dressed to the nines"; that night it meant black jeans, a crisp brown shirt, gold earrings, a woven brass bracelet, antique watch, and a wooden rosary cross around his neck.
They started talking to him. At the same time, a text message went out to Dedmon, who was moored at a Texaco station, trying to patch things up with one of his love interests. "Hurry up," the message read.
Dedmon obliged. He slammed a Bud Light during his 16-mile journey, adding to the fresh empties under his seat. When he arrived, he immediately called Anderson a car thief and a "stupid nigger." At 5 feet 7 and 160 pounds, Anderson towered over the smaller Dedmon, who was barely 130 pounds in a rodeo belt. But there were larger threats. Unprovoked, Rice hit Anderson in the face, according to the charges, toppling him backward over a curb. Dedmon straddled Anderson and pounded him briefly. Then both boys retreated to their vehicles, where Butler was nearly passed out. "I will admit that I consumed a lot of alcohol that night," he told police later.
As the Jeep Cherokee drove out of the parking lot, someone yelled "White power," according to the charges. Dedmon responded in kind, pumping his fist. Then he climbed into his F-250 to leave. As he roared toward the exit, Anderson was walking toward the exit as well. The collision—Dedmon's headlights glowing on Anderson's shirt, the truck accelerating over a curb, and Anderson disappearing beneath it—was caught on a security camera and later broadcast worldwide, sparking marches, wreath-laying ceremonials, and candlelight vigils. Both girls in Dedmon's truck later described feeling the body under the tires; first responders reported a black male with "tire tracks across his chest and right side of his face."
"I can't believe I did that," Dedmon said inside the truck. He called the driver of the Cherokee. "I just ran over the nigga," he said, loud enough for others in the truck to hear. They heard something else too—laughter—and for a moment they thought it was a joke. Then the group reconvened at a McDonald's. Dedmon's would-be girlfriend was crying next to the truck, her friend sitting solemnly inside. Dedmon was bent over, looking intently at his blood-splattered bumper. When he saw the others he broke into a smile. "He had this smirk," the driver of the Cherokee told authorities.
"It wasn't that bad," Dedmon assured them. That same morning, at a hospital across town, James Anderson died.
Dedmon was not widely seen as the kind of kid who would hunt down black people for sport. He grew up in a neat red-brick house in a neighborhood full of the same. He was raised mostly by his mother, Shannon Smith, a manager at a local pet hospital who listens to Christian rock and got Dedmon into a churchgoing habit from an early age. Every summer he and his older sister, Amanda, traveled to Memphis for StreetReach, a program aimed at helping inner-city—and mostly black—youths. His father, whose name is also Deryl, lives a scruffier life of blue-collar work, in a town where Pig Trail Road is still a pig trail.
Their son embraced "redneck" as an honorific, according to friends, and modeled his life on a heritage of hunting and farming. His Facebook profile picture was of a deer, and he was active in Future Farmers of America at school. "Deryl was a good person," Walter Sparks, a childhood friend, told Jackson's Clarion-Ledger newspaper. "But I watched him gradually fall down a dark hole."
He seemed to grow more aggressive with time, accelerating his truck at two separate white classmates he clashed with, according to witnesses, and scaring a third boy so badly that he called 911. He was charged with phone harassment. Along the way he began drinking more, by his own admission. But at what point is an out-of-control teenager also a hate criminal?
"I miss my son," Smith told me, answering her door one day last month and offering her first comments on the crime. "He's a good boy. He just fell in with the wrong friends." He wanted to be a firefighter, his sister added as we talked on the stoop. She recalls a shy and sweet Deryl, a 16-year-old standing on a chair at Bubba Gump's restaurant, blushing as the waitresses sang him "Happy Birthday." Only by the grace of God has the family carried on this past year, she says. The grace of God, that is, and one clear conviction: "Deryl is not racist."
Last fall, the Jackson Free Press, an alternative weekly, talked to black students who knew Dedmon, and found nothing but confusion about the hate-crime charge. "He didn't seem racist at all to me," said Lagarrin Watson, a black senior who at the time had a white girlfriend. "I never saw any sign of racism," added Brandi Henson, a mixed-race senior, who had Dedmon over for pizza with friends the week before he ran over Anderson. "Deryl was always sweet to me."
I heard the same from the boys at the car wash—even the black boys. The day after muddin' in Puckett, the parking lot next to Sonic was jammed with dirty pickup trucks. It was all white kids at first. Then a black kid drove up, and then another, and they joined the group. Every one of the white kids watched me, watching them, waiting for me to ask.
"Do you think these guys are racist?"
"They're not racist to me," said one of the black kids.
"I've never had a problem with them," added the other.
The Bunyanesque 21-year-old next to me crowed. He is best friends with the driver of the Cherokee that led Dedmon to Jackson. "There you go," he says, leaning in close so I can smell his wintergreen snuff. "From the mouth of the beast."
To understand this paradox—black victims but also black friends and defenders—it's important to first understand something about the community itself. Brandon has a racial history as dark as any county in Mississippi; in the 1960s it was a white-supremacist hotbed, home to an organization that compared the arrival of the first black student at Ole Miss to the first bombs of Pearl Harbor. In 1970 local sheriffs beat a black civil-rights worker, stabbing him through the nose with a fork. Even today, Brandon is home to whites (or the children of whites) who fled Jackson when it desegregated.
Times have changed. Brandon is now a mixed town in a still largely segregated state. More than one in four students at Dedmon's alma mater, Brandon High School, are black, and there are no clear color lines between high-school social groups. At Trevor's party the night of the murder, Dedmon and what the government calls his "co-conspirators" were sharing the air, and the beer, with four or five black revelers as well. But while white and black kids mix freely at school sporting events, their parents divide the bleachers by color as well as by class.
This same segregation takes place at the Pearl River, which separates relatively white and wealthy Brandon from impoverished west Jackson. The Justice Department's Perez says that the Dedmon case is about white teens "targeting vulnerable African-Americans simply because of the color of their skin." He says "'depraved-heart murder' is a spot-on characterization" of the crime.
It is—and it is not. In the version told by Dedmon's social circle, racial hatred did not bring them to Jackson so much as boredom and drunken teenage aggression, mingled with a kind of moral outrage at the shabbiness of life in the Metro Inn area. Yes, the people there are almost all black, and the white teens call them "niggers." But that has more to do with their status than their skin; the undignified don't deserve dignity, they say. "White, black, red, or yellow," says the Bunyanesque friend from the car wash, who did not go to Jackson that night, "what I'm prejudiced against is stupidity. I don't like stupid people."
Hate-crime laws, however, are blunt instruments. They don't allow for the distinctions between black friends and the down-and-outs in Jackson they call "niggers." As a result, "it's not real hard to charge somebody with a hate crime." says Sam Martin, a lawyer for Rice. "You don't get a pass for ignorance."
Late last month, after less than a year of investigation, Dedmon pleaded guilty to state charges of murder and a hate crime, and was sentenced to two life terms. Judge Jeff Weill Sr. put the crime in historic terms, recalling the Mississippi Burning case of 1964. The next day, Dedmon, Rice, and Butler pleaded guilty to conspiracy to commit a hate crime and to committing one.
Swift justice, a clear plea deal—and yet there has been an outraged reaction from both sides of the color line. Blacks want to know why the other kids on the scene have not been charged; whites feel like it's their kind getting unfair treatment. Some boys said they feel like they are still paying for the sins of their slave-owning, noose-using forefathers, and they resent it. They see double standards: the KKK is a no-no but the Black Panthers are not; saying "nigger" is a no-no but "cracker" is not; black guys can kill white people and it's just a crime but reverse the colors and it's racism.
"It's annoying to us that when a black guy does something to a white guy it's pushed aside," one of the kids on the scene with Dedmon told me. "The black guy gets the benefit of the doubt. But when it's a white guy on a black guy, it's a hate crime. They get the favor. We don't." They know history, but they don't see what that tradition has to do with them today. As one put it, "I don't own slaves. What does slavery have to do with me?"
The district attorney in Hinds County, Robert Shuler Smith, who is black, is confused by this kind of talk. He admits some kids may say the N word without malice, but he does not doubt his decision to prosecute the Dedmon crime as more than a simple murder. "You can only judge what is in a man's heart by what he does," he says, and the crime was more hate-filled than anything he has encountered. Even among Dedmon's companions there are shivers about what went on. One person who participated in a beer-bottle assault said he came home shaking and crying. Another person present the night of the murder told me he couldn't sleep or eat for days. And a third, in the car with Dedmon, had nightmares for months, her mother told me.
For his safety, Dedmon is being held in isolation. But one of his uncharged companions remains at Brandon High, untroubled by backlash from black students. "None of my black friends have had any problem with me," he says. "They say you're not the person they're making you out to be. One of them said he's taking a photo together with me with our bellies touching so people can see we're alright."
On my last night in Mississippi, I drove into Jackson with Trevor and three female friends. On the journey, there was uneasy humor about how our path overlapped with Dedmon's. The truck rattled over something in the road. "Just a pothole," the driver said. In a desolate part of west Jackson, a couple miles from the murder, we stopped at an intersection and the car filled with a raw sewage smell. "Welcome to Jackson!" someone cracked.
A few intersections later, we stopped again. It was almost 11 p.m., chilly, and no one was around except for a black man on the far corner, looking spaced out of his mind and possibly homeless. He was exactly the kind of target Dedmon went looking for, and in my hand is exactly his kind of weapon: a can of beer. No one said a word.
We drove on to a club downtown, where we met up with a black kid named J., who knew Dedmon and was best friends with Rice. The night of the crime J. was drinking with friends a county away. Now he's torn up about not being present to save his buddy from a bad rap. "If I had been there," he says, as we finish beers in the parking lot, "none of this would have happened."