Mississippi Sheriff's Office Promises to End Racial Profiling After Deputy Looking for 'Illegals' Wrongly Detains Family for Hours
A sheriff's office in Mississippi has agreed to adopt new policies to ensure that its deputies will stop racially profiling motorists. The move comes after a family of five was wrongfully stopped and detained for hours by a deputy looking for undocumented immigrants.
The Hancock County Sheriff's Office recently adopted the new policies as part of a settlement signed last month with the Southern Poverty Law Center (SPLC) and the Mississippi Center for Justice on behalf of the family that was stopped.
According to the SPLC, Stephanie and Marcos Martinez and their three children were traveling on Interstate 10 on their way to a vacation when they were suddenly pulled over by deputies with the Hancock County Sheriff's Office.
The family alleged that they were forced to wait on the roadside for two hours before they were brought to the sheriff's office, where they were detained for another two hours while deputies searched through their luggage and confiscated their passports, as well as Marco's green card.
At one point, the family claimed that one deputy who said he was "looking for 'illegals'" threatened to separate Stephanie's children from her.
While all defendants denied the allegations made in the lawsuit, the Martinez family has maintained that they were unlawfully stopped and detained based solely on a deputy's perception of their race and ethnicity.
Newsweek subscription offers >
"We brought this lawsuit because we didn't want other families to suffer in the same way that we did," Stephanie Martinez said in a statement provided by the SPLC. "We hope the new policies make sure that other people aren't stopped and harassed just because they look Latino."
In the midst of the legal battle, the Hancock County Sheriff's Office claimed that its deputies were acting under Operation Stonegarden, a federal grant program promoting cooperation between local law enforcement agencies and federal agencies, including immigration agencies.
While the program does encourage local law enforcement agencies to assist immigration law enforcers like the U.S. Customs and Border Protection agency and the U.S. Immigration and Customs Enforcement (ICE) agency, it does not give local law the authority to enforce federal immigration laws.
After the lawsuit was filed, the SPLC said Hancock County ended its participation with Operation Stonegarden, following in the footsteps of other local law enforcement bodies that have backed away from the scheme over concerns around racial profiling and eroding trust in police.
After signing the settlement with the SPLC and MCJ, the sheriff's office has also now begun to enforce new policies seeking to combat racial profiling.
Under the new policies, deputies with the sheriff's office are prohibited from stopping or detaining people based on the suspicion that they may be in the U.S. undocumented.
The new policies also prevent deputies from prolonging any stop to try to determine someone's immigration status or to transfer them into federal custody.
Deputies are further barred from "considering race, ethnicity or national origin in deciding whom to stop, question, search, or arrest, except when pursuing a known suspect," the SPLC said in its press release.
The sheriff's office will also be required to collect data on the race and ethnicity of the motorists it stops, as well as information on how long and what the outcome was of each stop.
The data deputies collect will be made public on a quarterly basis in a bid to ensure that they comply with the new rules.
Further, the sheriff's office is expected to post a form online in both English and Spanish that will give anyone stopped by authorities the ability to lodge a complaint, which authorities will be expected to investigate and resolve within 90 days. Any complaint registered will be added to a permanent master file.
"This case is a powerful reminder that when local law enforcement tries to do the job of federal immigration agents, they will face costly legal challenges," said Gillian Gillers, a senior staff attorney for the SPLC, in a statement. "We're very glad Hancock County agreed to get out of the business of immigration enforcement."
MCJ Advocacy Director Beth Orlansky also celebrated the settlement, calling it a "win for everyone traveling through Mississippi along the I-10 who will be safer as the result of these policies."
Orlansky said the policies could also serve as a model for other local law enforcement agencies seeking to "promote healthy relationships with their communities and avoid costly litigation."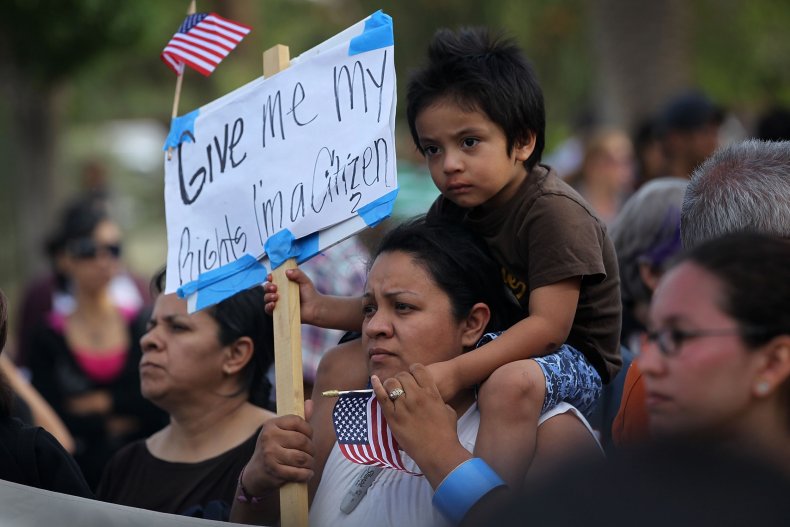 Mississippi Sheriff's Office Promises to End Racial Profiling After Deputy Looking for 'Illegals' Wrongly Detains Family for Hours | U.S.