Mississippi State vs. Ole Miss Egg Bowl Info: Odds, Predictions, Live Stream, Start Time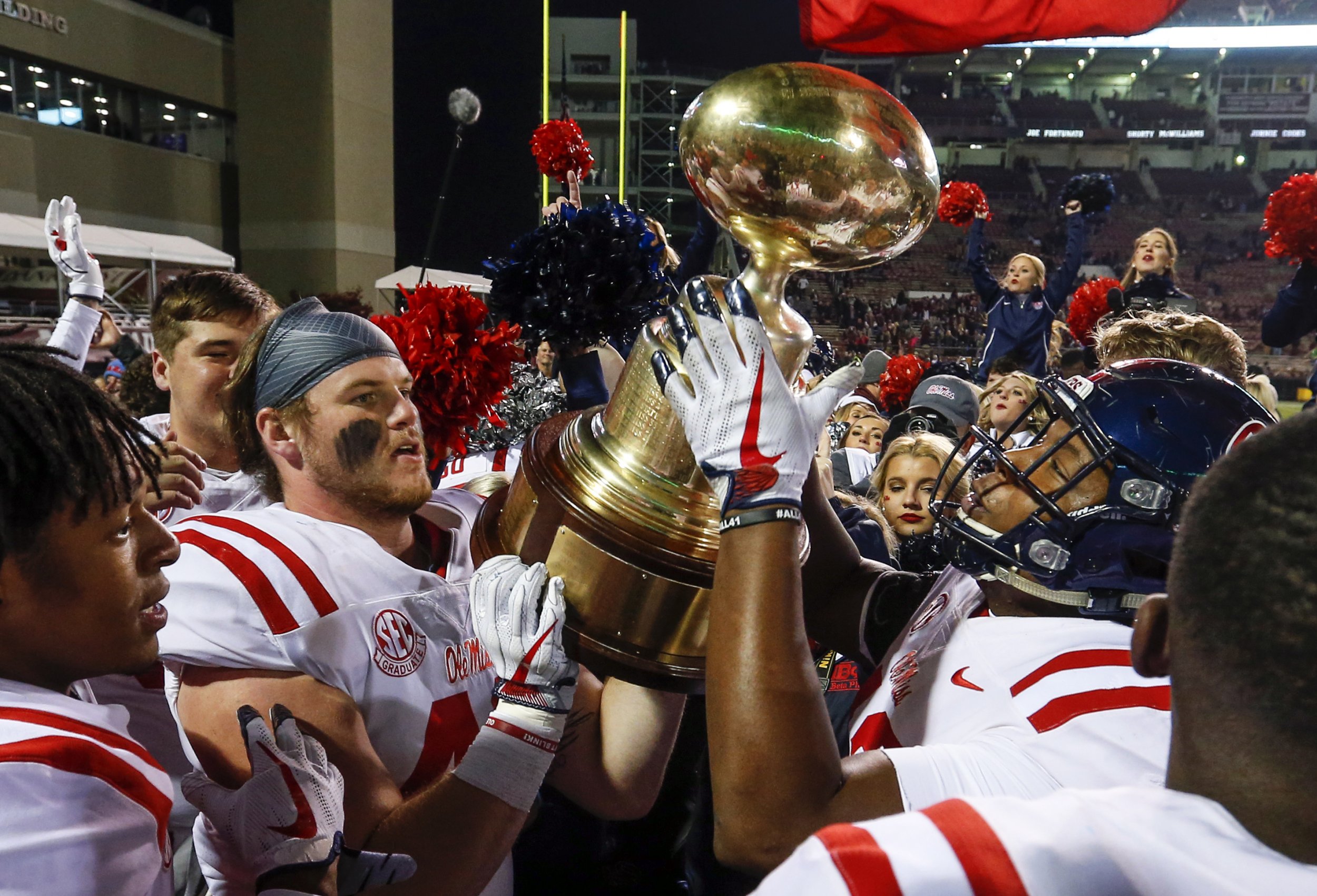 Two SEC rivals will look to gain in-state bragging rights as the Mississippi State Bulldogs (7-4) face the Ole Miss Rebels (5-6) in the annual Egg Bowl matchup at Vaught-Hemingway Stadium in Oxford.
The Rebels have won four of their last six meetings, including a 31-28 upset last year following an early ankle injury to Mississippi State quarterback Nick Fitzgerald.
However, the senior quarterback is ready to bounce back from last year's early exit and lead the heavily-favored Bulldogs to victory.
"Guys, it's an injury," Fitzgerald said during a press conference this week, downplaying questions about last year's injury. "People get hurt every day. People get hurt walking down the street stepping off the curb. You hurt your ankle. It happens."
Fitzgerald enters Thursday's game with 1,504 yards, 14 touchdowns and seven interceptions on 120 of 231 passing, while also recording 901 yards and 10 touchdowns on 183 rushing attempts. The senior is aware of how important the Egg Bowl matchup is, having appeared in the game twice previously.
"We know exactly what this game's going to be," Fitzgerald said. "We know it's going to be violent. We know there's going to be some dirty stuff going on."
Ole Miss quarterback Jordan Ta'amu leads the SEC with 3,831 passing yards, as well as 19 touchdowns and seven interception on 258 of 401 attempts. He also has 366 yards and six touchdowns on 112 rushing attempts.
Ta'amu is also within one percentage of setting the Ole Miss record in completion percentage, as well as two-tenths of a yard shy of the Rebels record for yards per completion.
Not bad for a quarterback who was expected to compete with Shea Patterson for the starting job had the now Michigan starter not decided to transfer this offseason.
"For me, I was going to stay no matter what," Ta'amu said of his situation entering the season. "I was going to come here in the spring and compete and do what I was going to do for the university. When all the seniors started tweeting that they were going to stay, everybody felt like there was a need to stay. You didn't want to run away from this problem. You wanted to stay here and face it as a team, as a unit."
Here's the info you need to know for tonight's game.
Start time: 7:30 p.m. ET
TV channel: ESPN
Live stream: fuboTV (free trial available) and WatchESPN
Odds: Mississippi State -13.0, 61.0 via Bovada
Prediction:
Mississippi State 28, Ole Miss 24
Mississippi State has the better team and will look to avenge last year's loss. Expect a big game from Fitzgerald, who will bounce back from last year's ankle injury and early exit.