Mississippi Student Accused of Spraying Cleaning Product into Pledge's Mouth During Fraternity Hazing
A student at the University of Mississippi has been charged with aggravated assault in connection with an alleged fraternity hazing incident last fall, the Associated Press reported Wednesday.
The incident was first reported this week by Jackson Jambalaya, a blog that focuses on the Jackson, Mississippi area. The blog post said one of the students involved in the alleged incident at the Pi Kappa Alpha fraternity house has a damaged esophagus after a cleaning product was sprayed inside his mouth.
Adam Peavy, a lawyer for the student whose esophagus was injured in the incident, said his client has lost weight since the alleged October 11 incident and still has trouble eating.
"He was blindfolded and poisoned," Peavy told the AP of his client.
The university's police force charged a student, identified as James Bowes Higgins, with aggravated assault last November in connection with the incident, according to the AP.
According to a police report obtained by the AP, Higgins "grabbed a bottle of bleach or surface cleaner and started spraying it on a few pledges." Peavy told the AP his client was expecting to have water sprayed into his mouth but began vomiting after instead swallowing a cleaning solution and later went to the hospital to seek treatment.
Pi Kappa Alpha's international office told Newsweek they suspended an individual in connection with the alleged incident and added the victim is still a member of the fraternity's Gamma Iota Chapter at Ole Miss.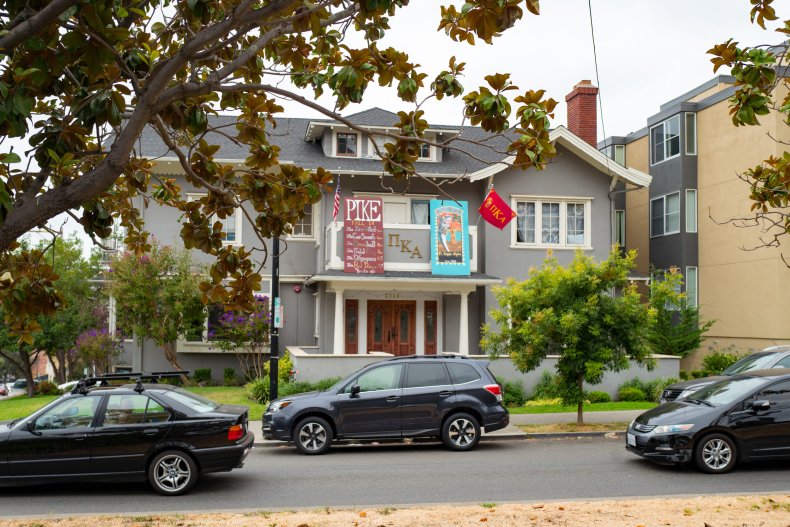 "The Pi Kappa Alpha International Fraternity does not tolerate any activities that do not treat individuals with dignity and respect," the international office said in a statement. "Any member of Pi Kappa Alpha should immediately and confidentially report any harmful activity to the International Fraternity here [pikes.org/report]."
Last month, a student at Bowling Green State University in Ohio died following his attendance at a Pi Kappa Alpha fraternity event. A coroner determined that the Ohio student died as a result of "fatal ethanol intoxication during hazing incident" and identified his manner of death as "Accident – college fraternity induction ritual."
The Pi Kappa Alpha International Fraternity's website features an anti-hazing tab, which describes hazing as "illegal" and "unacceptable conduct." The website also provides avenues through which students can report hazing activity.
Charlotte Fant Pegues, the interim vice chancellor for student affairs at the University of Mississippi, said in a statement shared with Newsweek she was "outraged" by the latest hazing allegations involving Pi Kappa Alpha.
"I am outraged by this incident, and we extend our heartfelt support and deepest sympathy to the victim," her statement said. "Upon learning last fall of the severity of this incident, our staff referred the matter for investigation by the University Police Department, which referred it for criminal prosecution."
Fant Pegues said university officials put the fraternity chapter on a temporary suspension and said they are working with the fraternity's international office "to hold the students responsible accountable." Those efforts have thus far resulted in one student's suspension from Ole Miss and sanctions against Pi Kappa Alpha, Fant Pegues said.
"The university has supported the victim, who is currently enrolled, and his family in various capacities throughout the past few months and continues to offer its support," Fant Pegues added. "Hazing and other behavior that places the health and safety of our students at risk will not be tolerated. We will continue to take these matters seriously and address any violations within our community."
Newsweek reached out to university police for comment and will update this article with any response.