Mississippi Student in BLM Shirt Says 'Secret Service' Man Removed Her from Trump Rally
A Mississippi high school student says she was physically removed from President Donald Trump's raucous Southaven, Mississippi, rally Tuesday solely for wearing a Black Lives Matter shirt.
DeSoto High School student Alexis Cobbs said she was trying to earn extra credit by attending the Tuesday evening rally but was turned away just after getting inside the entrance by a man wearing a "Secret Service" shirt, WHBQ-TV reported. Cobbs was among thousands hoping to get into the Landers Center to see the president's latest stop in support of local Republican midterm candidates. But Cobbs said she thinks it was the Black Lives Matter shirt she was wearing that kept her out despite waiting more than two hours in line.
"The Secret Service man just walks up to me and tells me to follow him, and so I did. And once I realized I was out the door, like he pushed me out the door," Cobbs told Memphis, Tennessee–based Fox affiliate WHBQ. "I was like what and he was like don't let the door hit your fingers on the way out."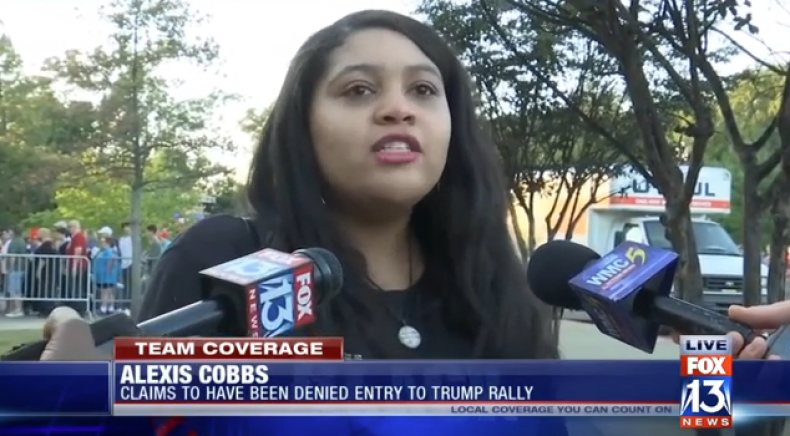 "I didn't realize wearing a shirt could just disqualify you from listening to a sitting president speak," Cobbs told local news outlets. "I didn't know only people who actively identify as Republicans were the only ones able to come in here and listen."
U.S. Secret Service agents on detail for the president traditionally wear formal attire and it was unclear to Cobbs whether the person who removed her from the Trump rally was a legitimate agent. Cobbs said she thinks her removal gives her a bad message about America in 2018 and that Trump is making a mockery of the country.
"Everything he says basically is not well thought out, and once even more the world is laughing at us," she added.
Trump's Mississippi rally came one day after he held a Tennessee rally for GOP Rep. Marsha Blackburn, who is running against Democratic challenger Phil Bredesen.